RIM announces BlackBerry Curve 9350, 9360 and 9370 QWERTY smartphones
23 August 2011 by Olav Hellesø-Knutsen
RIM today announced Curve 9350, 9360 and 9370 entry level smartphones with a 2.44 inch touch screen and portrait QWERTY keyboard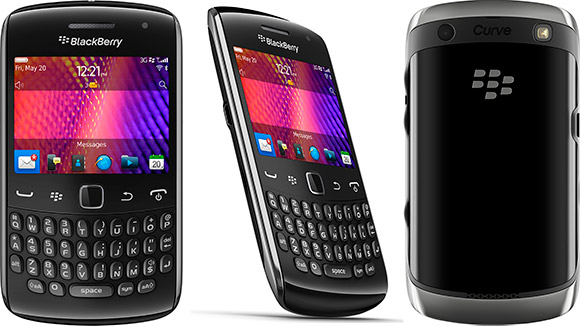 RIM today introduced three new QWERTY smartphones in the Curve series. Much can be said about the BlackBerry form factor, but RIM is still faithful to their design roots. We have added the 9350, 9360 and 9370 to the Esato mobile phone directory and in this process, we noticed more similarities than differences. The press images sent out by RIM are commonly used by all three models. The measurements are the same and there are no visual differences between the three.
Like most new phone releases, the Blackberries has integration with the largest social networks. The Social Feeds has been extended to include updates from media, podcasts and favourites such as Facebook and Twitter.
BlackBerry Curve 9350/9360/9370 highlights
Weight: 99 gram
Size: 109 x 60 x 11 mm
Networks

Curve 9350: CDMA800/CDMA1900
Curve 9360: GSM/EDGE 850/900/1800/1900, UMTS (800/850)/1900/2100 or UMTS 900/1700/2100
Curve 9370: CDMA 800/CDMA 1900, GSM/EDGE 850/900/1800/1900

2.44 inch touch display with 480 x 360 pixel resolution
5 megapixel camera, LED light, Face detection, geo tagging, image stabilization
VGA (640 x 480) video capture
Wi-Fi b/g/n
Bluetooth 2.1
A-GPS
QWERTY keyboard
3.5 mm audio jack
1000 mAh battery
Talktime: 9350: 5.5 hours, 9360: 5 hours, 9370: 5 hours
Standby time: 9350: 14.5 days, 9360: 14 days, 9370: 12.5 days
800 MHz processor
BlackBerry OS 7.0
The BlackBerry Curve smartphones will be available in the Canada this month, and the rest of the world in September.
---
Alternatively post this in the Esato forum
Please sign in to your Esato account to leave a comment regarding this article
Why do all Blackberry's look the same?

In fact these look different if you ask me. The keys are well separated for my taste (assuming I'd own one of these).
Some very minor changes yes but overall they look like any BB device from years ago there is nothing new in terms of design.

In plain sight, yes. But at the end you know there are some differences.
Yes you would know of course but i doubt anyone else would notice any difference. Surely having phones these days are also about being different and people noticing that you have the latest device?


I agree. Almost all Blackberry devices look the same.
It is very difficult to recognize each name just by looking the front side.
I can only recognize the Pearl which is I own one.






I like qwerty keyboard phones and yes maybe they look similar but so do most touch screen phones mentioning no names HTC

I did have the Nokia e6 which was great but has a poor keyboard in terms of tactile feel.
---