BlackBerry Q10 and Z10 announced
31 January 2013 by Olav Hellesø-Knutsen
RIM is now BlackBerry, and BlackBerry has released the BlackBerry OS 10 operating system and the two smartphones BlackBerry Q10 and Z10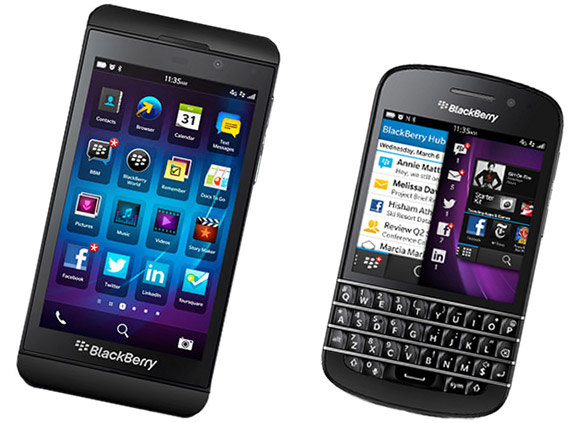 A handful of new BlackBerrys was announced this week. Research In Motion (RIM) changed its name to BlackBerry, the new BlackBerry OS 10 was released and two new BlackBerry smartphone was announced.
The BlackBerry Z10 is one of the two phones announced that which will run on the completely rewritten BlackBerry OS 10. It has a 4.2-inch touch screen with a 1.5 GHz dual-core processor and a 8 megapixel camera. The AMOLED display resolution is 1280 x 768 pixels. Its got 2 GB RAM on board and the 16 GB internal memory can be expanded up to 64 GB using a microSD card. Looking at the example photos taken by the fan site Crackberry.com, the pictures from the 8 megapixel BSI camera does not reach up to Galaxy S III, iPhone 5 or the Nokia Lumia 920.
BlackBerry Q10 has a more classic RIM/BlackBerry look with a full QWERTY keyboard and similar specifications as the Z10. The Q10 display size is only 3.1-inch large something that could be considered too small for many potential customers. But the pixel density on the 720 x 720 pixel display is very good at 328 PPI. Like the Z10, BlackBerrry Q10 has a 1.5 GHz dual-core processor, 2 GB RAM and 16 GB internal storage.
The most exciting thing happening today was the release of the new operating system. Z10 and Q10 are the first two smartphones running version 10 of the BlackBerry OS. The BlackBerry OS is actually what this last announcement was all about. RIM BlackBerry has struggled against iOS, Android and Windows lately and this is probably the company's final attempt at being a platform to count on. iOS and Androids strength are the apps and games. BlackBerry World has over 70.000 apps for the devices running the new OS. BlackBerry Balance offer dedicated profiles to keep work and personal data separate and secure
The BlackBerry Z10 will be available in the UK next week. Canada and US
BlackBerry Z10 highlights
Weight: 137.5 gram

Size: 130 x 65.6 x 9mm

4.2-inch touch display with a 768 x 1280 pixel resolution

Networks: GSM/EDGE 850/900/1800/1900, HSPA 850/1900/2100m, LTE 3, 7, 8, 20

Wi-Fi a/b/g/n

4G mobile hotspot

8 megapixel BSI camera sensor, f/2.2

1080p video capture

2 megapixel front camera, 720p video capture

LED light

1.5 GHz dual-core processor

2 GB RAM

16 GB internal storage

HDMI

USB

Bluetooth 4.0

A-GPS

NFC

BlackBerry OS 10

1800 mAh

10 hours talk time

13 days standby time
BlackBerry Q10 highlights
Weight: 139 gram

Size: 119.6 x 66.8 x 10.35 mm

3.1-inch Super AMOLED touch display

Networks: GSM/EDGE 850/900/1800/1900 HSPA and LTE

Wi-Fi a/b/g/n

GPS

NFC

HDMI

Bluetooth 4.0

1.5 GHz dual-core Snapdragon S4 Plus processor

2100 mAh battery

Full QWERTY keyboard

BlackBerry OS 10

Sensors: Accelerometer, proximity, gyro, ambient light, magnetometer
BlackBerry Z10 video
BlackBerry Q10 video
---
Alternatively post this in the Esato forum
Please sign in to your Esato account to leave a comment regarding this article
I think these both look good and the multitasking and speed is excellent. But to me the new BB10 looks a bit cluttered and will be a little bit of a new learning curve for existing users. I am unsure if they will like it, time will tell.
I'm not sure about cluttered, but I'll know first hand next week tuesday as i'm going into store to purchase one.
The demand is huge online for USA users; its actually surprising.
I just noticed a huge error on the Q10 qwerty BB10 device above; sourced from RIM errr BlackBerry (which I think is very stupid for a product company to change their name to a brand that is in challenging times).
Notice how the minimized app of music is there on the right, and The Hub notifications in the middle? That HUB should be on the far left ... not messages.
It seems many people are in the know about it as two young men in Phones4U store today were asking about it.
CURRENT RANKINGS
By daily interest
Device Daily hits
1.
BlackBerry Q10
70,773
2.
Sony Xperia Z
65,184
3.
Samsung I9300 Galaxy S III
59,488
4.
BlackBerry Z10
54,757
5.
Samsung I8190 Galaxy S III mini
50,589
6.
Samsung Galaxy Note II N7100
48,174
7.
Samsung Galaxy S Duos S7562
47,281
8.
Micromax A110 Canvas 2
41,221
By user ratings
Device Rate Votes
1.
Nokia Lumia 620
7.998 851
2.
Nokia Lumia 920
7.656 1,880
3.
HTC Butterfly
7.647 568
4.
BlackBerry Z10
7.454 305
5.
Sony Xperia P
7.424 380
6.
Samsung Galaxy Note II N7100
7.414 1,432
7.
Sony Xperia S
7.412 604
8.
Sony Ericsson Xperia Arc S
7.310 203
More statistics
BB Z10 has shot up fast GSM Arena
Even though Gsmarena keeps cleaning those votes or hits it is, nonetheless, good to see BlackBerry being up there. The recent hits place BlackBerry second and third after the Sony Xperia Z. Sure, the hits don't necessarily mean more sales but hopefully a sizeable number of those who clicked on them do go out and buy them. I know I am getting a BB10 phone as soon as it arrives.
@Hardened
Don't delay on the review!!! Looking forward to reading it.
Personally I feel Z10 isn't bad at all. Sure it uses "only" dual core CPU but I don't think BB OS needs more than that. Finally a BB that is not behind the times

Quad Core in a phone is not needed if the OS is right. It's pure pointless overkill imo. WP8 does fine on dual core

On 2013-02-03 10:12:09, Dups! wrote:
Even though Gsmarena keeps cleaning those votes or hits it is, nonetheless, good to see BlackBerry being up there. The recent hits place BlackBerry second and third after the Sony Xperia Z. Sure, the hits don't necessarily mean more sales but hopefully a sizeable number of those who clicked on them do go out and buy them. I know I am getting a BB10 phone as soon as it arrives.
@Hardened
Don't delay on the review!!! Looking forward to reading it.

Dups, I'm trying man ... official carrier release date in Canada is February 5th, yet on Kijiji and Craigslist a handful has shown up. I think this is the VERY first time I've had the cash to purchase a new smartphone and NOBODY has them long enough for me to meet with them! lol (I'm not paying more than the officially released $650CAN retail price for it, I'm no fool). February 5th - if in stock I'll post a new thread preliminary review with a follow-up as I learn more about it.
@randomuser & Sean72
I agree completely! The dual-core on BB10 is even more adequate in that BlackBerry are the ones that are in charge of the OS where there are unlikely (at this stage in any case) to be fragmentation. It's not like Android where there are multiple manufacturers with low- to high-end phones with different processors.
@Hardened
I think we're getting the phone towards the end of February, so you are likely to get it first.
Just read the Phonearena review and it is really a poor review. I don't mind reviewers criticising but the way they did smacked of bias, it felt as though they had made up their minds based on the countless previews after launch.
Having written that, however, I still believe BlackBerry still has maybe three software update to make this a stunning OS.
Every store I been into they have said there is massive interest in the new BB phones
Hi Guys ... just got mine a few minutes ago.
Preliminary impressions:
Hardware ... RIM's 5th try at touchscreen in various iterations; they finally nailed it!
TouchScreen - on par or even better than iPhone for navigation/selection (looks like PlayBook; much more responsive); haven't tried real data entry yet.
Setup: You'll need an active MicroSIM card or WiFi connection to complete; I fear this is the sign of times going forward for all platforms. (a slight annoyance but was boiyed with my experience with iOS/PlayBook).
BlackBerry Link - Desktop Manager replacement ... DAMN!!!!!!
This thing is ... Elegant, well organized UI layout, and FAST: Fast for switching menus, accessing UI, fast for accessing content (playlists, songs, videos, pictures etc - I have over 21GB of iTunes organized music, 12GB of Photos, 40GB of Videos; most I store on external yet not counting those. Accessing any of these is FASTER than Windows 7 explorer). Most impressive.
Sync'ing ... I've noticed in Win7 on the task bar the app icon slowly updates with a ring around its border - very subtle!
Browser ... 1 site checked ... my almar mata ... typing e,s,a,t,o ... results for esato.com shows up. bringing up the site shows in a narrow column 1/3rd the screen width which was odd to me, easily fixed with double-tap zoom. I'm just wondering why it showed up this way.
Speaker: testing out default notification sounds ... LOUD & CLEAR! Most impressive. iPhone 3GS/4/4S/5, LG Optimus G, Sony Xperia Arc, SGS II, SGS III don't equal. SGS III and Xperia Arc come close to full volume but this is subjective as I don't have any of these to test the same sounds = grain of salt.
30MB Update already waiting ... will not download even on wifi without 20% battery charge - very frugal BlackBerry.
I'll have a full run down tomorrow guys.
Thus far ... this OS is fast.
PS: Boot time from initial battery sit in ... under 1mins to actually USE the screen in the demo. FINALLY!! Whomever at RIM figured this out NEEDS a BONUS and a well deserved vacation.
BIG news today!!
BlackBerry Announces Two New Board Directors - Bloomberg
http://www.bloomberg.com/article/2013-02-07/a_KBU7wGv4fU.html
via @BloombergNow
two new Directors to the Company's Board of Directors - Richard "Dick" Lynch, retired Executive Vice President of Verizon Communications Inc. and Bert Nordberg, former Chief Executive Officer of Sony Ericsson Mobile Communications
Do you think BlackBerry's new competitive push for online music/video was just a coincidental suprise?!
(bigger partnerships for Sony is a BIG thing)
Also with former EVP for Verizon mean's better understanding of branding, testing, roll-out than they ever had before.
Thanks for the preview, Hardened!
Now I am really envious!
I will mention it again, this OS has the potential to be the best OS in mobile OSs. You can just see the potential in its infancy.
I am itching to get my hands on it.
[ This Message was edited by: Dups! on 2013-02-07 16:22 ]
(EDITED: just realized I posted my girls measurements so I could get her a dress; surprised nobody noticed, lol)
BB10 on Z10.
Hi everyone,
I'll hope to show what I've experienced using the BlackBerry Z10; coming from an old BB user, iOS user, and casual Android flirter.
Keyboard
:
Typing has always been an incredible experience on BlackBerry's. Save for the previous touch screen devices from RIM - Torch 9800/9810, Storm/Storm II, and Torch 9850/60. One could favorably argue that the typing experience on the BlackBerry is the best: entry speed, accuracy, prediction, and also autotext.
This new virtual keyboard, supposedly powered under joint development with Swipe, just delivers on BlackBerry's (or RIM's) previous strengths:

Data Entry Speed & Accuracy>
beyond having a preset database internal to the OS to choose from to make spelling errors corrected "leki" that last word was supposed to be like.
Prediction (more than just 1 word)>
Text prediction is nothing new, and in actuality allowing the end user to specify which words it can save was started by BlackBerry a long time ago, even with feature phones where ruled by SonyEricsson's, Nokia's, and the like.

RIM did two specific game changing features in this aspect that ALL smartphone now pay homage to without uttering a word. The first was internal database entry - the end user could enter the words/names/shorthand words they type most often. Secondly, RIM had AutoText - first introduced on BB OS 4 devices. This specifically allowed the end user to type 3 characters as a shorthand, then have them enter a word/phrase/paragraph that would auto correct/replace the 3 characters defined: in sms, mms, bbm, emails, chat apps, or in the browser say doing anything on the next.
Since then, RIM (now BlackBerry) has changed the name 'AutoText' into Shortcuts, like Android/iOS has - which I feel both are still limited at this offering; paling in comparison. On BB10, the KEY differentiators is how shortcuts/auto correct/prediction is displayed, and being able to type up to 3 languages on the fly yet into context.
Over the past 10 days, typing with one hand has become both so much easier than with 2 thumbs I've experienced on other devices - including the 9900, 9790/80, 9700, iPhone 5/4/4S/3GS, etc etc. It's learning from my key entries over this time, emails I've sent (even not from the device but in my mailbox that is sync'd to my Z10),

Pro:
Nothing like it on the market and delivers over & beyond the hype BlackBerry stirred about this keyboard.
Cons:
Realizing that switching languages, swiping to input words, and switching to alternative keys is so fast - you no longer have an excuse not to reply to someone just because you have 1 hand free only

Display
:
With this resolution, , the Z10 is not gonna win any spec's pissing contest, but what it does deliver is incredibly accurate blacks, great readibility at very impressive reading angles, and in daylight (something I've only had 2 days to experience since its Winter here in Toronto and has been quite dark lately.
The surface is impressive to the touch. what I mean by this is its not like the Nexus devices where it seemed like some permanent oily surface was on the screen itself - which increased finger sliding resistance; not ideal. The responsiveness is a dream - touch selection and interface is accurate (uncannily like iOS), and fast to use - better than iOS on even the iPhone 5! Gestures are heavily encouraged on this platform and you'll have an incredible experience doing this for even the most common tasks you'd think what in the world was Android/iOS thinking without it in such routine tasks.

Pro:
Speed, Accuracy to touch, and at just the right smoothness and resistance is to die for.
Cons:
- getting used to gestures should be natural; yet we've been trained not to use gestures heavily on competing platforms.

Navigation
:
Navigation, is at the core of the OS ... and should be for every OS. This is how we get into Settings, Applications, enable/disable features of the device/apps, how we browse the Internet, Media/Files, and switching applications.
On iOS ... each navigation is set by the home button paradigm. You require the Home button to minimize/close apps, get into settings of the OS, and to use Siri (as a primary action to use her). Yet navigating files, is highly limited and based on Applications that have a rudimentary file system (Dropbox for pictures, Box.net, GoodReader, etc). Due to this there is no consistency with navigation between the OS and apps - the ONLY place you see any congruence is when using a 3rd party app to get into your pictures; this uses an API set by Apple and thus is uniform in this sense; yet nowhere else. A home button is so frustrating and very slow.
On Android ... there are some gestures you can use - like on the lock screen to use its lock widgets/camera, get into notification shade, and switch through its various home screens. Yes The Galaxy Nexus & Nexus 4 both have on-screen dedicated soft buttons, which rotate right-side up when the screen is rotated by is user. However you're still a victim of the Home button and task switcher buttons. You require the home button to quickly get to the central home screen, you require it to get to the home screen as a primary function to do so when in an application. Alternatively, you can use the task switcher soft-key to jump to home but you still need to scroll to it - which may not be visible. I applaud Google for improving Task Switching for applications, its where native Android is at its best for gestures, however running up to 8 applications (for comparison to BB10), I'm still slightly faster for closing running applications. Actually I can jump out of an application, close that recent app, and close the next one (or another 6) twice as fast on the BB Z10, than I can on Galaxy Nexus/Nexus 4 or other Android devices.
On BB10 gestures are heavily influenced throughout the core OS. Navigating files, settings, minimizing/closing apps are holistic in experience. 3rd party applications, even those side-loaded from Android use these core gestures. I've read elsewhere that even die-hard RIM BB users would have a learning curve to this - yet its so far from the truth. These are the same gestures we've seen on the 1.5yrs old BB PlayBook, and many very similar to the Palm Pre. Applications are using the API's correctly and becoming more uniform to access their custom menu's etc. Something so simple yet so effective!
Applications - beyond core offerings:
Applications are still flowing in, some of them are beautifully designed in UI layout, efficient and very effective - following design standards set by BlackBerry (as both iOS & Android has these as well). Unfortunately too many applications are just strick and rudimentary ports from Android - without any effort to "clean-up" the port; leaving them buggy, and worse off poorly designed and not too enjoyable to use.

Pros:
Core developed applications are fast, stable and a joy to use.
Cons: Too many basic level ported Android apps that run like crap. Over time this will change, how much time will be critical.

There is more to this OS but I think I'll let you all have a try in your local stores wh
[ This Message was edited by: Hardened on 2013-04-13 20:18 ]
Now you've got me confused! I really, really love the QWERTY-equipped Q10 but after reading your thoughts on the Z10 typing I don't know which one to take.
Thanks a lot for making it hard for me

Pre-orders are up for us, we are definitely getting the Z10 at the end of this month beginning of March.
I just wish the Q10 was out and reviewed, I don't want to rush and get the Z10 and end up missing the keypad of the former.
I have been reading rather negative reports about the battery standby times being poor. How's yours holding up.
Keep your experiences coming, appreciated.
A very good read over at Gsmarena!
Now, that is what I call a review not that half-arsed attempt by Phonearena that I complained about a while back.
Gsmarena covers everything beautifully!


On 2013-02-16 11:40:15, Dups! wrote:
A very good read over at Gsmarena!
Now, that is what I call a review not that half-arsed attempt by Phonearena that I complained about a while back.
Gsmarena covers everything beautifully!

I'll have to take a gander. I'm just getting used to adding words to my dictionary on the fly while typing. For example I typed the word typing without the G yet on the space bar I see typing and typin (not a good example sorry), but typin is on the fret above the space button. Trying to figure out how to choose it.??
Getting. A lot faster to type though almost in line to how I'm thinking out my complete sentence which is a bit odd. Lol.
http://www.mobilenewscwp.co.u[....]y-approval-from-uk-government/
Seems something is up about security

On 2013-03-20 22:33:12, Sean72 wrote:
http://www.mobilenewscwp.co.u[....]y-approval-from-uk-government/
Seems something is up about security

I read about that yesterday. Security isn't an issue versus passing a specific requirement that UK government is wanting completed at their upmost highest level. BlackBerry apparantly are working with UK Government to make changes to appease them. No mention of any other platform coming close to that level.
---