US smartphone OS market according to Nielsen - Apple and Android up and BlackBerry down
19 January 2012 by Olav Hellesø-Knutsen
Apple iOS and Android smartphone market share in the U.S increases while BlackBerry and Windows Phone 7 are having a hard time gaining larger user base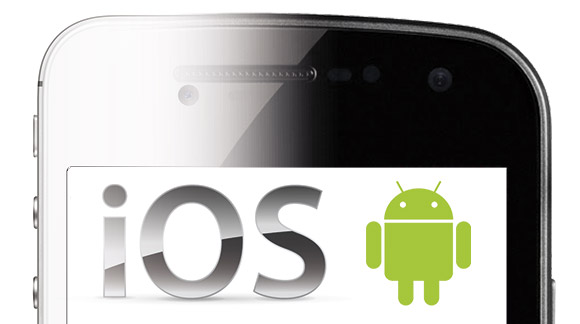 The latest report from Nielsen shows that Android still is the most popular smartphone OS in the U.S, with iOS from Apple as a good number two. In the three month October, November and December over half chose Android for their smartphone purchase. 51.7% to be exact. At the same time, 37% of US inhabitants chose iOS as the preferred smartphone OS, and only 6% wanted a BlackBerry. These are the numbers from the last quarter. When we sum this up with those owners already having a smartphone, we find that Android now has a smartphone US market share of 46.3%, iOS 30%, BlackBerry 14.9% and Windows Mobile has 1.3 %.
Apple iPhone 4S was launched in the beginning of October, so Apple got some help from this new model. But according to Nielsens data, October was not the best month for Apple. The share acctually increased as we got closer to 2012. In October 25.1% choose iOS and this increased to 38.8% in November and in December as many as 44.5% bought an iPhone. Android recent smartphone acquires in these three months started good with 61.6%, down to 48.7% and ended on 46.9%. Still ahead of iOS.
What's worrying us is the fact that BlackBerry OS continue to fall and Windows Phone 7 still not are gaining any particular market share in the US market. The fact that BlackBerry has a existing user base of 14.9%, any only 6% of new purchases are BlackBerry, should worry RIM. Only 4.5% choose BlackBerry in December 2011.
Nokia last week announced the Lumia 900, their first Windows Phone 7 model for the U.S market. Let us hope Nokia and the other Windows Phone 7 manufactures can help Microsoft gaining some market this year. Competition is good. Only having two choices is a fragile market situation.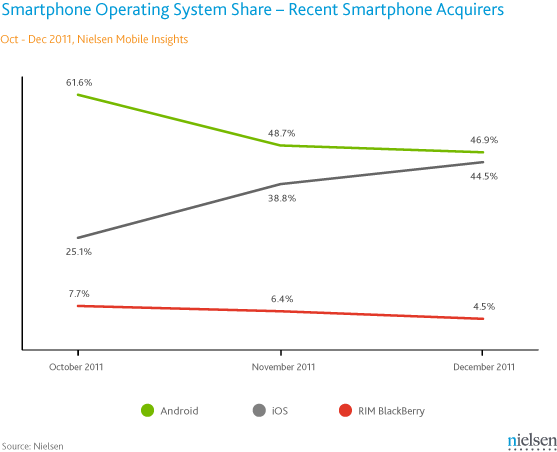 ---
Alternatively post this in the Esato forum
Please sign in to your Esato account to leave a comment regarding this article
---