Geeksphone to start selling smartphones running Firefox OS today
23 April 2013 by Olav Hellesø-Knutsen
The Spanish smartphone vendor Geeksphone will most likely start selling two smartphones running Firefox OS today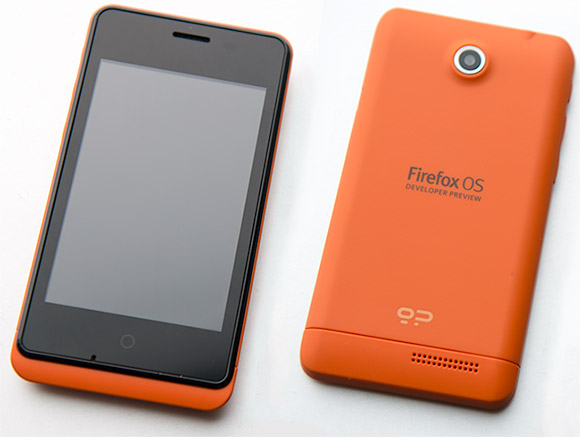 The Spanish smartphone maker Geeksphone will today start selling two models running the new Firefox OS. Geeksphone is together with Telenor one of the companies behind products running the Firefox OS. We visited Telenor Comoyo a couple of weeks ago and took a closer look at the new OS.
Two phone models will be available from the Geeksphone online store later today. The most affordable model called Keon (see pictured above) has a 1 GHz processor, 3.5-inch display with a 320 x 480 pixel resolution, Bluetooth, Wi-Fi, FM radio, 512 MB RAM which is sufficient for this OS, 4 GB internal storage expandable using microSD card. The Keon will ship for 91 Euro plus taxes. The more expensive model called Peak has a 1.2 GHz dual-core processor, 4.3-inch display, Bluetooth, Wi-Fi, 512 MB RAM, FM radio, 4 GB internal storage expandable using microSD card. This model will set you back 140 Euro plus taxes.
We have tried a Keon developer preview model and the Firefox OS seems to run smoothly on the current hardware. Phones running the Firefox OS has similar specifications as those running Android. The two OS' are based on the same Linux kernel which makes it easier for hardware vendors to develop drivers for the Firefox OS.
The Geeksphone store is currently in maintenance mode, but you should probably be able to order a model from them in a short while.
Read our first impression of the Firefox OS (in Norwegian only)
---
Alternatively post this in the Esato forum
Please sign in to your Esato account to leave a comment regarding this article
Is this OS any good then??
It is not very mature. But it is not as unpolished as Android 1.5 was when it was released. Everything is optimized for HTML5, so it should be very easy to develop HTML5 apps for the platform. Everything you can do in a Firefox desktop browser can be done by a FOS device. I saw simple 2D games running smoothly, but as they natively support WebGL you should see 3D games anytime soon.
Firefox OS will first be installed on entry-level devices. So the device itself will not compete against high-end Android, Windows Phone or iOS smartphones. They are targeted at completely different markets
Ah ok cool,will have a look for some videos,just curious
They are sold out for both models. That was quick. Just a couple of hours. But they probably did not have many units in stock to start with
A nice little alternative for those who don't want to roll over for Google or Microsoft or iOS. Good luck to them!
I don't think I'll buy one but I hope they succeed.
Coming into the smartphone market now is gonna be a tough uphill battle.
---