Sony sold 8.7 million smartphones last quarter
7 February 2013 by Olav Hellesø-Knutsen
Sony today released its financial figures for the last quarter of 2012. The company sold 8.7 million smartphones during the period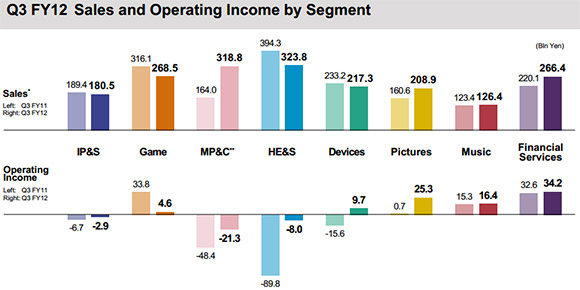 Not far from the 9.8 million units estimated by IDC in January, Sony today reported that the company sold 8.7 million smartphones during the last quarter of 2012. The Xperia Z and Xperia ZL announced last month will probably help Sony sell even more smartphones during the next couple of months. These are high-end models with quad-core processors, full HD 1080p displays with water and dust resistant housings. If IDC's other estimates are correct, this will rank Sony as the fifth most selling smartphone vendor. Samsung sold 63.7 million smartphones, Apple 47.8 million, Huawei 10.8, ZTE 9.5 million and Sony sold 8.7 million smartphones during Q4 2012.
Income from Sony's imaging business segment decreased 4.7% due to lower unit sales of compact digital cameras. The low-end camera market has contracted due to expansion of the smartphones market. For many consumers, the smartphone has replaced the compact digital camera.
As usual, Sony made most of its money from selling life insurance via the Sony Financial Service division. Sony's total operating income was 46.4 billion Yen during the last quarter with loss in the Mobile Products, Home Entertainment and Imaging Products segments. Pictures, Music, Game, Devices and Financial Services could report positive figures. Sony lost 21.3 billion Yen on the Mobile Products & Communication segment while the Financial Services earned the company 34.2 billion Yen.
---
Alternatively post this in the Esato forum
Please sign in to your Esato account to leave a comment regarding this article
Looking more healthy

Its certainly very good news. Ive always been a big Sony fan so hopefully they're going to start making some money. I might not want their smartphones but I do want their other products, primarily Playstation 4 come 20th February.
The new Z & ZL devices should see Sony do well this year I think

Hopefully, but their brand identity for mobiles is insignificant compared to Apple and Sammy.
Playstation 4 is definitely on my TBL!!
Xperia ZL ... still tempting considering BBz10.
Mine too. Im counting down the days to February 20th.


---