Sony releases Jelly Bean update for Xperia Tablet S
17 April 2013 by Olav Hellesø-Knutsen
Sony is still providing support for some of its older devices. Today, the company announced that it will release Android 4.1 Jelly Bean operating system update for Xperia Tablet S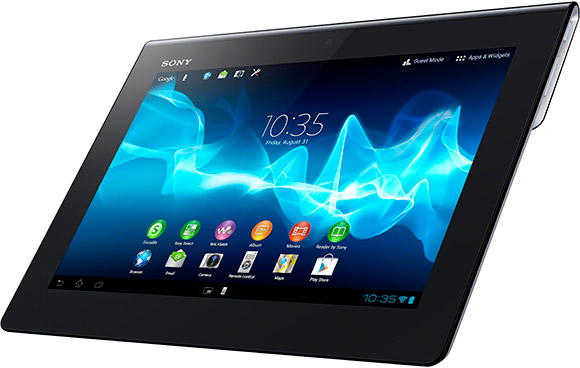 The Sony Xperia Tablet S was together with the Xperia Tablet P the first attempt from the Japanese company to grab a piece of the tablet market. The dual-display tablet did not impressed reviewers and Sony has later stopped selling the Xperia Tablet P. Xperia Tablet S was fairly competitive in the high-end market and it is still available for sale in stores. It was earlier this year announced that the successor Sony Xperia Z would be available globally as well. Our first impression of Xperia Tablet Z was good and we think it will be able to compete with most other 10-inch Android tablets.
Sony has now announced that an updated version of the operating system for the Tablet S will be released to consumers located in the US, Canada and Latin America region tomorrow. The Xperia Tablet S will be updated from Android 4.0.3 Ice Cream Sandwich (ICS) to 4.1 Jelly Bean. Upgrading from ICS to Jelly Bean adds several improvements to the OS. Google Now was introduced, the interface runs faster thanks to Project Butter, customizable home screen with resizeable widgets, better notification bar and more.
---
Alternatively post this in the Esato forum
Please sign in to your Esato account to leave a comment regarding this article
About time !
Lots of issues with this tablet so hopefully Europe will get the update soon!
Ofiaich

There's always lots of issues with Sony products of late
I'm still considering the Tablet S but really like the Tablet Z. It's nice to learn it's still being supported.
downloading now...
.....
...
Ofiaich


On 2013-04-17 23:23:01, laffen wrote:
Sony is still providing support for some of its older devices.
I think this itself is a another breaking news! Especially counting the age of Xperia Tablet S - it's almost 8 months old, which is really a lot for Sony device. There aren't many other Sony devices that were still supported at this point ( remember 2011 Xperias, 2012 Xperias, probably Xperia Z will get no more than 6 months support as well )...
Still got some bugs in the latest firmware. Copy/paste does not behave as it should. Any workaround?
How can I update the OS of my Xperia Tablet S from ICS to 4.1 Jelly Bean?
---