First impression of the Sony Xperia Tablet Z
27 February 2013 by Olav Hellesø-Knutsen
We have played around enough with the 10.1-inch Xperia Tablet Z from Sony to come up with a verdict. The tablet are following the footsteps of the acclaimed Xperia Z smartphone.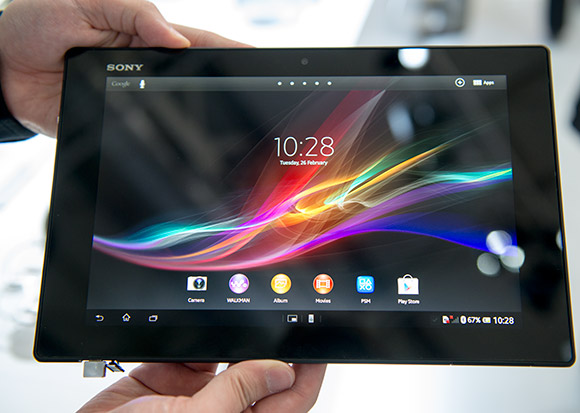 You have probably heard many positive words about the Xperia Z smartphone which Sony unveiled last month. The Xperia Tablet Z was originally only going for sale in Japan, but Sony earlier this week announced that it will be available worldwide. After playing around with the Xperia Tablet Z for some time, we have to say we are impressed with yet another Android device from Sony.
A couple of the Sony staff members gave us a couple of walk through showing the different areas of the tablet and we captured a short video clip during one of these sessions. Sony only had two new Android devices on display this year. The Xperia Z smartphone, and the Xperia Tablet Z. You should think that those doing the demonstration of these knew what they were talking about. One person from the Japanese staff that we talked to was knowledgeable, but he too missed out something we would later confirm. The Xperia Tablet Z has four speakers, not two as it was claimed during the demonstration. Even though the tablet has four speakers, the volume is not impressive high. The listening conditions at MWC was not very good, so our impression might change when we do a longer review of the tablet in a more quite environment. For the same reason, it was not possible to validate if the virtual 3D surround sound was any good. The relatively low sound volume is caused by the water and dust protective coating in front of each speaker element.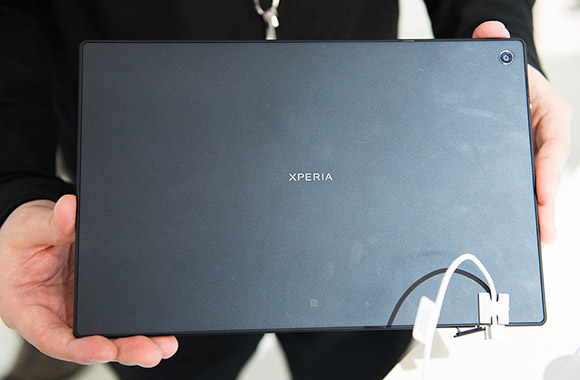 Xperia Tablet Z has NFC which makes it easy to setup streaming audio, image or video to external sources. A nice touch is when you can choose to stream a playing video over to your TV by pairing the Xperia Tablet Z NFC tag with the Sony TV remote which also has a NFC built in. Xperia Tablet Z is powerful enough to let you play games, browse or even play another video locally on the tablet while streaming a second movie to a TV. These kind of features are where Sony has a little advantage over many other tablet makers. The Japanese company has added several features that will let the user share content and services between several other hardware components in a typical home. LG and Samsung is doing the same thing of course as these companies are also in the TV and Home appliance business where devices can communicate.
The Xperia Tablet Z has an infrared sensor which is ideal when you want to use the Xperia Table Z as a remote for your TV or Game console. Xperia Tablet Z has a special remote control app which enables the user to, you guessed it, control the TV remotely. Unlike some of the competitive solutions which requires connection to the same WiFi network, Tablet Z sends all the commands via infrared. The advantage with this is of course that it will be able to control any device accepting infrared commands. That means older TVs, Blueray players or game consoles. The Xperia Tablet Z also accepts gesture controls which is a elegant way to adjust the TV volume without touching the tablet screen.
Take a look at the Xperia Tablet Z part list for all the details.

Most of what we have seen of the Xperia Tablet Z so far are positive. But one thing we do not know is the final retail price. We have heard rumours that it will be on the same level as the iPad with the same amount of memory. Aproximately USD 500 / GBP 400. The memory is expandable with the now standard microSD expansion card. The price will most certainly be too high for some consumers. Sony has stopped making smartphone and tablet products for the mass market and it has no entry-level smartphone model in its line-up any more. The company will strive to become a premium brand where consumers are willing to pay some extra for the small details. Similar to what Apple has done with its iPhone and iPads.
Sony has installed the new Stamina power management solution as a part of the Android OS on Xperia Tablet Z. Stamina is an evolution of the Extended Standby Mode found in older Sony Android smartphones. Previously, the only settings for the power management was to set it on or off. The new Stamina settings has more options. We haven't been able to verify this, but Sony claims that by turning on Stamina the battery time is doubled. In short, Stamina shut down network access for all apps after a while when the tablet is set in standby mode. The more third party apps you have installed, the more battery will power will be saved. Google+, Facebook, Twitter, Skype are all apps that communicate with external servers even if the tablet is switched off. There is a whitelist which enables the user to add apps which needs to be active even if Stamina is active.
Consumers buying a Xperia Tablet Z will get all the technology Sony currently has to offer. Quad-core processor, 1920 x 1200 pixel display and a 8.1 megapixel high quality camera with the Exmor R sensor. This is not the latest Exmor RS sensor found in the Xperia Z smartphone which has nice features such as real time HDR video recording, but apart from that, the Xperia Tablet Z uses the same camera app as in the Xperia Z smartphone. The show-off functionality is of course the
9 pictures per second
continuous image burst. As long as you have enough free storage, the burst mode will capture up to 999 pictures in just two minutes.
Most people don't buy a tablet for the camera quality. It's the display that is of importance. Xperia Table Z has a 10.1-inch touch display with a Full HD 1920 x 1200 pixel resolution which is exactly the resolution you need for viewing HD movies. The display is of the new OptiContrast type which reduces the air gap between the glass and the pixels underneath.
WhiteMagic
introduced by Sony at the MWC last year has official been abandoned because the new Mobile Bravia Engine 2 software solution does the same thing. It enhances images and video by modifying sharpness and saturation in real-time. It works, but we think it was too much enhancement on some of the photos we saw. The Bravia Engine can be switched off in settings if you prefer to look at your images unmodified.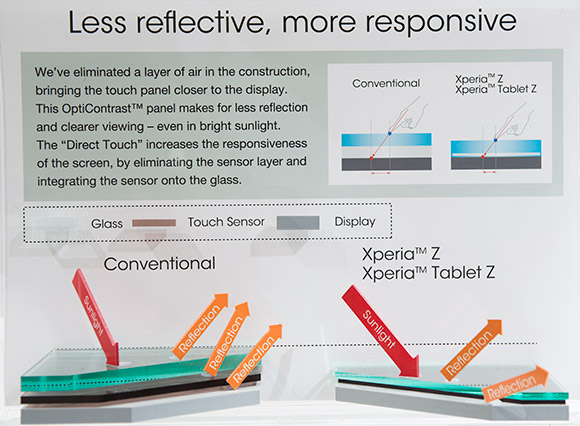 Like with the Xperia Z smartphone, only premium materials was used when designing the Xperia Tablet Z. The tempered front glass is one example of this and the aluminium power button is another. Sony Mobile has found out that the power key on a smartphone is pressed on average around 100 times each day. Special considerations has been made to make a power key which give the user a good tactile response and has a good durability.
Xperia Tablet Z was at the time of the announcement in January this year, the lightest and thinnest tablet in the world. The 6.9 mm thickness combined with a weigh less than 500 gram gave us an impression of a very light tablet. Unless you own the brand new
ZTE Grand S
, the Xperia Tablet Z is actually thinner than your current smartphone. Regardless of brand and model. It feels very light and at the same time we had the impression it was very solid build.
This year, Sony had the Xperia Z and Xperia Tablet Z as the main attractions at MWC. No other smartphones was on display. We saw a large number of accessories such as protective holster, portable battery chargers and optional docking chargers. As all the Xperia Tablet Z ports are protected by removable plastic doors that must be removed before inserting a USB cable. We think the docking station will be very useful because the two power source connectors will connect directly without the need of removing a protection.
Sony Xperia Tablet Z is protected against water and dust and it has a IP-code of IP5/7 which means it is water-resistant down to one meter for 30 minutes. The IP5X rating indicates that the tablet has the second highest level of dust-proof certification.
Will this this one replace my 10-inch Asus Transformer tablet? Yes. No doubt about it. It is the perfect home entertainment and browsing tablet. In the living room, the Xperia Tablet Z is the new king. Will it replace my smaller Nexus 7? Not likely. Not because of the features but the size is a little too big for what I use the 7-inch tablet for.
Sony Xperia Tablet Z highlights
Weight: 495 gram

Size: 266 x 172 x 6.9 mm

8.1 megapixel camera, Exmor R for mobile, autofocus. 1080p video capture, image stabilizer

2.2 megapixel front camera. 1080p video capture

1.5 GHz quad-core processor from Qualcomm. Snapdragon APQ8064+MDM9215M

Adreno 320 GPU

Memory: 2 GB RAM

10.1-inch touch display. 1920 x 1200 pixel resolution. 16.7 million colours

Internal storage: Japan version (Maki) and Wi-Fi only version: up to 64 GB. Cellular version (Gina Rex Tina): Up to 32 GB

Wi-Fi a/b/g/n, Wi-Fi direct, Wi-Fi hotspot

Bluetooth 4.0

aGPS

NFC

3.5 mm audio jack

Battery: 6000 mAh

Standby time (GSM): 1230 hours

Video playback time: 9 hours and 50 minutes

Music listenting time: 110 hours

MicroSIM card (cellular/LTE edition)

IPX5/7 water-resistant and IP5X dust-proof

Sensors: Accelerometer, ambient light sensor, magnetometer, gyroscope

Android 4.1 Jelly Bean
---
Alternatively post this in the Esato forum
Please sign in to your Esato account to leave a comment regarding this article
So you went to Barcelona Laffen?? What wowed you the most?? The Sony tablet looks nice
I was there yes. Couldn't stay for long due to a recent increase of number of persons in the family

It was not much that wowed me this time. Samsung did not have the Galaxy S IV ready, Sony did not have anything we hadn't heard of before and not much interesting from Nokia.
The Xperia Tablet Z was nice, and so was many of the 5-inch smartphones. 5-6 inch smartphones is maybe a little large for my taste. I have a 4.7-inch device at the moment which is comfortable small/large. The LG Optimus G family was also interesting, but paying for a LTE device is nothing for me as I do not have very good network coverage where I live (centre of Oslo). The HTC One design was attractive, but I'm not quite sure about the camera. The Grand this and that was just a bunch of large devices where the screen size was increased but the resolution was kept the same. I tried the budget-friendly ZTE Open running the Firefox OS. Hopefully it was a very early prototype because it was sooo slow.
Samsung has a huge stand and the staff are mostly local people but they are trained well for showing of products at events like this. I missed the local representatives from ZTE and Huawei which mean I had to talk to either male Asian engineers or female girls in short dresses. And neither of them spoke understandable English.
These are photos of the main booths where most pictures are captured after closing hours. I think the Nokia guys did a count this evening and found out that they were missing a unit.







---