Sony Xperia Tablet Z will be available worldwide in Q2
25 February 2013 by Olav Hellesø-Knutsen
At the Mobile World Congress Sony today announced that the Xperia Tablet Z will be available worldwide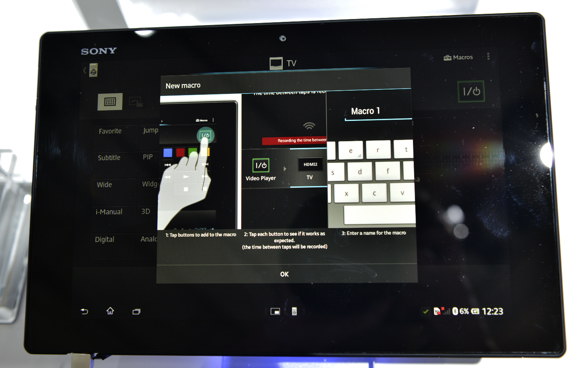 The Sony Xperia Tablet Z was initially only going to be available to the home market in Japan. The company has changed this decision due to demand from customers. Sony today announced that the tablet will be available worldwide in second quarter. The Xperia Tablet Z is the worlds thinnest and lightest 10-inch tablet. It has many of the features also found in the Xperia Z smartphone. They are both water-resistant, have a Full HD 1920 x 1080 display and they both have the new power saving feature called Stamnia which will for most users will double the battery time. Xperia Tablet Z has a 8 megapixel camera, is 6.9 mm thin, has a 1.5 GHz quad-core processor and only weights 495 gram. Sony has included all its current technology into the tablet. NFC, GPS, DLNA, Wi-Fi, HDMI and a remote control app (pictured above) which makes it easy to control a TV or any other device which accept commands from infra-red remote controls.
---
Alternatively post this in the Esato forum
Please sign in to your Esato account to leave a comment regarding this article
Can't wait. Great looking and a great set of specs.
Very nice. I played with their Windows 8 tablet last week in PC World very fluid
This thing is taking FOREVER to come to market. Philippines projected date of availability is July/August. Some gray market units are out (and ironically cheaper than SRP at the time of the launch) but no warranty/insurance available.
I tried their Win8 tablet (Duo 11) and although the concept is great, it's a bit too heavy for me to be called a "tablet". More like a laptop that can be used like a tablet. It's too under-powered for me for a laptop, and too heavy to be a tablet. Battery life on the Duo 11 sucks as well, at only 4.5 hours of use.
The Xperia Tablet Z looks like a winner and I'm impatiently waiting it's availability.
Although I can't seem to find concrete info on the models:
Does the 16GB Wifi model come in white? Or is white only available on the 32GB Wifi model? What about the LTE version? Does it come in 32GB and white as well? Or is 32GB/white only available as Wifi only?
Sony's site seems to suggest only 16GB for the LTE model with no 32GB version at all. And no white for the 16GB wifi or LTE models?

got my Tablet Z LTE!!!! so happy!

---