ZTE with the first smartphone powered by a Snapdragon 800 processor
26 February 2013 by Olav Hellesø-Knutsen
ZTE today announced the ZTE Grand Memo. A huge 5.7-inch Android smartphone being the first smartphone powered by the Qualcomm Snapdragon 800 processor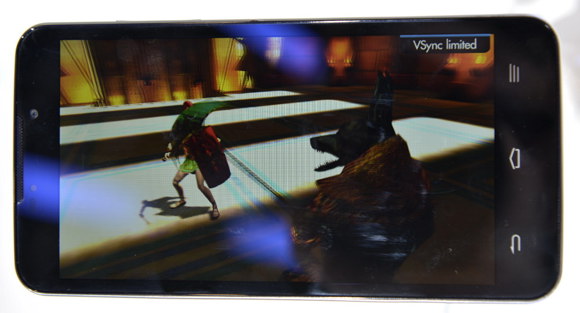 At the Mobile World Congress today, ZTE announced the Grand Memo Android smartphone. The Grand Memo is a very special smartphone with a 5.7-inch display which has a 1280 x 720 pixel resolution. To us, ZTE sends mixed signals by launching a flagship model with a huge display but with an average resolution. Well, two months ago, a 1280 x 720 HD display would be top of the range. But since last year, Sony, HTC and LG has announced one high-end model each. And all of these have a Full HD display. That is 1920 x 1080. Increasing the display size to 5.7 inch without increasing the resolution has resulted in a low PPI of 258. Hey, even its little brother ZTE Grand S has a Full HD resolution on a 5-inch display.
We saw two different Grand Memo models here at the MWC. One with GPS coverage and the Qualcomm Snapdragon 800 processor, but also a model for China and some other Asian countries. That model was configured with support for other network frequencies. RAM and all other specs but the processor and the supported networks was identical. TD-LTE Band 38/39/40, FDD-LTE Band 7, TDSCDMA Band 34/39, GSM Band 2/3/8. This model was powered by a nVidia Tegra 3 processor and Marvel PXA1802 modem. Snapdragon 800 is currently the fastest processor from Qualcomm.
The specification sheet and ZTE staff claimed that the Snapdragon processor will be clocked at 1.7. We run the app AnTuTu to see what the benchmark scores was. It ended on 13173 which is surprisingly low given the promised speed improvement of the Snapdragon 800. AnTuTu also reported a clock speed of 1.5 GHz which makes us believe that this was a demo unit with an older processor inside.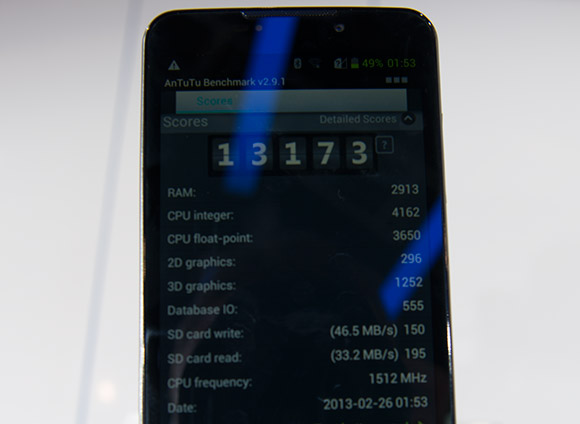 What surprised us a little was that the ZTE staff promoted the panorama camera as one of Grand Memo's major feature. Hopefully, they are not a part of the ZTE design team. All other makers of Android smartphone has realized that they need something extra to differentiate these powerful handset from another. Seems like ZTE buys hardware from the shelf and install a close to vanilla Android on top. Sony, Samsung and LG develop hardware in-house such as camera modules, screen technology and processors. They also adds number of extra features such free cloud-services, talk-to-my-fridge functionality and so on. Like ZTE, we think there is a market for large screens, but the 5.7-inch Grand Memo might be too big and not for everyone.
---
Alternatively post this in the Esato forum
Please sign in to your Esato account to leave a comment regarding this article
Just seen a video of this,it's way way too big. And the Android skin looks horrible
I dont know anyone who owns a ZTE phone. Not for me either im afraid. Id rather have a Htc OR Sony equiped phone.
At least I wouldnt be paranoid they're using my phone to spy on us !
That story was unfounded according to the BBC
Well I dont think the BBC are well known for deep layered security analysis, so even if they report its not the case, in the case which was reportes, does not mean this is not the case.
I read an article in The Economist last year, which reported findings of espionage on ZTE and Huawei products. Devices which have certain deep layered rules which make them capable of recording user data and images or remote microphone activation.
Not worth it imo.
Wow ,so what's stopping the other OEMs from using the Snapdragon 800??? Anyway, if Samsung are to use a Qualcomm chip in the S4 (I really hope they don't) hopefully it will be this one.
Interesting choice of hardware by ZTE, they throw in such a powerful CPU/GPU and then couple it with 1GB RAM and HD720P display.

[ This Message was edited by: Tsepz_GP on 2013-02-26 21:08 ]
The display is probably to give better benchmark scores over using a higher resolution display.
Oh and saving on costs and hope the user does not notice.
It's not the s800. It's not even the s600 now apparently. What's next, it doesn't use a processor?
[ This Message was edited by: Away on 2013-02-26 21:11 ]
On 2013-02-26 22:10:34, Away wrote:
It's not the s800. It's not even the s600 now apparently. What's next, it doesn't use a processor?
[ This Message was edited by: Away on 2013-02-26 21:11 ]
AFAIK there are two versions, a Japanese version using a S4 and then an international using a S800.
The Huawei spying story came out of America and basically its propaganda as the Americans wants everyone to buy American electronics so of course they see the Chinese as a threat! I know this. because I worked for a local Telco here in NZ and worked with Huawei directly and they just laughed at that story (me too) As for Chinese phones some are actually really good especially Huaweis new Ascend! This ZTE though falls short and probably. didn't have. enough time to put in a full hd display.
I once had the Huawei G300 on Vodafone a very well specced device for £100. It was a solid device. As for the spying story it was not just the BBC who said it was untrue and i just don't see the story having credibility. ZTE also recently made the Blade 3 for £80 on Virgin mobile and it has 4 inch WVGA display,1 ghz processor,ICS,5 meg camera etc all for £80 and reviews are positive.
---