Ascend Mate - A 6.1-inch smartphone from Huawei
1 March 2013 by Olav Hellesø-Knutsen
Huawei Ascend Mate is the worlds largest smartphone having a 6.1-inch display and an amazing 4050 mAh battery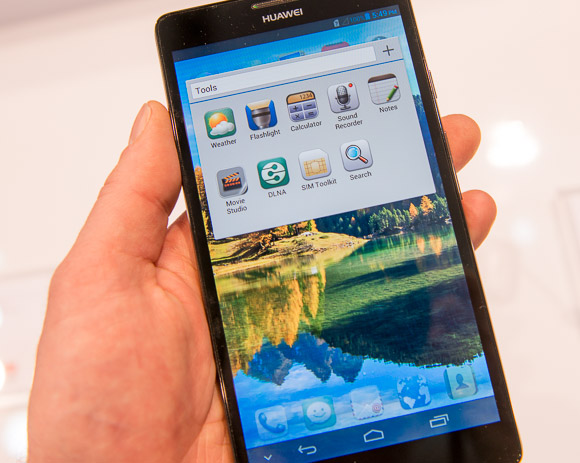 At CES in January, Huawei introduced the Huawei Ascend Mate Android smartphone. The gigantic smartphone has a 6.1-inch display which we last week found had the smartphone with the largest screen-to-body coverage. We think the large display will help selling the Huawei device, but it is also one of the things that prevent potential customers from choosing this particular model. After taking a closer look at the model at Mobile World Congress this week, we can conclude that this size is not for everyone. Take a look at the video below to see how it is possible to handle such a large smartphone.
The larger the screen, the more power will be required to keep it running for a day. Huawei has not reported much about the Ascend Mate talk time, but the 4050 mAh battery should at least keep the phone running for days when the screen is turned off. From our Ascend D1 Quad review we know that Huawei has made a lot of work with its relatively pure Android version and added a power management service that works.
The 720 x 1280 resolution seems somewhat old now that many of the other smartphone makers have announced devices with a higher 1920 x 1080 resolution. But like the Huawei staff says in the video. The Ascend Mate and the large display is a nice smartphone for watching videos. The powerful battery makes it possible to watch up to 8 hours of movies without re-charging the phone.
Huawei Ascend Mate highlights
Size: 163.5 x 85.7 x 9.9

Networks: GSM/EDGE 850/900/1800/1900, UMTS/HSPA 900/2100

1.5 GHz quad-core Hi-Silicon processor

6.1-inch IPS+ display. 720 x 1280 pixel resolution

8 megapixel camera with HDR. 1 megapixel front camera

1080p video capture. 720p front camera video

Wi-Fi

Bluetooth

GPS and Glonass

4050 mAh battery

8 hours battery time for watching video.

2 days of ordinary usage on a single charge.

Android 4.1 Jelly Bean
---
Alternatively post this in the Esato forum
Please sign in to your Esato account to leave a comment regarding this article
an extra inch~ and nearly twice the battery over the Sony Xperia Zed/Zee
this will be interesting.
Rubbish resolution for the size of screen, especially compared with recent phone announcements.
@DarkKrypt
The "size in not everything" is something I hear all the time.

That extra inch is not for me. I'll use my 7-inch Nexus in those occasions when I need a larger display.
Xperia Z have the
Stamina
software based power management system compared to Huawei's hardware based system
Quick Power Control and Automated Discontinuous Reception
. I'm looking forward to see exactly how long the battery will last for these two phones during real life usage.
With a PPI of 240, does the resolution really matter anymore??? Especially when this will be considerably cheaper than the Note2 which is thee phablet to go for right now. What worries me with this device is that it weighs in at a staggering 198g

that is almost bordering on Nokia E90 territory, which weighed in at 210g, so not only is it a huge phone it's also heavy, hopefully Huawei used some clever engineering to distribute the weight nicely.
Overall though, it looks like a good phone for those not satisfied by the current crop of 5inch beasts, yet don't want to drop a lot of money.

I am liking some of Huawei and ZTE handsets but this is another too big phone
---