Huawei Ascend D1 Quad review by Esato
21 January 2013 by Olav Hellesø-Knutsen
We have tested the Ascend D1 Quad smartphone from Huawei. Check out our review of an excellent 4.5-inch quad-core Android device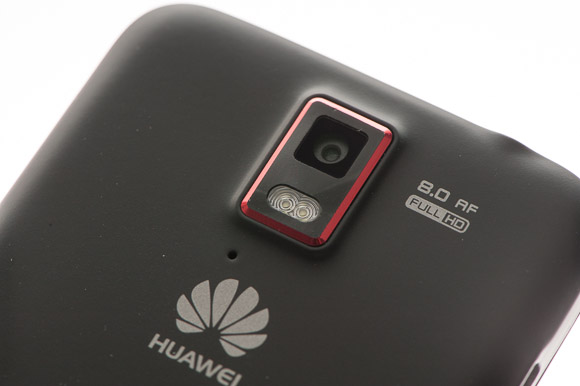 Ascend D1 Quad U9510 is the latest flagship model from Huawei. The Chinese company is the world's largest telecommunications equipment maker and it has lately also enter the handset market. The Ascend D1 Quad smartphone we are testing here is the most powerful Android smartphones from the company. This quad-core 4.5-inch device is available in several versions. We got our review handset from Huawei Norway, and the one sold in Norway and several other countries is powered by a 1.4 GHz ARMv7 quad-core processor. There is also a D1 Quad XL version available in other markets which has almost identical specifications but with a larger 2600 mAh battery and of course longer standby and talk time. Both the D1 Quad and D1 Quad XL model is available in some markets with a slower 1.2 GHz quad-core Huawei K3V2 chipset. We are looking at the 1.4Ghz edition in this review.
The form factor reminds us of the latest smartphones from
Motorola
. The backside of the D1 Quad has a removable plastic cover with enough resistance for a firm and steady grip. Underneath the back cover, there is a non-replaceable battery, a slot for Mini SIM card and a microSD card slot. On the D1 Quad model, the camera lens is slightly elevated from the rest of the body which means that it could be a small risk for the camera module to take the first impact if you are unlucky. The slightly thicker D1 Quad XL has a larger battery so the lens is in line with the rest of the back on that model. Physical mechanical buttons are limited to the power button located on top right and the two volume keys on the right side of the device. The microUSB plug is located at the left side and a 3.5 mm audio jack is located on the top of the device.
It is nice to see that Huawei has chosen to rearrange the three touch navigation buttons below the screen in a proper way. Now it's more like Google wanted it to be. The Back button is to the left, Home button in the middle and the Menu button is to the right. We have tested the Ascend P1 for a while too, and for us often switching between several Android devices, it was a nightmare to use this particular model where these keys was located in reverse positions.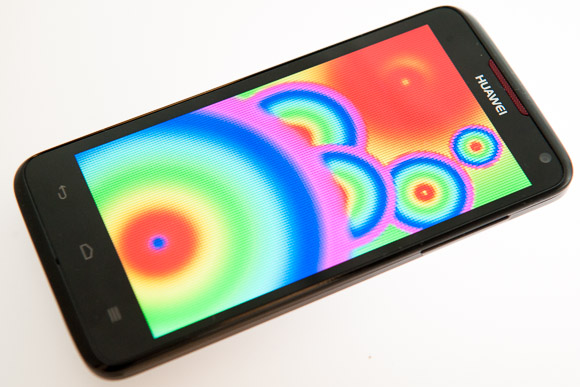 Display
Ascend D1 Quad has a large 4.5 IPS+ display. The size of the display is relatively large for a device only measuring 129.9 x 64.8 mm. Display visibility is very good from all angles. The contrast could be better and black level is not among the best in class. But the colour accuracy is very good and close to neutral, which means that white is white on this display, and not white with a blue tint as we tend to find on many AMODED displays. Some of you might prefer the saturated colours give by AMOLED displays, but we like screens with more natural looking colours. The resolution on the D1 Quad is 720 x 1280 pixels which is almost as good as it get these days. A PPI of 326 is similar to the pixel density of the iPhone 5 and Nexus 4 but a little below the 4.3 inch Xperia models from Sony. The pixels are so close together that you will not be able to distinguish individual pixels on this display.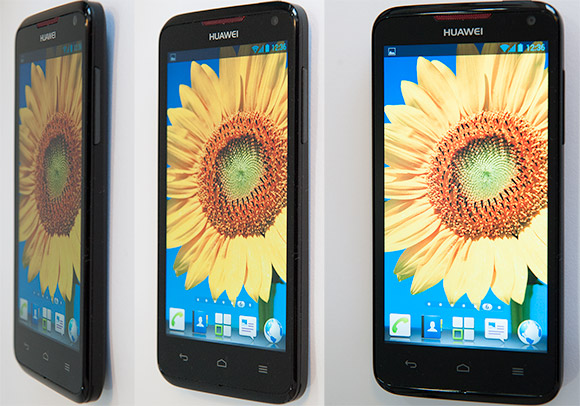 User interface
The stock Android user interface is kept pretty much untouched. We are talking about Android 4.0.4 Ice Cream Sandwich here. The extra goodies are pre-installed apps such as Polaris Office, Riptide GP, Security Guard (block list manager, password safe and file encryption), Weather Clock, DLNA, Twitter, Facebook and Huawei All Backup.
Huawei has added its usual 3D home screen as an alternative to the normal 2D version. Scrolling trough apps and swipe through home screens is a breeze regardless of active home screen type. The 2D version is the stock Android version where folders are created by dragging one app icon over another. The 3D home screen is based an older solution from Huawei where folders are created by clicking on the menu key. The 3D home screen offers a couple of features not available in the 2D version. Transitions can be changed between Spinning or Panning. Spinning gives the feeling of being inside a cube while swiping from one screen to the next, while Panning has the look of being outside the cube while swiping from one collection of apps to the next.
Using the 3D home screen makes it possible to re-arrange app icons by dragging them to the desired position. Unlike some other handset manufactures it is not possible to automatically arrange apps after most used or recently installed. In 3D Home there are two sets of app icons available called Boxy and Breeze. Theses will change icon layout for the apps shipped installed on the phone at the time of purchase. When using the 3D Home screen, users can also add five special designed 3D Widgets. Up to 7 Home screens can be used in 3D mode compared to max 5 in 2D mode.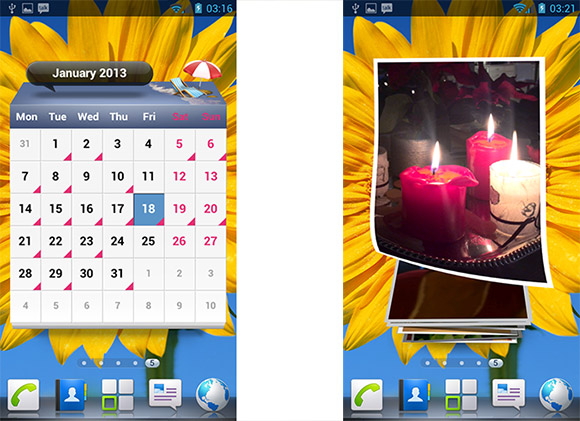 As a part of the HiSuite connectivity software soon to be bundled with the Ascend D1 Quad, you'll find the theme editor
Emotion UI
. Sadly, the instructions for making your own customized UI are only available as a PDF file in Chinese, so it was not very helpful for us. We have reached out to Huawei to get some clarifications regarding the Emotion UI theme editor and European release dates but have not heard back from the folks responsible for the Emotion UI yet. Huawei is a Chinese company which means that the Chinese market probably will get updates like this first. Looking at the Huawei Emotion UI
Facebook page
tells us that the company maybe not are up to the task of providing all the support demanded by its customers.
After doing some intensive digging, we found the
official
Huawei
page for the Emotion UI which explains what the Emotion UI Android skin will offer.
Me Widget
is a small customizable widget where the user can combine all the information he wants in one place. And
Profile Switcher
for convenient switching between a collection of profiles such as Driving, Sleep, Meeting etc.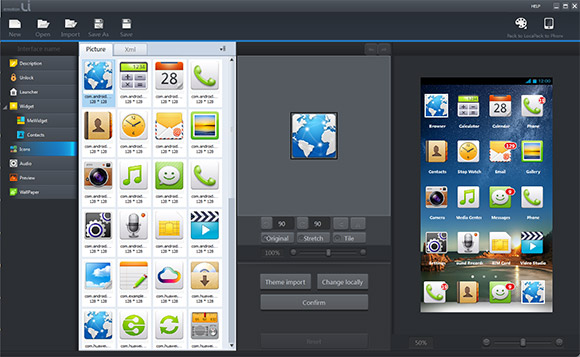 When the D1 Quad is connect to a PC via USB, the phone will give the user four options for which connectivity option to choose. Media device (MTP), Camera (PTP), HiSuite and USB mass storage. Choosing HiSuite will initiate the HiSuite daemon on the phone where an HiSuite service will be installed automatically on a connected Windows PC. The HiSuite PC software makes it very easy to run backups, synchronize and edit contacts, install apps and transfer media content back and forth to the smartphone. It is also possible to send text messages directly from the PC via this application.
Performance
Huawei Ascend D1 Quad is one of the fastest smartphones available. At the time of announcement almost one year ago, Huawei claimed it was the worlds fastest smartphone. The mobile world has of course evolved in 11 months and most manufactures now offer at least one smartphone model with a high performance quad-core processor. Some of the most popular smartphones available today has processors from well known brands such as Nvidia, Qualcomm, Texas Instruments, Samsung, ST-Ericsson and Apple. And there there is Huawei with its new HiSilicon K3V2 quad-core model which are powering the Ascend D1 Quad.
D1 Quads closest competitors are the flagship models Samsung Galaxy S III, HTC One X+, LG Nexus 4, Sony Xperia T and Nokia Lumia 920. These are all premium models with high performance dual-core or quad-core CPUs and high-end displays. The Ascend D1 Quad is on pair with all these models, but its price is significant lower.
To find out how the D1 Quad competes with these smartphones, we wanted to run a couple of benchmarks apps on the Ascend D1 Quad. AnTuTu is a popular benchmark app which test memory speed, CPU speed, storage access time and 2D and 3D graphics performance. In our opinion, the score coming from a benchmark app is just a guidance number where potential buyers quickly can compare the performance between two or more devices. But potential buyers should in our opinion not use a benchmark result as the main decision when choosing a new smartphone.
The AnTuTu developers
found
that the free version of their benchmark app available on Google Play scored higher than their internal developer version of the exact same app. They investigated the matter and found proof in a hidden service that some Huawei devices will change settings if apps named benchmark, quadrant, gpubench, nenamark plus a couple of more apps are executed. Unlike AnTuTu, we do not think Huawei has cheated to get high scores in benchmark results, but we think the Ascend D1 Quad simply will disable most power saving features and boost the CPU clock when one of these apps is running. The AnTuTu developers found this "hidden" service running on a Huawei Honor 2 device. We found the same pmqos.apk app on our D1 Quad test unit. PMQOS is an acronym for Power Management Quality Of Service.
We have used two versions of the AnTuTu benchmark app to check the speed of the Ascend D1 Quad. The one you will find in the Google Play market, and an app version which was provided directly from the developers of AuTuTu. We found that most of our benchmark results are backing up AnTuTu claims, but the results from the app are not very consistent. We chose to run AnTuTu more than 10 times with each setting applied and then use the average of these 10 result to come up with the final score. Ascend D1 has three levels of power management settings which might affect the performance:
Battery Save, Balanced and Performance. We have not found out exactly what these settings are doing but a short explanation in the power management menu tells us that the Battery Save for example will reduce the battery use with "the least amount of automatic updates" and that the Performance mode is "High phone performance with no power saving". We suspect the CPU clock being slightly lower in Battery Save mode as well.
Our AnTuTu benchmark setup was like this:
AnTuTu 3.0.3 from Google Play running with either Battery Save mode, Balanced mode or Performance mode
AnTuTu 3.0.3.X from the AnTuTu developers with the settings Battery Save, Balanced and Performance applied. Flight mode was activated and default storage location was set to internal.
We found out a couple of things when running these benchmark tests. One single run is not enough to measure true benchmark scores. The score from some of the sub-tests revealed that variations were too high to be trusted. Another thing we learned was that the device should be allowed to cool down after each run. This is not a specific Huawei problem but applies to several other multi-core devices we have tested. Digging in the power management service installed by Huawei revealed that the power management system will monitor temperatures and reduce the clock speed of RAM, CPU and GPU components when it is too hot inside the phone. Benchmark results will vary very much depending on the internal temperature.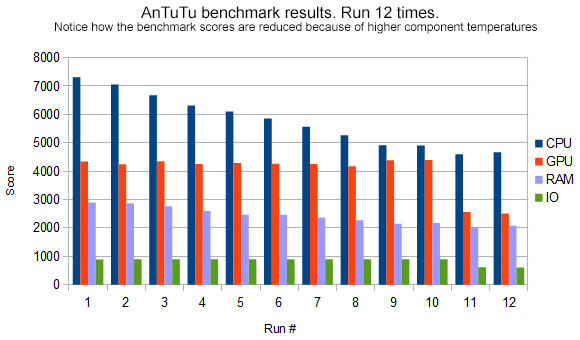 The 3D graphic test was the sub-test which gained most by the settings changed by the PMQOS service device. RAM access time experienced the second most improvement. The Ascend D1 Quad will not run at full speed unless the app running is known to the PMQOS service.
To sum things up: It seems like only those apps being recognized by the running Huawei service will take advantage of the full power of the quad-core processor. Benchmark apps will be given full power, and so will some popular games from Rovio (Angry Birds) and Halfbrick (Fruit Ninja). This should not be a big problem to those using the Ascend D1 Quad. Remember that the AnTuTu benchmark will run for approximately 3 minutes and that benchmark apps like this pushes the device to its maximum. Probably even beyond what's recommended by the device maker.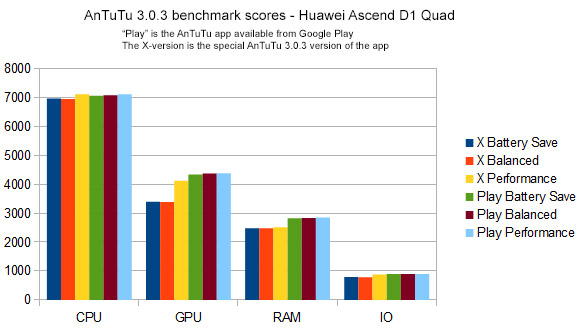 The highest AnTuTu score we ever managed to get out of the Ascend D1 Quad was 15549. Out of this score, SD write and read speed are responsible for up to 350 points. That is 2.5% of the total AnTuTu result. Doubling the storage access time will only gain marginal points in the AnTuTu results. The AnTuTu developers and many other benchmark app developers has weighted the storage IO very low, so keep this in mind when comparing benchmark results. We are not sure that processors are the bottleneck in modern smartphones. For graphic intense games, the GPU and RAM could be more important for the user experience. We are using a Asus TF300T tablet from time to time and while this tablet gain reasonable scores in benchmark tests, the often terrible internal storage access time makes the user experience less impressive.
The average Nenamark score was 65.1 which is very good and actually quicker than the LCD screen update frequency. Quadrant benchmark app gave us the average number of 5343 which is similar to Galaxy S III results.
Storage
The Huawei Ascend D1 Quad has a free microSD slot which means that you can add up to 32 GB extra storage to this smartphone. That could come handy for those using their phone as a music player or even a video player. The D1 Quad does not have a HDMI connection but it is possible to share media content through DLNA. Sadly, we experienced problem when inserted microSD card into the device. From time to time, the SD card became unmounted and the only way to make the Ascend D1 Quad to mount and recognise the card again was to reboot the phone. This happened to cards with different sizes and brands. We have been using the older Huawei Ascend P1 for the last couple of months, and it often happen to that model as well. It is very annoying when you want to show someone an old photo but can't because the memory card is unavailable.
Keep in mind that there are several factors that can ruin the user experience even on a smartphone with a good benchmark score. The user interface layer HTC Sense, Samsung TouchWiz or Motorola MotoBlur are all extra additions to what the plain Android interface can offer. Huawei does not add much on top of the pure Android user interface. It is clean and non-cluttered.
Camera
With a 8 megapixel BSI camera, the Huawei Ascend D1 Quad captures exceptional good photos compared to similar priced smartphones. Like many popular smartphones, the Ascend D1 Quad are lacking a dedicated camera shutter key. We think a high-end smartphone deserves a dedicated camera key. The camera has familiar functions such as panorama mode, smile detection, face detection, GPS tagging, continuous autofocus, HDR and burst mode. It is also possible to manually adjust some of the settings such as ISO, White Balance, exposure, saturation, contrast and brightness.
One interesting feature is the group mode. When group mode is turned on, the camera will quickly capture up to five images where the photographer later can compose a perfect shot by selecting individual faces from each of the five photos.
Those of you enjoying face warp effects will not be disappointed. Neither will those of you enjoying the photo filters offered by the popular photo sharing site Instagram.


We have compared the Ascend D1 Quad to Google Nexus 4 by LG, the Sony Xperia S and a full frame DLSR with a high quality lens. D1 Quad's 8 megapixel camera is superior to the 8 megapixel camera in the Nexus 4. Xperia S has a higher resolution with its 12.1 megapixel sensor and comparing the D1 Quad to the Xperia S at 100% gives the D1 an quality advantage although the quality of Xperia S and Ascend D1 Quad photos are similar if we resize the Xperia S image down to 8 megapixels.
Our test photos of the resolution chart seen below, are taken with a home made tripod solution and self-timer on all devices. Of our three test devices, the Xperia S is the smartphone with most
chroma noise
followed by the Nexus 4. Ascend D1 Quad win this battle. It is actually very good at handling chroma noise. Our opinion is that noise in general not is a big concern unless it is colour nose. Luminance noise for example looks like old fashion film grain and it is also easier to remove using photo editing software at a later stage.
Images captured with the D1 Quad has also very good contrast. The photos of the circles in the resolution chart (
view 2.75MB
) is taken with lowest possible ISO. Xperia S using the maximum 12.1 MP resolution: ISO 64, Nexus 4 with 8 MP resolution: ISO 100 and the Ascend D1 Quad image was captured with ISO 70. Photos of the same subject shows that Ascend D1 Quad has the best image processing algorithm and the final result is also better because it does not apply as much sharpening as the other two. Transitions between dark and light areas with much contrast are preserved.
Huawei has also chosen to use less compression on the JPEG files which conserves image quality. From our collection of photos captured with the D1 we estimate that the Huawei smartphone has a JPEG quality of 97%. In our review, we were always using the best possible image quality settings called Super Fine, but D1 Quad also offers Fine and Normal quality. Fine means a JPEG quality of 90% while Normal means a quality of 80%. Xperia S has 93% and the Nexus has 95% as their best photo quality. You will not see the typical JPEG artefacts in photos from the D1 Quad, but the file size will of course be larger. Where our typical Nexus 4 images are 2.27 MB in average the file size on the D1 Quad is 2.71 MB large. In our opinion, Huawei has made the correct decision to increase file size to preserve image quality.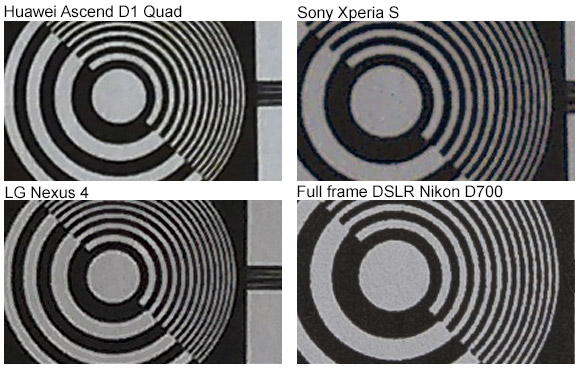 The automatic white balance is most of the time accurate. For example are subject such snow white as it should be, and not blue. But D1 Quad images tend to miss some colour saturation. They often lack that extra colour punch.
Comparison photos taken with the Sony Xperia S, Google Nexus 4 by LG and the Huawei Ascend D1 Quad:
The camera response is not very good meaning that you will need to plan your shots before pressing the virtual shutter key. We have measured the response time from when we pressed the virtual camera shutter key until the picture actually was captured. It takes approximately 0.6 seconds in single shot mode.
We discovered a small bug in the camera app. Every JPEG picture has EXIF information written in it. The information stored varies a slightly from camera to camera, but ISO, Scene mode, geo tags and date and time are usually the info you will find in image files from digital cameras. The Ascend D1 Quad will store all this data to the final image files, but the time settings are not correct. It does not make adjustment based on the phone's time zone. My time zone in Norway is GMT+1. Photos captured at the local time 10.00 (GMT 09.00) will have the Exif time stamp 09.00. This is a model specific problem as it do not exist in Huawei Ascend P1.
Ascend D1 Quad will record video clips with a resolution up to 1920 x 1080 pixels at a frame rate of 30. You can
watch
our short video clip uploaded to YouTube. There is nothing magic about the video recorder. The dual-LED light will light up subject on short distances. It is possible to change white balance, use
the entertaining face warp effect during live recording, add geo tags and switch on image stabilizer. We have tried a couple of mobile phones during the years, but are still looking for a device which can properly stabilize the picture during video recording. The Huawei D1 Quad did not do much to stabilize the image at all. When looking at the video clips, it is actually very hard and sometimes impossible to determine if a video has image stabilizer turned on.
Included Accessories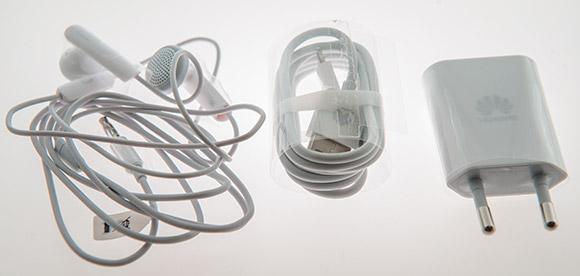 From time to time, our D1 Quad test unit would do an unwanted reboot. We have experienced this with other brands as well, but the D1 Quad could do sometime boot during night without us being aware of this. And since the phone not did a auto-login, we could risk not receiving any calls that morning after the reboot. Minor annoyances: It is not possible to uninstall certain factory installed apps. Even though we are convinced that the two Facebook and Twitter apps will be used by many users, it is not possible to remove them to free space for other apps.
Summary
+
Good 4.5-inch IPS+ multi-touch display with a HD 1280 x 720 resolution
+
Fast Quad-core Huawei HiSilicon K3V2 processor
+
Despite not being the thinnest smartphone available, the size feels OK and the grip is very good.
+
Huawei has kept the Android 4.0 almost untouched.
+
Very good 8 megapixel camera
+
Affordable
-
No LTE (4G) network support
-
Uncertain track record for future OS update - Currently running Android 4.0
-
Randomly unmounting inserted microSD card
-
No dedicated camera key
We think that the Ascend D1 Quad / D1 Quad XL is a recommended purchase for those consumers that do not care about having the absolutely latest version of Android all the time. We could of course be wrong about Huawei's future upgrade path. Ascend D1 Quad is one of the fastest smartphones available when we have just entered the year 2013. Powered by a fast quad-core processor, Ascend D1 Quad should be able to run the most demanding games and CPU intense apps. The battery capacity and display is good and our overall impression is that D1 Quad is worth the price tag.
Huawei Ascend D1 Quad specifications
Weight: 126 gram
Size: 129.9 x 64.8 x 11.5 mm
Operating system: Android 4.0 Ice Cream Sandwich
4.5-inch IPS+ display with a HD 1280x720 pixel resolution
Networks: GSM/EDGE 850/900/1800/1900, HSPA/HSPA+ 850/900/1800/2100
Wi-Fi b/g/n
Bluetooth 3.0
DLNA
A-GPS/GLONASS
8 megapixel camera with Back-illuminated sensor (BSI), dual-LED flash
1.3 megapixel front camera
1080p video capture
702p video capture front camera
1.4 GHz quad-core K3V2 processor
1GB RAM
8GB internal storage. Expandable up to 32GB using microSD card
Battery 1800mAh (D1 Quad XL: 2600 mAh battery)
---
Alternatively post this in the Esato forum
Please sign in to your Esato account to leave a comment regarding this article
---