RIM announced BlackBerry Bold 9900 and 9930 smartphones
5 May 2011 by Olav Hellesø-Knutsen
RIM this week announced two new high end smartphones and the new BlackBerry OS 7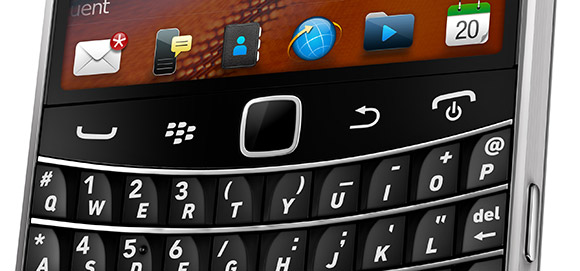 The two new phones are RIMs top of the range models as the high naming number reveals. Many BlackBerry models are given a number as the model name, and numbers are between 8100 and 9930. This tells us that the two models announced this week currently are the most powerful models from RIM.
BlackBerry 9900 and 9930 share the same features except differences in supported networks. As usuall, both BlackBerry devices have a full QWERTY keyboard and a small touch screen. Entirely new features from the Canada based company is the addition of Near Field Communication (NFC) which seems to be this cool feature of the year. RIM also announced a new version of the BlackBerry OS. Some of the enhancements in the new OS is easier and faster user experience with an updated BlackBerry Browser. The new browser supports HTML5 elements such as HTML5 video. BlackBerry 7 OS also introduces BlackBerry Balance where user can separate private content from corporate content.
BlackBerry 9900 and 9930 highlights
1.2 GHz processor
768 MB Ram
8 GB storage. Expandable up to 32 GB with microSD card
Size: 115 x 66 x10.5 mm
130 gram
2.8 inch capactive touch screen, 640 x 480 pixel resolution
QWERTY keyboard
5 megapixel camera
720p video recording
aGPS
Bluetooth 2.1
WiFi: Dual-band 802.11 b/g/n at 2.4 GHz and 802.11 a/n at 5 GHz
Near field communication
Networks:

9900: GSM/EDGE 850/900/1800/1900, Tri-Band HSPA+
9930: GMS/EDGE 850/900/1800/1900, CDMA 800/1900, Dual-band HDPA+

1230 mAh battery
---
Alternatively post this in the Esato forum
Please sign in to your Esato account to leave a comment regarding this article
Great device - but its NOT QNX ... looks like RIM is dragging their feet in the ground in terms of serious development with their "mobile device" grave chained in the ground.
RIM should become a platform/infrastructure/software company:
1. offering enteprise management to existing BlackBerry handhelds - and they have an update to BES to support iOS devices and Android in the next SP2 udpate.
2. Offer cross platform BBM with mobile enhancements for Android and future iOS when inter-app comm is enabled.
3. work exclusively on QNX for mobile tablets, cars, trains, and other mobile systems and infrastructures.
I swear I'm the only BB user on this forum ... however despite my earlier post on this I'm VERY impressed on the Bold 9900 especially when stacked up against the E6 from Nokia. Lots of incredible refinements that QNX not being ready is not a big deal until officially announced till shipping handsets show up on the horizon late 2011 first qtr 2012.
i'm also using bb, i got the 9780 from company. also have my x10i as personal.
the new bb looks like the bold 9000 with the trackball.

I'm saying goodbye to my BB and hello to a S2 on Wednesday, but my mate went for the 9900 - that's the reason I'm still waiting, release was delayed by a week - so I'll be able to see what they are like, but no way I would even contemplate using another BB, I need more.
Read a review that summed it up pretty well, it's the best BB ever, in every single way, close to the BB Holy Grail... But it's still a BB, so just cant quite stand shoulder to shoulder with the top iOS or Android device...
Picking one of these up tomorrow, BBs are one of the very few that is communication device first and foremost even with the current OS.
Whats really nice about this new BB (although Im not a BB fan) is that they have finally reduced the start up time.... You can take the battery out... put it back in... and the phone starts up fully in about 45sec to 1min.... If anyone is interested, I can post photo samples and pictures of the actual device.
Just got mine today and I have to say it's an awesome piece of kit, can do a mini review if people are interested?
---