Android surpasses Blackberry as the number one smartphone platform in the U.S.
4 March 2011 by Olav Hellesø-Knutsen
RIM BlackBerry falls off the throne as the most popular operating system in the U.S. Android gains market share and Apple iOS are steady on 25%
For the first time in history, Android is the preferred operating system by consumers in the U.S. According to Nielsen, it is a tie between RIM BlackBerry and Apple iOS on second place with 27% market share each when it comes to manufacturer operating system. Both Apple and RIM are making their own devices and running their own OS. Google and Android with its 29% market share are having companies like HTC, Motorola, Samsung on the team as they make the hardware for the OS.
The graph below shows the steep growth curve of devices running Android and it does not seem to flaten out the next months. It does not seems like Windows Phone 7 OS was of any help for Microsoft either, but the historical graph lies somewhat. Apples market share is steady on 25% while the rest are dropping. This does not mean that Palm, RIM are selling fewer smartphones now than in the past because the total number of sold smartphones has raised.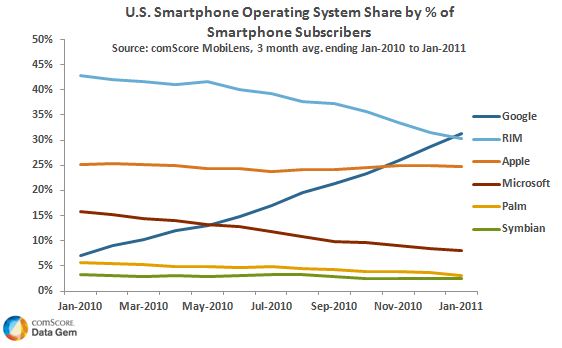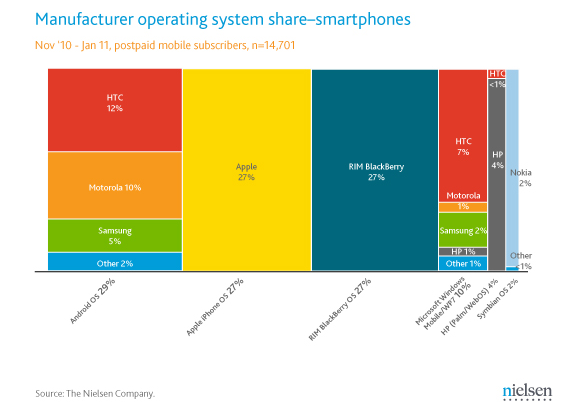 ---
Alternatively post this in the Esato forum
Please sign in to your Esato account to leave a comment regarding this article
It was just about time. Since May its taken down 3 OS's.
---