Sony Mobile announces the Xperia Sola 3.7 inch Android smartphone
13 March 2012 by Olav Hellesø-Knutsen
Sony Mobile today introduced the Xperia Sola 3.7 inch Android smartphone. It is following the design style set by the Ion, Xperia S, U and P smartphones. With the Xperia Sola, Sony also introduces floating touch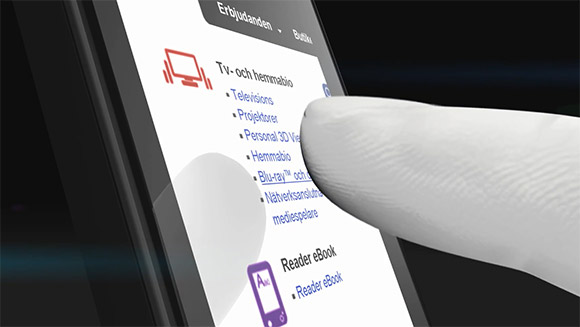 Today Sony Mobile unveiled the Xperia Sola Android smartphone. Besides having a 3.7 inch touch display and a dual-core 1 GHz processor the Xperia Sola introduces something Sony calls Floating touch. It will let the user navigate the web by hovering a finger above the screen so it acts like a moving cursor. As far as we know this technology currently only works with the built-in web browser. Sony will adapt the functionality to new apps in the future.
The Sony Xperia Sola is also a NFC enabled device and it will be shipped with two SmartTags which is something we took a
closer look at
last week. Touching the NFC tags with the Xperia Sola will instruct the phone to do up to 10 programmable tasks, such as powering off Bluetooth, turning on Wi-Fi and start an app.
Xperia Sola will be shipped with Android 2.3 but a free upgrade to Android 4.0 will be available within the next few weeks.
Sony Xperia Sola highlights
Weight: 107 gram
Size: 116 59 x 9.9 mm
Networks: GSM/EDGE 850/900/1800/1900, UMTS 850/900/1900/2000
3. 7 inch touch screen, 480 x 854 pixels resolution, 16 million colours
5 megapixel camera, 16x digital zoom, fast capture
720p HD video capture
1 GHz dual-core processor
512 MB RAM. Expandable memory up to 32 GB using microSD card
FM radio
3.5 mm audio jack
USB port
Wi-Fi
A-GPS
DLNA
Android 2.3 Gingerbread
Talktime: 6 hours
Standby time: 475 hours
---
Alternatively post this in the Esato forum
Please sign in to your Esato account to leave a comment regarding this article
Floating Touch interface is very innovative and brilliant, eat your heart out Apple!
This phone actually catches my eyes. But I don't know why. It's not the floating touch thing but its design. It brings the same feeling I had when I owned the K750 for the first time. Don't know why.

On 2012-03-13 13:35:43, tranced wrote:
This phone actually catches my eyes. But I don't know why. It's not the floating touch thing but its design. It brings the same feeling I had when I owned the K750 for the first time. Don't know why.

It has to do with the back. For the first time in ages, Sony did what SE hasn't and made the camera look thick, beastly and even at 5MP I think it can do wonders. The front is also great, with the screen extended out ever so subtly to separate it from the bottom, and that bitching light is pure aesthetic gold. For 300 euros, with a slight drop in 2 months at an easy 200, I'd take it for sure.
this floating touch (also known as proximity touch) is used by wacom in their products since ... ever. but cool to have it on a phone, finally there is no need to buy smartphone gloves to use a phone in winter.
It's good but I imagine the floating touch thing a little awkward
Good work Sony more of this please!
So hows it work ? via the proximity sensor ?
I'd rather have the Xperia S though.

On 2012-03-13 23:09:30, etaab wrote:
So hows it work ? via the proximity sensor ?
I'd rather have the Xperia S though.

http://developer.sonymobile.c[....]-touch-makes-it-possible-video
There are two types of capacitive sensors used for touch screens, mutual capacitance and self-capacitance. Mutual capacitance makes multi-touch detection possible. Self-capacitance generates a stronger signal than mutual capacitance, which allows accurate detection of the finger further away from the sensors. However, with self-capacitance it is not possible to perform multi-touch detection due to an effect called "ghosting".
Combining self and mutual capacitance to allow floating touch™
Floating touch™ is solved by running both mutual capacitance and self capacitance, on the same touch screen, at the same time. Mutual capacitance is used for the normal touch sensing, including multi-touch. By running elf-capacitance at the same time, we can detect a finger above the surface of the screen. However, since the floating touch™ technology depends on self capacitance, it is not possible to perform multi-touch gestures with the fingers hovering above the screen. However, multi-touch will work fine for the normal touch gestures on the screen.
The technology has been developed in cooperation with Cypress Technologies. By leveraging on the existing capacitive touch sensor, and lowering the threshold for touch registration, it will be possible to differentiate between floating touch™ and "normal" touch. All Android™ applications will work perfectly fine, just like before, and only the apps that explicitly "listen" for floating touch™ events will react to them.
Is there a front facing cam on this one?
review in russian shows FloatingTouch and internals...
http://www.youtube.com/watch?v=YI8qM0FErdA
- soft touch plastic like S
- fast capture like S
- 8GB internal memory (5 user accessible) + 32GB SD card
- no front facing camera
- 1300mAh battery but it`s enough for the device
- FloatingTouch works as good as Sony say and it`s usefull
-
Update to ICS in 3 weeks time
Even in the Sony video posted above, "Floating Touch" looks incredibly awkward. I think to be innovative, there has to be some real point to the technology you're introducing, not just "we can do this so we will.."
Isnt the point of it so you can highlight something such as on a webpage without actually clicking on it as you can on a desktop computer ?
So basically it works the same way as the capacitive screen, just further away from the actual surface itself ?
I think thats innovative. Not entirely brilliant but a nice addition.
Why on earth this phone doesn't have a 8Mp Camera ???
Every innovation is naturally criticized. I think having this would be great, I have several websites where i need to have something like this to be used because they are not optimised for phones. I really hope sony gets it into a higher end phone, and lack of front facing camera is dissapointing to me!
---