Want a tablet and a smartphone in one - get the Asus PadFone
12 March 2012 by Olav Hellesø-Knutsen
The smartphone-in-a-tablet device Asus PadFone will be available in selected markets in April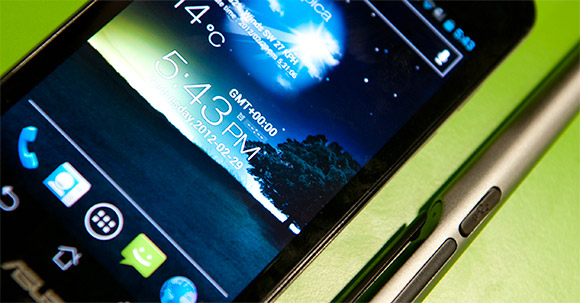 The Asus PadFone design has changed slightly since we first was introduced to the interesting concept. The PadFone is a product which consist of a smartphone running Android 4.0 Ice Cream Sandwich, a docking station with a 10.1 inch display and a stylus headset. It is also possible to buy an attachable keyboard to the tablet part.
We are not sure why Asus has waited until now before releasing the PadFone, but we suspect that they were waiting for Android 4.0 and a user interface which are made for different screen sizes. As you may know, version 4.0 of the Android OS is made for both smartphones and tablets. Previously, Android 2.3 was for smartphones and Android 3.2 for tablets. Asus might have been waiting for the display flexibility offered by Android 4.0 Ice Cream Sandwich.
The PadFone smartphone unit has a dual-core 1.5 GHz S4 8260A Snapdragon Qualcomm processor which is enough power by todays standard to run a smartphone as well as a tablet. The smartphone unit has 1 GB RAM plus 16, 32 or 64 GB of internal storage. The display size is 4.3 inches and the resolution is respectable 540 x 960 pixels. The smartphone battery is 1520 mAh, but in addition to that, the tablet unit has a built-in 6600 mAh battery. This battery will charge the smartphone when it is plugged into the tablet. It is also possible to buy an attachable keyboard dock which also holds a battery. The keyboard will charge the tablet when they are connected. Some retailers and carriers will probably include the keyboard in the sales package.
The price for the Asus PadFone will of course be an important factor for those considering a PadFone. The PadFone concept is indeed something special. The stylus headset is included in the package and you will have to pay for this even if it something you don't want. The PadFone tablet has a 1280 x 800 pixel display. We saw a couple of tablets introduced at the MWC with 1920 x 1080 Full HD resolution. If Asus later releases an updated tablet docking, it could of course have higher resolution as well. But maybe we not should take for granted that an older smartphone will fit into a newer tablet station.
Combining the smartphone and tablet adds weight to the final product. The tablet has a weight of 724 gram which is modest compared to regular 10.1 inch tablets. But the phone itself is 129 gram heavy which gives a combined weight of 853 gram.
Asus PadFone highlights
PadFone

Size:128 x 65.4 x 9.2 mm
Weight: 129 gram

PadFone Station (tablet)

273 x 176.9 x 13.55 mm
Weight: 724 gram

Networks: GSM/EDGE 850/900/1800/1900, UMTS 900/2100, HSPA+ 21Mbps/5.76Mbps
Display smartphone: 4.3 inch Super AMOLED, 540 x 960 pixels, Corning Gorilla Glass
Display tablet unit: 10.1 inch TFT, 1280 x 800 pixels, Corning Gorilla Glass
8 megapixel camera, auto focus, LED light, f/2.2
0.3 megapixel front camera, 1.3 front camera on the tablet unit
A-GPS
Wi-Fi b/g/n
Bluetooth 4.0
1 GB RAM
16, 32 or 64 GB storage. Expandable with microSD card
Android 4.0 Ice Cream Sandwich
Battery smartphone: 1520 mAh
Battery tablet station: 6600 mAh
Standby time: 373 hours
Talk time: 10.8 hours
---
Alternatively post this in the Esato forum
Please sign in to your Esato account to leave a comment regarding this article
I really like the idea, but it has some shortcomings.
one being the door, one day that thing is going to break off and cost me god knows how much to repair. In my opinion it would be better to have a ´pc-card insert style of solution´ instead!
Another shortcoming, it may be outdated. Hi def displays are coming rapidly and by summer it will be standard. But as always it's probably going to have a reasonable price thanks to this .
I'm not going to buy it, but it is clever, really clever!
Nice!
---