Padfone announced by Asus
30 May 2011 by Olav Hellesø-Knutsen
Asus Padfone is a smartphone and tablet in one. The tablet part works as a docking station for the smartphone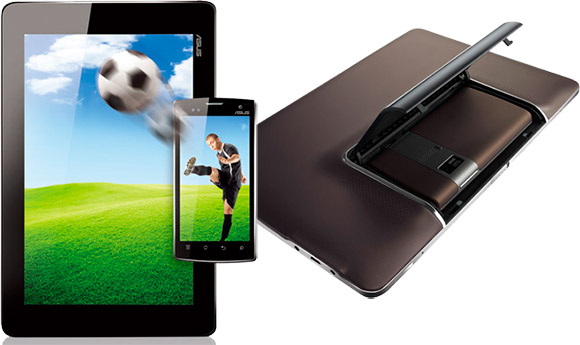 Asus might not be the first brand you are thinking of when we say Android smartphone or tablet. They have previously shipped mobile phones in companionship with Garmin using the name Garmin-Asus. After six devices, the co-branded business model were dissolved and Asus are now making smartphones using the brand name Asus.
The latest addition to the product line is the Padfone. It is acctually two devices. One dumb tablet and one smartphone. The smartphone is dockable into the backside of the larger tablet shell. We do not have much technical details about the two, except that the smarphone will be running on the latest version of Android namely Ice Cream Sandwich.
It is not fair to call the larger device of these two for a tablet. Because it is just a dumb screen with docking posibillities. The smartphone will be charged when docked into the much larger tablet and the large display can't du much without having the smartphone connected.
---
Alternatively post this in the Esato forum
Please sign in to your Esato account to leave a comment regarding this article
Nice looking device but i bet the Apple hounds will be sniffing this one out thoroughly for any patent breaches.
Smart solution!
I like the idea of a phone with an extra screen.
great concept also worth a mention is the Asus MeMo its so smart to look at, I cant wait for ice cream sandwich.

---