Asus PadFone available for pre-orders in Taiwan
5 April 2012 by Olav Hellesø-Knutsen
Those of you waiting for the combined phone-tablet device Asus PadFone will soon be able to buy the set of device. Today, Asus revealed that the PadFone will be available in Taiwan on April 20th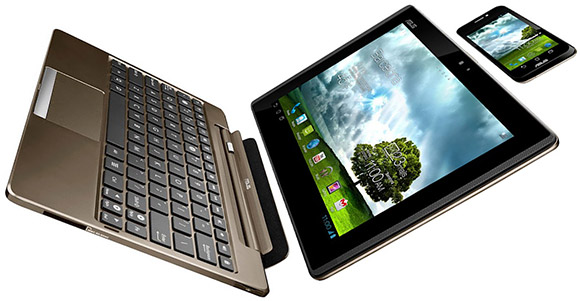 Asus managed to keep its promise set back at the Mobile World Congress about having the PadFone ready for shipment in April. The Taiwanese company today announced that the PadFone will be available for pre-orders from tomorrow. That is if you are located in Taiwan of course. The home market first. Global availability is not yet decided, and since Asus not is famous for bringing products quickly to market, we are guessing the PadFone to be available globally sometime this summer at the earliest.
As we reported from MWC in Barcelona earlier this year, having a smartphone, tablet and keyboard in one is a great idea. It is not for all, and the price will probably be the thing that make consumers look elsewhere for other solutions. The smartphone only will go for 17.990 Taiwan Dollar (USD 610, Euro 466) and the phone plus PadFone station (tablet screen) including the stylus / Bluetooth headset will set you back 650 Euro / USD 846. The full configuration with the smartphone, PadFone Station and PadFone Station Dock (keyboard) is quite expensive at USD 980/750 Euro.
Even if this is a great idea in theory, we think it is things you should consider before buying one. What about next generation of PadFone. Will it be possible to buy a more powerful phone in the future and use the same PadFone station. And what if you want to buy a PadFone station with a higher resolution in six month. Will that be possible?
Pre-orders will be accepted from April 6th with expected shipment on April 20th. Those pre-ordering the device will receive an extra battery for the phone.
Asus PadFone highlights
PadFone

Size:128 x 65.4 x 9.2 mm
Weight: 129 gram

PadFone Station (tablet)

273 x 176.9 x 13.55 mm
Weight: 724 gram

Networks: GSM/EDGE 850/900/1800/1900, UMTS 900/2100, HSPA+ 21Mbps/5.76Mbps
Display smartphone: 4.3 inch Super AMOLED, 540 x 960 pixels, Corning Gorilla Glass
Display tablet unit: 10.1 inch TFT, 1280 x 800 pixels, Corning Gorilla Glass
8 megapixel camera, auto focus, LED light, f/2.2
0.3 megapixel front camera, 1.3 front camera on the tablet unit
A-GPS
Wi-Fi b/g/n
Bluetooth 4.0
1 GB RAM
16, 32 or 64 GB storage. Expandable with microSD card
Android 4.0 Ice Cream Sandwich
Battery smartphone: 1520 mAh
Battery tablet station: 6600 mAh
Standby time: 373 hours
Talk time: 10.8 hours
---
Alternatively post this in the Esato forum
Please sign in to your Esato account to leave a comment regarding this article
---