Sony Ericsson Xperia Play pictures of the week
14 January 2011 by Olav Hellesø-Knutsen
Another week has gone by, and a bunch of new Xperia Play pictures has been captured in China. We have collected many of them for your enjoy and pleasure
We do not understand Chinese very well, but thanks to Google Translate we can give you a short summary of a 15-page Chinese Xperia Play review. The review unit is provided by Shenzhen "Hongda telecommunications mobile store" but as stated in the article, this is a 90% working prototype and not the final product. It is a review focusing on the hardware and android. This is of course OK, but what make this phone special is of course the gaming features. Much of the game specific things with the phone was not working which makes a final verdict unusable.
The web site start off by describing the hardware part where the usual 3.5 audio jack, microUSB plug and four Android buttons have inherited the game controls from Sony PSPgo game console. All but two of the game keys are hidden but they become accessible when the slider is extracted. The PSP go has a 480 x 272 pixel 3.8 inch display while Xperia Play is more up to date with a 4 inch 854 x 480 pixel resolution touch screen. It is nice to see Xperia Play is running the latest version of Android 2.3 which is something Sony Ericsson not has been very good at in the past. Xperia X10 was released with version 1.6 and it took too long before an upgrade to 2.1 was possible. Sony Ericsson is very well aware of the critics of slow updates and they are now saying that future devices will be more up to date. To accomplish this, Sony Ericsson signature apps like MediaScape and TimeScape will in future devices be running as "widgets"-like applications further away from the OS.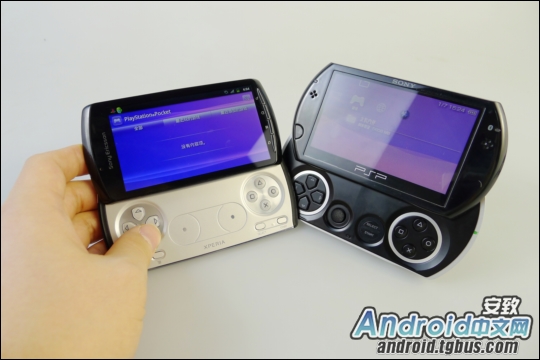 If Google Translate has done its job correctly, the web site claims that the Xperia Play has touchpad controls between the analog gaming keys. The touchpad is made by Synaptics and it will be interesting to use these to navigate the phone. We do not know if the touchpads are for gaming only, or if Android has support for such input methods.
Xperia Play has a 1500 mAh battery while the PSPgo has a 1200 mAh battery. The Xperia Play display is larger but the CPU might be using less battery so if the phone is set to flight mode it should be able to have the same amount of play time.
A Sony BRAVIRA display is fitted giving the Xperia Play a ultra-wide viewing angle. The few games tested on the prototype seems to be regular Android games but all of the were running smoothly. We are looking forward to see some new games specially designed for this device. Just one game tested was using the game keys and none used the L / R button or the touch pad. The latest Adreno 205 GPU from Qualcomm powering the device. This is the latest graphics processing unit from Qualcomm and which you also find in HTC Desire HD, HTC myTouch, HTC Desire Z and Sony Ericsson Xperia Arc. It is approximately four times faster than Adreno 200 found in HTC EVO, Nexus One among others.
PlayStation Pocket is a new game marketplace, but this has not opened yet so the guys at the Chinese Android web site was not able to test it. This is one of the interesting things with this phone. Will this be a part of Android Market? Can we download and play older PSP games? Who know. We will see when the phone is official. The reviewer has downloaded a third-party PSP emulator and claims that 70% of PSP games runs smoothly on the Xperia Play.
Android version 2.3 supports video calls, and Xperia Play has a front camera for this usage.
The reviewer ends the review with a large number of screen dumps (in Chinese of course) but points out a couple of new things: New user interface for TimeScape, live wallpaper with PSP system theme, multitouch zoom, new music player and a couple of screen dumps showing system information. The Sony Ericsson Xperia Play has a ARMv7 CPU running at 1024 MHz, 512 MB RAM, 512 MB ROM and the Adreno 205 GPU from Qualcomm. They have compared 3D graphics performance using Neocore with other popular Android smartphones and the Xperia Play is running fast. A score of 57.8 FPS compared to Nexus S with 55.7. The last words words from the reviewer claims that the Xperia Play will be running Android 3.0. We are not so sure about that, but he might be correct.
It is just four week until Mobile World Congress and while rumors say the Xperia Play not will be announced before March we are hoping to see it in mid-February in Barcelona.
Sony Ericsson Xperia Play Specifications (unofficial)

Dimensions: 115 x 60 x 14 mm
1500 mAh battery
5 megapixel camera, autofocus, LED flash
720p HD video recording
Multitouch
1GHz Qualcomm CPU and a Adreno 205 GPU
512 MB RAM, 512 MB ROM
So what do you think of it? Will this phone give Sony Ericsson a big boost this year? Feel free to give your comments below.
---
Alternatively post this in the Esato forum
Please sign in to your Esato account to leave a comment regarding this article
Just some more crappy re-branding.. first it was Walkman, then Cybershot, then Bravia.. and now Playstation (finally). Instead of coming up with new marketing techniques to rip people off, SE should focus their efforts on producing better phones.
I'm liking the interface styling tweaks. Looking very swish.
Not a pretty phone but I reckon this device will be massive with the PS name under it's belt!!
---