Sony Ericsson announces Xperia Neo V
25 August 2011 by Olav Hellesø-Knutsen
Sony Ericsson today announced the Xperia Neo V smartphone running Android 2.3.4. The Xperia Neo V has a 3.7 inch touch screen, 5 megapixel camera, HDMI out and a 1 GHz processor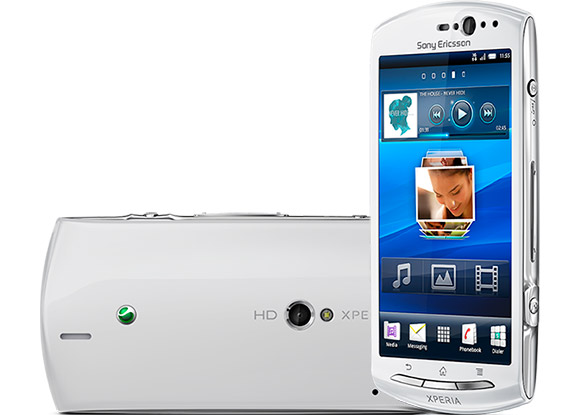 Today Sony Ericsson introduced the Xperia Neo V Android smartphone with a 3.7 inch display, 5 megapixel camera and 1 GHz processor. This is a remake of the Xperia Neo released earlier this year. The V-model has the same specifications as the predecessor except for a lower camera resolution. The new model are rumored to have another camera because of shortage of 8 megapixels modules caused by the Japanese earthquake earlier this year. The price for the original Xperia Neo is lower now than when it first entered the market. A new model with worse hardware specifications will have to have an even lower price than the current Neo which could make the Xperia Neo V a model for the mass market.
There is a drawback with a 5 megapixel camera. The original Neo received good critics by reviewers mostly because of the good camera capabilities. When this advantage are gone, the Xperia Neo V might not be such a bargain anymore. We haven't tested the new model yet, but the Xperia Neo is in daily use by us and the good camera is one of the major reason for that.
Xperia Neo V will be shiped with the Sony Ericsson's upcoming Android 2.3.4 release, but the original Xperia Neo will also be upgradable with this version, so this it not an advantage for the Xperia Neo V.
Sony Ericsson Xperia Neo V highlights
1 GHz Qualcomm MSM8255 CPU
126 gram
116 x 57 x 13 mm
3.7 inch Reality display, 480 x 854 pixels, 16.7 million colour TFT, touchscreen, Mobile Bravia Engine
5 megapixel camera, LED light, 720p video recording, Exmor R CMOS sensor Front facing VGA camera (original Neo had a 8.1 megapixel camera)
Sensors: Accelerometer, proximity sensor, ambient light sensor, magnetometer, e-compass
Android 2.3.4 Gingerbread OS (original Neo was running on Android 2.3)
Networks

GSM GPRS/EDGE 850/900/1800/1900, UMTS/HSPA 800/850/1900/2100
GSM GPRS/EDGE 850/900/1800/1900, UMTS/HSPA 900/2100

Wi-Fi, DLNA
HDMI out
Bluetooth 2.1
1500 mAh battery
ANT+
xLOUD technology from Sony (new in Android 2.3.3 which are available today for the Xperia Neo)
New features added in the Android 2.3.4 version
Swipe text input
Screen capture
Google Talk with Video Chat
Updated Facebook inside Xperia
Worlds first 3D sweep panorama functionality powered by Sony
Read more on the OS upgrade here
Compare the Xperia Neo and Xperia Neo V
---
Alternatively post this in the Esato forum
Please sign in to your Esato account to leave a comment regarding this article
It's also supposed to be around 100 Eur cheaper then the original Neo.
Also, the reason for the drop in cam resultion seems to be because of a shortage of 8MP sensors from Japan, citing the earthquake.
Nice colour though
This phone could even harm the sales of mini pro here in my country, the lowest priced Neo i've spotted was about $299 which is similarly priced with the mini pro.
The mini is aimed at a different market though and is quite unique. People buying the Mini won't necessary want a 4" screen.
I'm not sure this is a good thing.
It will help sales a little bit, but it will harm the company in the end.
Their phones are not top of the line, and now they start to strip them so they can boost sales?

The original Neo is now seen online for £260 or less. How much will this be?? It's a nice package still.
@bart
I don't think Sony Ericsson do this to increase sold units. They do it because they don't have access to enough 8 megapixel modules. The option might have been either to abandon the model completely, or change the lens.
whats next? they going to use fixed focus?
if the 5mp camera would prove to be more capable, why not? Neo hasn't got the best 8mp quality at the first place.
@razec
The Arc won the EISA
European Camera Phone
of the year award this year, and the Xperia Neo has the same hardware so it can't be that bad.
Yes, but i'm afraid i've become quite paranoid with the review on GSMArena saying that Neo has a bit lower image quality than Arc, i wonder if the problem has been fixed already
8mp back-illu sensor factory must have recovery from March's crisis at first place and rumour as iPhone (next gen) to use Sony module obviously second strike to prevent original Neo comeback from death.
Probably

will use an OEM back-illu sensor and reduce it size to 5mp same as the minis
[ This Message was edited by: HxH on 2011-08-31 12:57 ]
Does anyone know if this will be available by October?
---