Sony Ericsson introduces 3D functionality and swipe text input to existing Xperia smartphones
25 August 2011 by Olav Hellesø-Knutsen
Sony Ericsson today announced that they will have another OS update ready for Xperia smartphones in October. The update adds swipe text input, 3D sweep panorama functionality and screen capture.

Sony Ericsson continues to release new updates for their existing Android smartphones. X10, the first Xperia Android phone was first sold with Android version 1.6 and owners of this device was told there would be no OS available in the future. Sony Ericsson consumers demanded more, and after a long time Sony Ericsson listened turned around and started to offer Android 2.1 and later 2.3 Gingerbread to this device as well. Recent communication from the company has said that OS updates will be an important factor for the company. Today they have proved this by announcing another update for older Xperia Android handsets.
In October Android 2.3.4 will be available for download to Xperia smartphones. Text input using swipe is one of the new features we are looking forward to. We tested this during Mobile World Congress in February but haven't heard anything more about this until now.
The update highlights are
Android updated to version 2.3.4 which includes Google Talk with Video Chat for smartphones with front-facing camera
Updated Facebook inside Xperia functionality for enhanced like, share and discover abilities
Xperia smartphones introducing world's first 3D sweep panorama functionality powered by Sony
The software upgrade enables consumers to turn their Xperia smartphone into a mini-mobile PC by connecting USB peripherals (mouse, keyboard or game controller) to Sony Ericsson LiveDock multimedia station. Connect the smartphone to a TV via HDMI to get a big screen experience
Swipe text input - text input by swiping the finger from one letter to the next
Screen capture - allows the user to share a screen grab from anywhere in the phone
The 3D feature must be based on software only as none of the Xperias have two lenses. We are not sure how this will work but the technology for making 3D view using one lens is not new. Sharp AQUOS for the Japanese market already have software for making 3D. Sony Ericsson has adopted this technology from the mother company Sony which could have using similar technique as Sharp have used.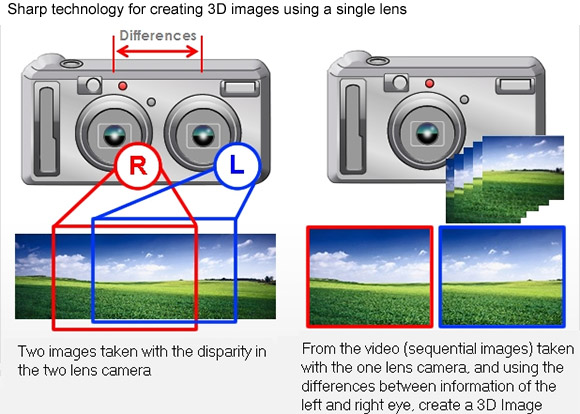 Does this new OS update give you hope for Sony Ericsson's future?
---
Alternatively post this in the Esato forum
Please sign in to your Esato account to leave a comment regarding this article
Cool this will be ace. I love the Sweep Panorama in my Sony camera. I hope more and more Sony features start coming to SE phones

Swype, 3D and panorama? FINALLY!

seems to be beefing up their software team! now... if only the xperia ray was already available in my country...
Updates sound great, I already use the swype keyboard and its very fast and fun to use on my arc.
adsada, it's a free update and a new feature. I'm sure they did it to help boost sales of their 3D TVs.
I never liked 3D glasses. I'm skipping over all 3D TVs until a decent glasses-free model comes out. Current ones aren't as clear yet.
This is brilliant news.
They are making a lot of people happy with these updates, there is always something to look forward to. Video chat with google Talk is a big one as this will work from laptop > mobile and mobile > mobile
You can still do a cool panorama though.

On 2011-08-25 14:22:00, Bonovox wrote:
You can still do a cool panorama though.

this will be good news....2D panorama ... for 3D panorama....I don't care since I didn't own a 3D TV.
Just read on GSMArena about the new Neo V coming too
SE's marketing is as bad as marketing can be: non-existent.
You hide between 10 new announcements (one of which is a stupid/necessary downgrade of Neo),
that you have for the first time ever fit into a mobile phone the ability to take 3D panorama pictures:

Xperia smartphones introducing world's first 3D sweep panorama
And what do medias retain logically as headlines for their articles:
New Sony Ericsson Xperia Neo V
Nobody reads the article, it's not a dual core Android phone...
Decent marketing people would have titled:
For the first time in mobile history, SE introduces with Xperia smartphones the world's first 3D sweep picture panorama !

+1
Exactly! They should shout about it more. I hate the way SE markets itself - it's far too soft and fluffy.
Yeah, they're really stupid at marketing. Like how they could've made a buzz about X10 camera as it was the best of all the androids in its class, and how they mentioned nothing about DSP that was actually onboard the P990. Idiots really as they prefer to shout about shake control and how their phones fit into the lifestyle bill which no one cares about.
On topic though, so does this mean X10 is included in the new update plan? I didn't quite get that bit

[ This Message was edited by: mode on 2011-08-25 18:47 ]
I know they try and position themselves as a 'lifestyle brand' but the average man in the street wouldn't know what this is?
I don't. What is one and what are the other lifestyle brands? They need to shout about what their phones can actually do - and loudly.
Hi, we're sony ericsson. We've brought out this new phone x, feel free to buy it if you want, no pressure though, its an alright phone it has android.

I sort of agree, they are too weak, though I think the X10 did sell so well last year because of the 8MP camera. You don't need to shout to see that because it stands out in itself when comparing phones
That updates sounds really good. Finally sony has announced an update. Very rarely you hear this.

@adsada
It sold well because it was one of the first to whip out a 1Ghz processor in the market with more than 256mb RAM sporting a hot out of the oven Android OS. Many still don't know it has 8mp. Take a look at the last bloke here
http://www.esato.com/board/viewtopic.php?topic=195111&start=465,
he has high praises for X10 for having a 5mp camera

i read the press release about this on the sony ericsson website and it says that 2011 xperia models will be getting the update. so what im reading from that is that its only models thet were released this year will be updated
[ This Message was edited by: FMW300i on 2011-12-31 20:29 ]
---