Nokia announces the Nokia 100 and Nokia 101 Symbian S30 mobile phones
25 August 2011 by Olav Hellesø-Knutsen
The Nokia 101 dual SIM and Nokia 100 models are Nokias most affordable mobile phones ever. Both models have specifications from early 2000 with a 128 x 160 pixel display and the lack of MMS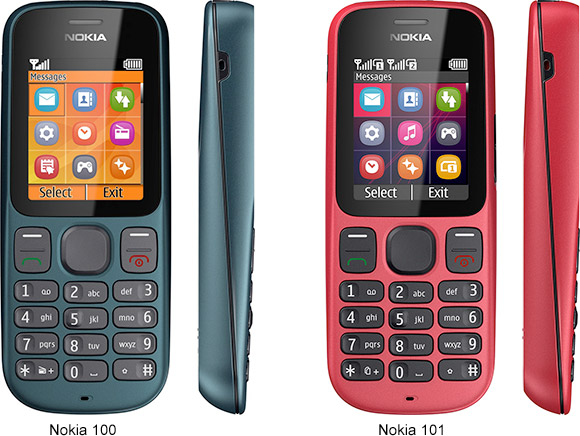 Nokia today announced two entry-level mobile phones stripped for features. The price will reflect this and Nokia says the Nokia 100 will be available for 20 Euros and Nokia 101 for 25 Euros. We would claim that these are very affordable devices. The Nokia 100 and Nokia 101 specifications list is similar to those we saw back in 2002. The screen is a little better than those days and the battery is much better. The Nokia 100 talk time is reported as 7.2 hours and standby time is 35 days. Nokia 101 has a little less powerful battery, but the big brother of these two have a second SIM slot, memory card slot and a MP3 player instead.
You will not find any less feature rich models from Nokia in the near future. The new Nokia naming conventions are going from 100 to 900 where model 100 has the least features and the Nokia 900 is the flagship model which means the two lowest possible model number now is taken.
Nokia 100 and Nokia 101 highlights
Weight: Nokia 100: 70 gram, Nokia 101 71 gram
Size: 110 x 45.5 x 14.9 mm
Networks: EGSM 900/1800. Nokia 100: EGSM 900/1800 or GSM 850/1900
1.8 inch TFT display, 65,000 colours, 128 x 160 pixel resolution
3.5 mm audio jack
2 mm charging connection
Messaging: SMS. Up to 250 entries
Symbian S30 operating system
FM Radio
Battery
Calendar
Talktime: Nokia 100 7.2 hours, Nokia 101 has 6.7 hours
Standby time: Nokia 100 35 days and Nokia 101 has 25 days
Battery: 800 mAh
Nokia 101 only
MP3 player
Dual SIM
microSD card slot. Up to 16 GB
Expected retail price: Nokia 100 Euro 20, Nokia 101 Euro 25. Without contract.
---
Alternatively post this in the Esato forum
Please sign in to your Esato account to leave a comment regarding this article
Wow you cannot get anymore basic these days.
Actually, you can... Vertu.

---