RIM to support Android apps on the new BlackBerry PlayBook tablet
25 March 2011 by Olav Hellesø-Knutsen
It will be easy for Android developers to port their apps to the BlacBerry platform as RIM today announced that the upcoming PlayBook tablet will have support for Android apps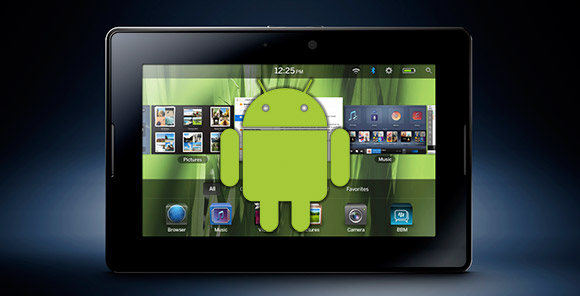 The BlackBerry PlayBook, which will be available in the US next month, is the first tablet from RIM running on the new BlackBerry tablet operating system. The PlayBook has a 7 inch touch display with a 1024 x 600 pixel resolution, 1 GHz dual-core processor, 1 GB memory, 5 megapixel camera, 3 megapixel front facing camera, weight of 425 gram and the size is 130 x 194 x 10 mm.
We had the opportunity to check out the PlayBook at the Mobile World Congress earler this year, and our first impression is that both the display size of 7 inch and the BlackBerry tablet OS are on a par with other tablets.
RIM are now giving potentional buyers one more reason to go for the PlayBook. The posibillity to run Android apps directly on the PlayBook could add over 200.000 more apps available to the platform. PlayBook users can not go to Android Market and download apps directly from there because if a manufacture wishes to use the Android name with their product, or wants access to Android Market, they must first demonstrate that the device is compatible and the PlayBook is not compatible. RIMs solution to this is to host the Android apps at their own App World store.
Two optional app players will be available for download from BlackBerry App World and downloaded Android apps will be placed in a secure "sandbox" on the BlackBerry PlayBook where BlackBerry Java or Android apps can be run. Developers willing to sell their apps through the BlackBerry App World will have to repackage, code sign and submit their Android apps to the App World and then wait for approval.
The Android apps developed for the BlackBerry PlayBook must be version 2.3 Gingerbread or higher.
---
Alternatively post this in the Esato forum
Please sign in to your Esato account to leave a comment regarding this article
---