Official Sony PlayStation application announced
16 December 2010 by Olav Hellesø-Knutsen
The good news was posted on the official PlayStatin blog. The bad news is that application is currently not available, but will be "very soon"
I did not know that PlayStation had an official blog, but they do, and it is the european version of the site that was allowed to go public with the news.
You will need an iPhone or iPod Touch with OS4 or newer. Sorry for you iPhone 3 and iPhone 3G owners. If you are the owner of a Android handset, most phones running 1.6 of the OS will be able to install the app. The application has 4 main sections where three of them could be solved with a simple web page optimized for mobile devices. What's interesting is what kind of information the My PSN menu will reveal.
Sony never realeases beta software so the features found in version 1.0 are
Checking out your hard-earned throphies and check friends games- and online status
"Discover the latest games, news and hardware for you PS3, PSP and PS2." This is probably just a web page promoting stuff from Sony.
Read all announcement on the PlayStation Blog (EU version)
Integration to Facebook, Twitter for sharing your favourite products.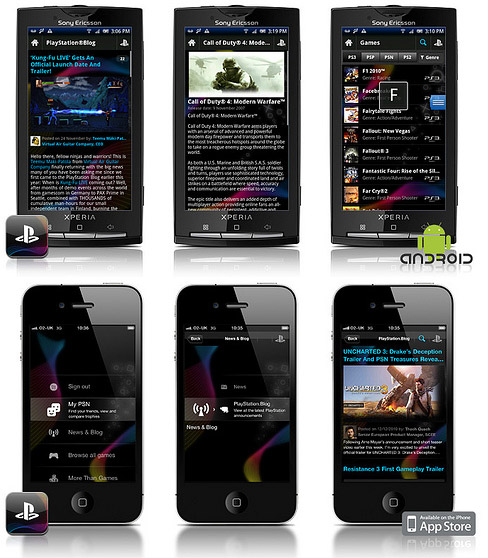 ---