RIM reports third quarter result figures. Up 40% since Q3 last year
17 December 2010 by Olav Hellesø-Knutsen
Research in Motion - RIM, reported very nice quarterly results for the three months ending November 27. 14.2 million smartphones sold. Up from 10.14 million in Q4 2009
The Canadian based maker of BlackBerry smartphones delivered really nice figures the last financial quarter which ended Nov. 27th 2010. 14.2 million BlackBerry smartphones were shipped, an increase of 40% compared to last year. At the same time, revenue also grew 40% up to USD 5.5 billion.
It is nice to see that the BlackBerry platform is alive and growing. Competition to Apple App Store, Android Market and Nokia Ovi Store is healthy as it increases innovation and lower the prices.
Revenue breakdown for the quarter was 82% for devices, 15% for services and 3% for software and other revenue.
Next year might be even better for RIM when the BlackBerry PlayBook will become available. This 1GHz dual-core cpu, 7 inch tablet will have to compete with the Samsung Galaxy Tab, the iPad and of course the unannounced Motorola tablet. Samsung and Motorla tablets are running on Android, the iPad on Apple OS4 and the PlayBook will be running a new BlackBerry Tablet OS. The PlayBook does not even have a 2g or 3G network connection. Initially it will only come with a Wi-Fi 802.11 a/b/g/n connetion, but RIM intends to offer 3G and 4G models in the future. The iPad sold very well but it remains to see if RIM is able to compete in this more and more crowdy market.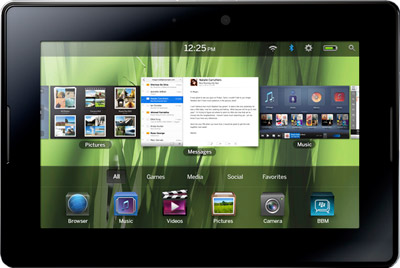 ---