More information about the Sony Ericsson K700
9 March 2004
The Sony Ericsson K700 is the T610/T630 successor. It has a camera with 4x digital zoom, built in flash, 32 MB memory, video recorder and more.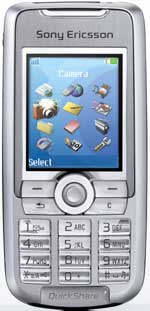 Sony Ericsson K700
The Sony Ericsson T610 was the successor of the popular T68i , and won the "Best handset, terminal or device" during the GSM Association's 2004
Awards
a couple of weeks ago. The new Sony Ericsson K700 will probably exceed the popularity of these two models. It's a high-end device focusing on mobile imaging.
A built in VGA digital camera with 4x zoom, video recorder and player let you record your most memorable moments. You will have 32MB of storage capacity to store images and videos. Sadly, there are no expansion card to save additional data, but you can easily send your pictures and videos to a PC, other mobile phones or to the new Media Viewer MMV-100 (not included) via Bluetooth.
The display is a TFT type with 176x220 pixel resolution (T610 has 128x160) and with 65,536 colours.
K700 is the first phone from Sony Ericsson with built in FM radio. It is also equipped with a Media Player allowing you to play your favourite MP3 songs. With the 32MB memory you should be able to store around 8 songs.
Specifications:
Tri-band. GSM 900/1800/1900
93 grams
GPRS
Email
MMS
Polyphonic ringtones
Themes
Java
Bluetooth
Infrared (IrDA)
FM radio
Video recording
65,536 colour TFT display, 176x220 pixels resolution
Size: 99 x 46.5 x 19.5 mm
7 hours talk time
300 hours standby time
The Sony Ericsson K700 will be available in Q2 2004
---