Official Android 4.0 Ice Cream Sandwich beta ROM available for selected Sony Xperia models
24 February 2012 by Olav Hellesø-Knutsen
Sony Mobile are getting closer and closer to the final version of Android 4.0 Ice Cream Sandwich for existing Sony Mobile Xperia handsets. An official beta ROM is now available for download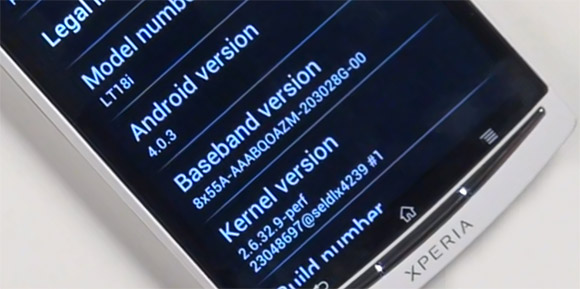 Sony Mobile has earlier promised to have a working Android 4.0 Ice Cream Sandwich update available to the entire 2011 Xperia handset portfolio. The first three models which will receive ICS are Xperia Arc S, Xperia Neo V and Xperia Ray. These three will be upgradable to Android 4.0 starting from end March/early April. In end April/early May, Xperia Arc, Xperia Play, Xperia Neo, Xperia Mini and mini pro, Xperia Pro, Xperia Active and Live with Walkman will get the update.
An Alpha version of ICS for Xperia handset has was released to developers in December. Those with an unlocked boot loader and possessing an Arc S, Neo V or Ray could install the early release to check out some of the upcoming functionality. Neither the phone, Bluetooth or Wi-Fi was enabled in the release so the ROM was for developers with special needs.
This week Sony Mobile released a beta ROM for the same three Xperia models which could install the Alpha. This more mature version or the OS has passed some certifications which makes the phone usable for other than hardcore developers. The phone modem is enabled so it is possible to make calls and listen to the FM radio.
Sony has improved a couple of things since the Ice Cream Sandwich Alpha release:
Updated UI
Lockscreen and Face Unlock. Camera is accessible directly via a shortcut on the lockscreen. A music widget can be controlled from the lock screen
Connectivity turned on
Updated email client
Quick dial
None of the Google Mobile Services such as Gmail, Maps and Face Unlock will work. Neither will Bluetooth or Wi-Fi as these still are waiting for certification and type approval.
Sony Mobile does not recommend anyone without experience installing the beta and the handset will for sure be unstable as the ROM is - a beta. If you, despite the warnings want to download and install the beta ROM, feel free to do so from the Sony Mobile developer site.
The YouTube video below demonstrates some of the new features found in Android 4.0 Ice Cream Sandwich for Xperia
---
Alternatively post this in the Esato forum
Please sign in to your Esato account to leave a comment regarding this article
Looks good and looking forward to next month

Yes!!!!!

sweet!
thats cool...
---