Update service for Sony Ericsson S700i available
23 February 2005 by Olav Hellesø-Knutsen
Owners of the Sony Ericsson S700i can now update the phone with the latest device software.
To update your Sony Ericsson S700i, go to the Sony Ericsson website and click on the support tab and then go to the Update Service page. The Update Service will guide you though several steps where you have to download a Java installation package, which again will download and install the new device software. It is not possible to use this service to change the S700i's language or software not approved by your operator (branded device).
The Sony Ericsson update service was first available for the P800/P900/P910 models. Later for the K700i. I have been waiting for this release for quite some time now. As before, you will need a DSS-20 or DSS-25 desk stand to be able to update the device. None of these desk stands are included when you buy an S700i, so I had to use the one included with the P900 package. The older P800 desk stand can't be used. Let us hope you don't need to buy an extra accessory to update future models. We have seen that the future Sony Ericsson K600i UMTS phone will have a mini USB connection. It might be that a desk stand not is required for updating that model. Only time will tell.
At first glance I did not find any major improvements, but the camera response time might have been reduced slightly. As we pointed out in the S700i review, giving the developers of the device software a little more time before the release would make this phone one of the best from Sony Ericsson.
There is no list of improvements in the new software on the Sony Ericsson web site, but you might find this forum thread interesting.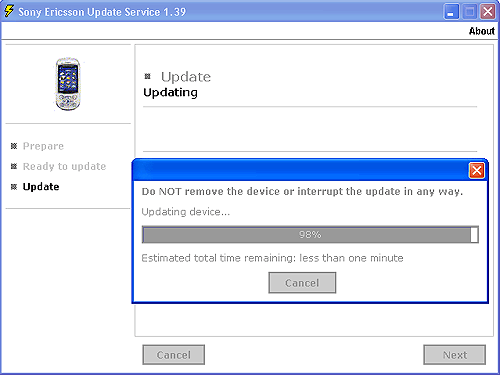 ---