Swype-like soft keyboard coming to next generation Sony Ericsson Android phones?
19 February 2011 by Olav Hellesø-Knutsen
The next generation of Sony Ericsson Android phones might get Swype-like text input solution from CooTek
If you have tried one of the touch-and-slide text entry method Swype, SlideIt or similar methods, you will never go back to the generic Android keyboard again. The soft keyboard TouchPal pre-installed on Xperia X10 is made by MWC 2009 Mobile Innovation Award winning CooTek which we spoke to at Mobile World Congress and were given a short demo of the upcoming version of their soft keyboard solution.
Entering text on regular soft keyboards requires clicking on several soft keys in a row. It is also required that you hit the exact key for the dictionary to come up with a correct suggestion. The press-and-slide method demonstrated at Mobile World Congress by the Chinese company CooTek is much, much quicker. You are not required to slide exactly over the correct keys for a proper word suggestion. It is enough move your finger to a nearby character. The system not only predicts the current word, but also has sentence prediction and it is learing as you type.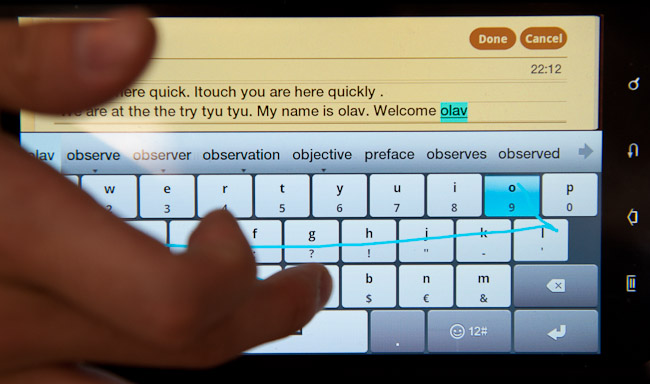 Take a look at the video below for a demonstration how this works. The guy doing the demo has done this a million times before, so he is familiar with the user interface. But we tried it too, and it really speeds up text entries a lot.
Is this something you would like pre-installed on your next Sony Ericsson Android phone? Feel free to leave a comment below.
---
Alternatively post this in the Esato forum
Please sign in to your Esato account to leave a comment regarding this article
I'd love to have this preinstalled on the next

phone!
Much better than Peggle, Gold Rush, Roller Coaster, and the other crap that's preinstalled on my Mini Pro!

This is awesome! What's more, the idea of suggesting the next word you could use is really good.
---