Sony Mobile introduces Xperia U and Xperia P Android smartphones - first impression
27 February 2012 by Olav Hellesø-Knutsen
At a Mobile World Congress event last night, Sony Mobile introduced the Sony Xperia U and Xperia P Android smartphones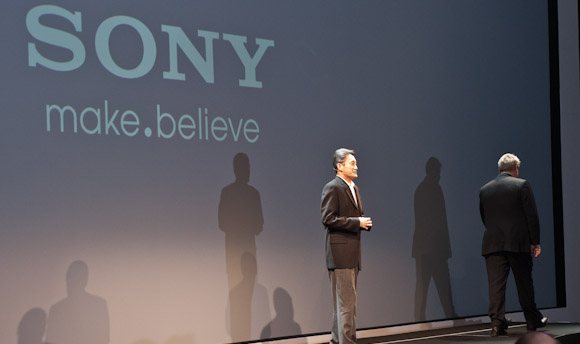 The two new Sony devices in the Xperia NXT series was introduced at a crowded event last night in Barcelona. The event took place in a new location this year. We have been around in different locations here in Barcelona during the last couple of years, where trendy cocktail bars and lack of available space has been the main characteristic. This year, the Sony event took place in the giant Palau St. Jordi which should be large enough for events like these. That was not the case as people was constantly stepping on each others tows to be able to capture the moment. Putting 2000 bloggers and journalists in the same room where everyone want to cover this event live on the same Wi-Fi network was not a good idea either. We do not think anyone was able to broadcast this event in real-time.
Over to the things that matters. The expectations of what we would see of new devices was quite low this year, and Sony Mobile manage to fulfil those. We have already been introduced to the Xperia S and the Xperia Ion at the CES show in Las Vegas earlier this year. The two new devices (yes, only two this year) was the Xperia U and Xperia P. These are two smaller and cheaper editions of the Xperia S. Xperia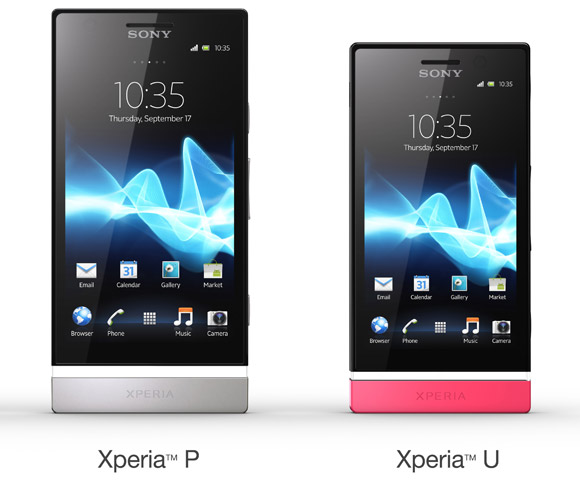 Apart from being smaller and more affordable than the Xperia S, the Xperia P introduces a display technology which Sony has called WhiteMagic. In short, the technology are promised to give a much better viewing experience in sunlight. We was shown a demo of the visibility below a bright spotlight and it looked promising. Comparing our old Xperia Neo with the Xperia P in these conditions did however not show very much difference. Event the Xperia Neo was readable. But when we later went outside to view the Xperia Neo in real sunlight, it was difficult to see read the inbox. We will try to convince someone at Sony Mobile to come outside under Barcelona light and do a real sunlight test tomorrow. The 4-inch display has also some of the well know older Sony technologies inside. Reality Display and Mobile Bravia Engine should be familiar to most of you. Take a look at our Xperia Arc review for a detailed introduction to these.
Apart from promising great viewing experience in sunlight, the WhiteMagic technology uses less battery than conventional smartphones. This does not mean that you will extend the battery performance from the normal one, to two or three days because the display is only one the components drawing power from the battery.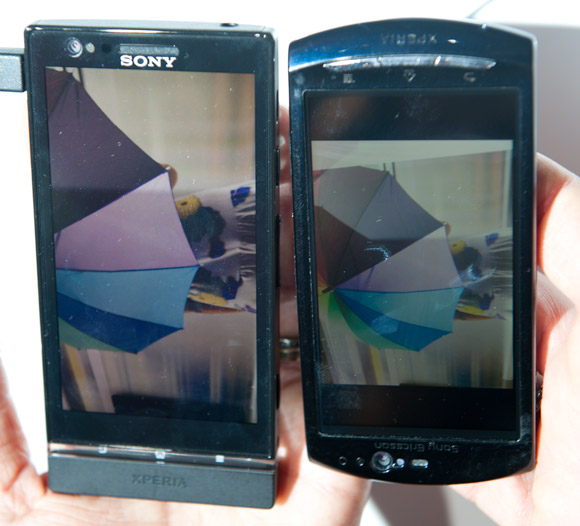 Where the Xperia S is a premium model, the Xperia P will be priced lower. It has the no-air-gap display which was introduced with the Xperia Arc but it does not have a HD resolution display as the Xperia S do. Xperia P has a 4-inch touch display and a 540 x 960 pixel resolution. It has an aluminium body which will be available in the colours silver, black and red.

The Sony Xperia U is the least expensive model of the two. It is smaller in size and has a smaller display and less powerful processor and it is targeted younger consumers. It will be shipped with exchangeable caps (the part below the transparent element) where two will be included in the package. Xperia U also has something Xperia S and Xperia P is missing. The transparent element will match the colours of the photos viewed in the gallery. Just like the backlit feature found in some new televisions available today. We have adjusted the saturation on the illustration images below to emphasise how this works. The 3.5 inch Reality Display is powered by the Mobile Bravia Engine and the processor is a single-core 1 GHz ST-Ericsson.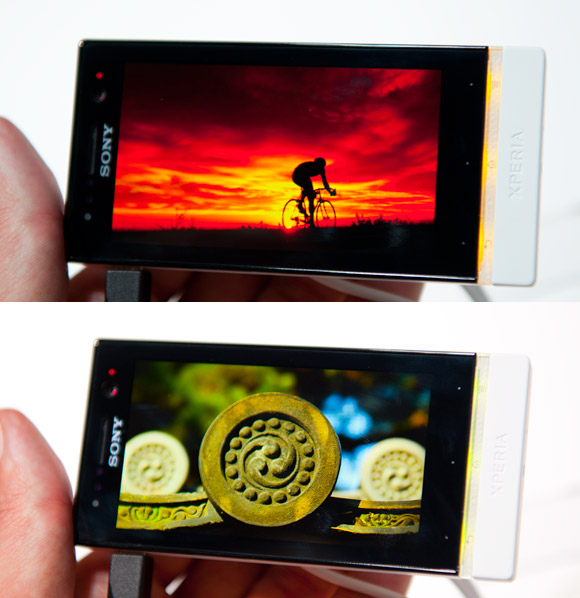 Sony Mobile Xperia P highlights
Weight: 120 gram
Size: 122 x 59.9 x 10.5 mm
Networks: GSM/EDGE 850/900/1800/1900, UMTS 850/900/900/2100, HSPA
4 inch Sony Reality touch display with Sony WhiteMagic technology 540 x 960 pixel resolution, 16 mill colours
1 GHz ST-Ericsson U8500 dual-core processor
8 megapixel camera, auto focus, Exmor R sensor, 3D sweep panorama
1080p HD video capture, image stabilizer
VGA front camera
3D surround sound
Bluetooth
A-GPS
DLNA
microUSB
NFC
FM Radio
HDMI out
Wi-Fi hotspot
16 GB storage where 13 GB is available to the user
Android 2.3 Gingerbread, upgradable to Android 4.0 ICS later
1305 mAh battery
Talktime: 360 minutes
Standby time: 470 hours
Sony Entertainment Network
TV launcher
Sony Mobile Xperia U highlights
Weight: 110 gram
Size: 112 x 54 x 12 mm
Networks:

GSM/EDGE 850/900/1800/1900, UMTS 850/1900/2100, HSPA
GSM/EDGE 850/900/1800/1900, UMTS 900/2100, HSPA

3.5 inch Sony Reality touch display, 480 x 854 pixels resolution, 16.7 million colours, TFT, scratch-resistant mineral glass
1 GHz processor U8500 ST-Ericsson. (dual-core according to press release, but we was told 1 GHz single-core by the product manager. We will verify this later today)
5 megapixel camera, auto focus
720p HD video capture
VGA front camera
Bluetooth
A-GPS
DLNA
microUSB port
FM Radio
512 MB RAM. 4 GB internal storage. Expandable using microSD card
Android 2.3 Gingerbread, upgradable to Android 4.0 ICS later
1320 mAh battery
Talktime: 396 minutes
Standby time: 260 hours
As you can see, the Xperia U does not have NFC or HDMI. We also find the exceptional low standby time
Both the Xperia P and Xperia U will be available in the second quarter 2012. They will initially be shipped with Android 2.3 Gingerbread, but an update to Android 4.0 Ice Cream Sandwich will be available shortly after. Phones sold after the Android 4.0 update is released will be sold with Android 4.0
---
Alternatively post this in the Esato forum
Please sign in to your Esato account to leave a comment regarding this article
May we please have a confirmation on the bands? Seems there is a typo and no bands specific to HSPA.
"850/900/900/2100"
At the danger of nit-picking, I'm sure the no air-gap display first appeared on the K850i.

---