Huawei introduces the Huawei D Quad quad-core 4.5 inch Android smartphone
26 February 2012 by Olav Hellesø-Knutsen
Faster, faster, the Huawei D Quad. At a Mobile World Congress event in Barcelona today, Huawei unveiled the D Quad 4.5 inch smartphone with a quadcore Huawei processor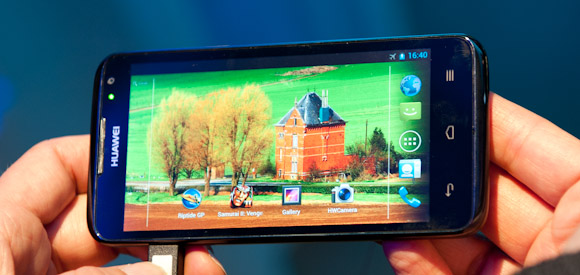 The Huawei D Quad impressed the audience with a quad-core processor developed inhouse by the Chinese company. The processor is a Huawei K3V2 quad-core which is advertised as being up to 4 times faster than the Galaxy Nexus in some benchmarks test. The Ascend D Quad will be available in two editions. One with a 1.2 GHz processor speed and a faster model with a 1.5 GHz Huawei K3V2 processor. The 1.5 GHz processor has a 2500 mAh battery and it is approximately 20 gram heavier and slightly thicker than the 1.2 GHz model which has a 1800 mAh battery.
Four features was highlighted by Huawei during the announcement. The quad-core processor and how much faster this processor was compared to the competitors. 49% percentage faster than in normal operations. Whatever that means. Benchmarks results was shown to the press, and according to those, the D Quad was far ahead of the iPhone 4S and Galaxy Nexus in terms of measurable data.
The sound quality and the 5.1 surround sound was also highlighted but that was impossible for us to validate during the presentation.
Power usage was the third thing the D Quad could do more efficient than the competitors. The largest 2500 mAh battery will give the D Quad smartphone 1-2 days of normal usage. Huawei is one of the largest companies in the world delivering network equipment to operators, and its experience in this field has given the company an advantage in developing
Screen visibility in daylight conditions was claimed to be very good. We took a good look at the device and can confirm that the side visibility was very good. It was no sun inside the Conventions Center today, so we can't comment on that.
All in all, the D Quad will be one of the most powerful smartphones for 2012.
Huawei Ascend D Quad highlights
Size: 129 x 64 x 8.9 (XL: 10.9) mm
130 gram
1.2 or 1.5 GHz quad-core processor. Huawei K3V2
Networks: GSM 840/900/1800/1900, UMTS 850/900/1700/1900/2100 HSPA+
32-bit true color graphic processor
4.5 inch touchscreen display, 720 x 1280 HD resolution, IPS, 330 PPI
8 megapixel camera using BSI sensor technology
1.3 megapixel front camera
1080p and 720p (front camera) video capture
Wi-Fi
Bluetooth
1 GB RAM. 8 GB storage
1800 mAh battery / 2500 mAh battery for the D Quad XL
Andrid 4.0 Ice Cream Sandwich
---
Alternatively post this in the Esato forum
Please sign in to your Esato account to leave a comment regarding this article
Not the most exciting looking device I've ever seen. It looks like and old LG from 2 years ago.

No doubt we will see more quad-core phones making an appearance later on today.
It does a bit yes
Huawei claim their own quad-core is more powerfull than Tegra 3... interesting.
The Ascend looks better
---