Sony introduces Xperia E and Xperia E Dual entry-level smartphones
5 December 2012 by Olav Hellesø-Knutsen
Sony today announced two new entry-level smartphones. The Xperia E and Xperia E Dual are two 3.5-inch Android handsets with 1GHz processor and 3.2 megapixel camera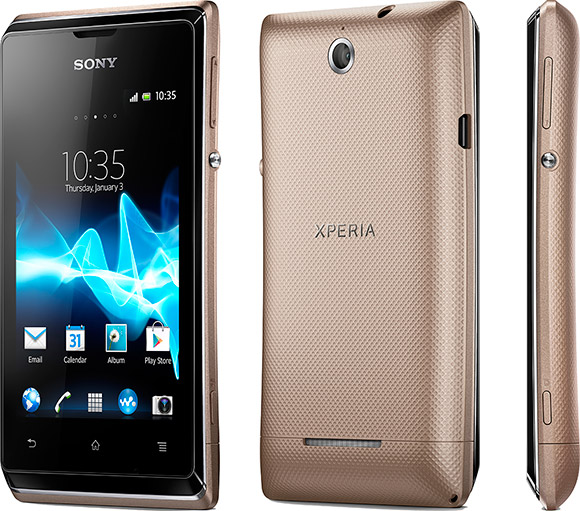 The two new Sony Xperia E and Xperia E Dual are identical Android models except that the Xperia E Dual has room for two SIM-card and runs on the older Android 4.0 Ice Cream Sandwich. Xperia E has a 3.5-inch TFT display with a 262.000 colours and a scratch resistant PMMA glass. Xperia E will be available in black, white or pink. The Xperia E Dual can be bought in either black or gold.
Sony introduces a new power saving feature which will turn off Wi-Fi and data traffic where most apps will be inactive. This extended standby mode will increase the standby time up to 4 times. The power saving mode kicks in when the display has been in sleep for a few minutes.
The two new Xperia models are clearly aimed at those looking for an affordable smartphone. The 3.5-inch TFT display with only 262.000 colours and the 3.2 megapixel camera do not place the Xperia E on top of most consumers desire list. But functionality such as DLNA and aGPS (without GLONASS) is still included
Sony Xperia E and Xperia E Dual will be available in Q1 2013. Xperia E will ship with Android 4.1 Jelly Bean out of the box, while Xperia E Dual has Android 4.0 Ice Cream Sandwich installed. Jelly Bean will be released for Xperia E Dual later
Sony Xperia E highlights
Weight: 115.7 gram
Size: 113.5 x 61.8 x 11 mm
3.5-inch TFT touch display
1 GHz Qualcomm Snapdragon processor. MSM7227A
512 MB RAM
4 GB internal storage. Expandable up to 32 GB using a microSD card
3.2 megapixel camera.
FWVGA video capture (854 x 480 pixels)
Networks

Xperia E C1505: GSM/EDGE 850/900/1800/1900, UMTS/HSPA 900/2100
Xperia E C1504: GSM/EDGE 850/900/1800/1900, UMTS/HSPA 850/2100
Xperia E Dual C1605: GSM/EDGE 850/900/1800/1900, UMTS/HSPA 900/2100
Xperia E Dual C1604: GSM/EDGE 850/900/1800/1900, UMTS/HSPA 850/2100

1530 mAh battery
Standby time: 530 hours
Talk time: 6 hours 12 minutes
Bluetooth 2.1
microUSB
aGPS
Xperia E Dual: Android 4.1 Ice Cream Sandwich
Xperia E
---
Alternatively post this in the Esato forum
Please sign in to your Esato account to leave a comment regarding this article
Can anyone explain why Sony (former SE) continue to play Scrooge with RAM ? A brand new phone running Android 4.x and only 512Mb RAM ? ICS & Jellybean really need 1Gb to run well.
I understand this is a budget phone, but why compromise the end user experience so badly, by putting in too little RAM ?
I have no idea why. The lack of at least 1 GB RAM is probably what most consumers will complain about in 6 months when Android 4.3+ is out. It will most likely require at least 1 GB to operate properly
Looks like Xperia J
is that the J? Tipo?? now im really confused. Although I know what Sony are doing releasing really low end. cheap to make phones for the emerging markets but yeah I agree wheres that 1GB ram, its the same processor as my Neo V and thats not getting JB!!!!
I recently tested an Xperia J and it's the most laggy phone I ever used. Even the Xperia P lags a bit god knows what these will be like
---