Sony Ericsson reports 207 million Euro loss in 4Q 2011
19 January 2012 by Olav Hellesø-Knutsen
Sony Ericsson today reported a Q4 loss of 207 million Euro, 5% decrease in shipped units, 14% lower average selling price and sales down 19% since Q3 2011

It has not been a good last quarter for the Japanese-Swedish 50-50 joint venture. Today Sony Ericsson reported a loss in the fourth quarter 2011 of 207 million Euro. Except for a 65% increase of Xperia handsets year-on-year, the last quarter did not have much positive to show.
Only 9 million Sony Ericsson handsets was shipped during the quarter compared to 9.5 million in Q3. This is the same level as Motorola which sold 10.4 million units in Q4. Q4 which ends 31 December is usually a good one for because of the Christmas holiday shopping. Some of the loss can be blamed on restructuring charges which the company spent 93 Euro on. The restructuring program started in December, after the Sony buyout was know. The decision to start on a new restructuring program again could have been caused by the Sony buyout. The program will be completed by the end of 2012.
Sony Ericsson will only make Android handset with the Xperia brand in 2012. It estimates that the global share of smartphones running Android in quarter 4 was 10% in volume and 7% in value. Sony Ericsson also estimates that it was sold 463 million smartphones for the full year 2011. Sony Ericsson sold 34.4 million of those.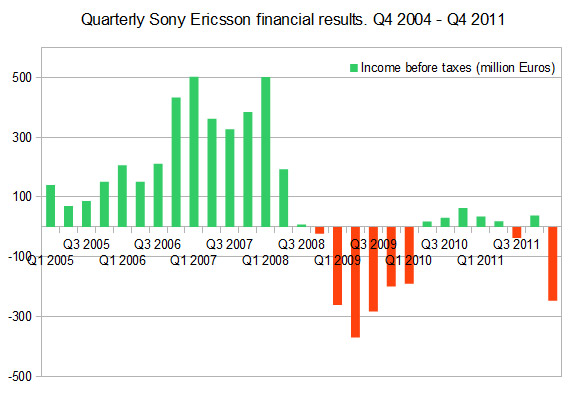 ---
Alternatively post this in the Esato forum
Please sign in to your Esato account to leave a comment regarding this article
HANG IN THERE SONY, YOU GOT MY SUPPORT!!!

[ This Message was edited by: HellOnEarth on 2012-01-20 18:27 ]
They are going to have a really hard time against HTC and Samsung using an identical platform... and you see, Google doesn't give a fck who sells their adds, as long as they are activating more phones, it doesn't matter who makes the hardware. Good luck Sony
---