Sony Ericsson PC Suite finally available for Window Vista
20 June 2007 by Olav Hellesø-Knutsen
Official support for Sony Ericsson PC Suite for Windows Vista will happen on June 28th, but the PC Suite is already available for download
The release date for Vista support for half of the Sony Ericsson phone portfolio is on June 28th and the second half can download PC Suite on August 9th. The lucky owners include W880, W610, W850, K800, P990 and many more. While you will have to wait one more month if you own one of the K750, W300, K310, W800 or W810 mobile phones. Check out the Sony Ericsson Vista page for a complete list.
Users of Windows Vista have until now not been able to install the Sony Ericsson PC Suite which makes I possible to synchronize contacts and browse the phone content directly from a PC. Especially Walkman model owners will appreciate that they finally can use Disc2Phone to convert and transfer files directly to their phone.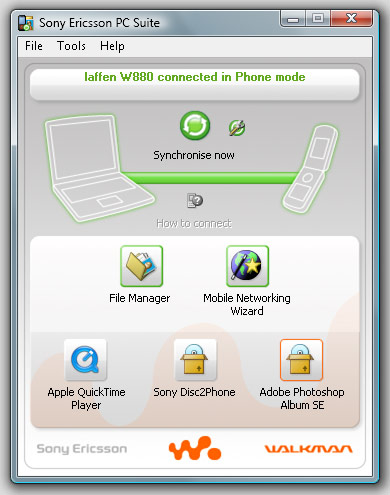 We installed the PC Suite on a Vista machine, but not without problems *). Maybe it is best to wait until the 28th for immediate success. You will find instructions on how to install PC Suite on the www.sonyericsson.com/support/ page by first select your country and then select your phone model..

*) The installation application was not able to extract the files needed into the temporary directory. The install app required a reboot but several of these did not help much either. In my case, the temporary directory created by the installation application was C:/Users/laffen/AppData/Local/Temp/RarSFX0/ but the program failed to copy the Setup files into this directory. I opened the downloaded PC_Suite_2.10.21.exe using my preferred archive program 7-Zip, and extracted the 7 files into the RarSFX0 directory manually. Rebooted, and the installation continued without any more problems. Needless to say; I run the installation as an administrator
---