Sony Ericsson Hallon prototype preview
20 January 2011 by Olav Hellesø-Knutsen
The soon to be announced Sony Ericsson Hallon / MT15i / Vivaz 2 has been reviewed by a russian website and the verdict is that this is a very good phone
Eldar Murtazin, the editor of the russian mobile site mobile-review.com has got his hands on a prototype of the upcoming Sony Ericsson Hallon. He ususally write his reviews in Russian but this is such an exclusive review that an English version is available as well.
Mr Murtazin thinks the Hallon, or Vivaz 2 as he calls it, will be successfull because Sony Ericsson now will have a cutting edge device where the hardware specifications are good compared to the competitors. The form factor of the device looks very much like the Vivaz, but Symbian is thrown out and the OS is now Android. To us, this is a logical step. Many of our forums members said they realy liked the Vivaz, but the OS should have been something else. We couldn't agree more. Symbian double-tap menus was something we never got used to.
The Hallon seems to have a larger screen than the original Vivaz which had a 3.2 inch display. The resolution is 480 x 854, among the largest for Android devices today. Multitouch is supported. Together with the Xperia Arc, Hallon has got Sonys BRAVIA engine to improve screen readability. Murtazin are disappointed that the cool features of the BRAVIA engine only works in multimedia content. The phone has 512 MB of RAM and approximately 300 MB storage. Gone are the days when Sony Ericsson used MemoryStick cards, so more memory can be added using microSD card. A mini HDMI port will let you view HD content on an external screen. More specs: Android 2.3, 1GHz CPU, Adreno 205 GPU for quick response to touch input and 720p video playback.
Sony Ericsson Hallon vs Galaxy S. Galaxy to the left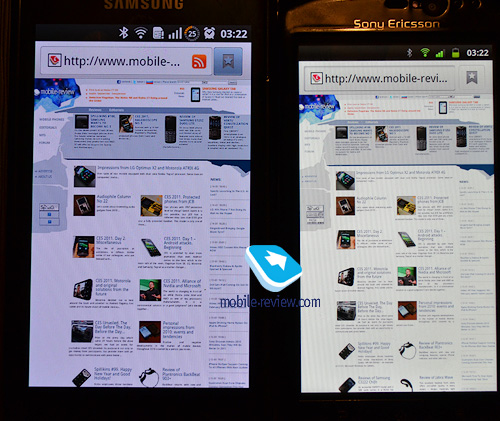 The reviewer claim that Sony Ericssons Mediascape are dropped in favour for the generic one shipped with Android 2.3 but we are not so sure this will be the case. This is an prototype, and Sony Ericsson might add Mediascape and/or Timescape later. Both scapes are now widget-like applications, and not a part of a custom version of OS. Sony Ericsson has choosen to move the scapes out of the OS because new Android releases took too long to test because new Android releases meant that Media- and Timescape had to be added to the new OS version. This took time. Too much time.
Sony Ericsson Hallon will be a reasonabled priced model (320-350 Euro), and if Sony Ericsson comes up with a Hallon with QWERTY keyboard as well, we will be tempted to get us one of these.
For more information about the Hallon and several other unannounced Sony Ericsson mobile phones, look no further than the The All New Sony Ericsson Portfolio for 2011 discussion thread here at Esato
Read the entire review over at mobile-review.com
---
Alternatively post this in the Esato forum
Please sign in to your Esato account to leave a comment regarding this article
---