Sony Ericsson broadens its range of Bluetooth Watches with three new styles
15 June 2007 by axxxr
Select the one that fits your style from the Bluetooth MBW-150 range and enjoy the convenience of controlling your phone from your wristwatch.
With three distinctive new Bluetooth™ watches from Sony Ericsson announced, you really can have it your way.Created together with Fossil, a world expert in watch technology, this new range of Sony Ericsson MBW-150 Bluetooth watches is truly ahead of its time, bringing together contemporary design and cutting edge Bluetooth technology.
The Bluetooth™ Watch MBW-150 range by Sony Ericsson
Understated cool
Be first among your friends to control your phone with your watch
Subtle control
See who's calling on your watch display and choose to reject, mute or take the call via the phone or a headset
Individual style
Choose from one of three new styles of Bluetooth™ Watch: Music, Executive or Classic Edition
"From the moment you use a Bluetooth™ Watch you wonder how you ever managed without it," says José Barreiro-López Head of Sales & Marketing Support of Sony Ericsson. "Using your watch as a wire-free interface with your phone is about as convenient and non-obtrusive as you can get. Now whether you're out socialising, working, or just at home with your family, there's a Bluetooth™ watch to go with you."
Timeless design
In conjunction with Fossil, Sony Ericsson has created three Bluetooth™ watches that stand out on your wrist and incorporate stand-out technology. The Bluetooth™ Watch MBW-150 Music Edition is finished in black with orange details; the Bluetooth™ Watch MBW-150 Executive Edition features a professional-looking stainless steel bracelet and the Bluetooth ™ Watch MBW-150 Classic Edition sports a premium leather strap and black face.
Choose the Edition to suit your style:
Bluetooth™ Watch MBW-150
Music Edition
Control your music phone with your watch
Bluetooth™ Watch MBW-150
Executive Edition
Keep ahead of the pace and control
your phone in a way that keeps you focused
Bluetooth™ Watch MBW-150
Classic Edition
Relax in casual style while keeping in touch with the world
All three timepieces in the MBW-150 range have a scratch-resistant mineral crystal glass face with an antiglare coating. When not using them to control your phone they look exactly like a regular watch, thanks to a discreet OLED display that's only seen when in use. What's more, the addition of Bluetooth™ technology does not lead to a compromise on time-keeping. A Quartz analogue precision movement, plus a digital time display that's synchronised with your phone, make sure that you stay on track.
Discreet style
Whatever the situation, when your phone rings you need to be able to check who's calling quickly and without breaking your engagement with the people around you. When an incoming call or a text message arrives, the Bluetooth™ Watch MBW-150 gently vibrates on your wrist, so with a quick glance you can see the caller ID on the display. Lightly touch a button on the watch to decide whether to reject or mute the call, or take it by pressing the Answer key on your headset, car handsfree or phone.
Remote control
You don't need to have your phone in your hands to manage calls or music. Use your Bluetooth™ Watch MBW-150 as a music remote control when you phone's on the other side of the room or if you're using it to listen via your home speakers. View tracks, adjust the volume, change the tune or switch your music off, all from your watch and without getting out of your chair.
The easy life
New features make life even easier when controlling your phone through your wristwatch. Auto pairing™ connects the watch to your phone automatically the first time they are linked to each other so there's no set-up routine. If you live your life looking for your phone, the Bluetooth™ Watch MBW-150 will help you keep hold of it, since it gives out a vibrating signal when the phone goes out of range. Finally, thanks to Sony Ericsson's expertise with Bluetooth™ technology, the signal should always be robust and reliable.
Partners in time
The Bluetooth™ Watch MBW-150 is compatible with a wide range of Sony Ericsson phones and the full list can be viewed on www.sonyericsson.com. Perfect partnerships include the new W910 Walkman® phone with the Bluetooth™ Watch Music Edition, the K850 Cyber-shot™ phone with the Bluetooth™ Watch Classic Edition and nothing less than the Sony Ericsson P1, the latest addition to the smartphone portfolio, with the Bluetooth™ Watch Executive Edition.
The Bluetooth™ Watch MBW-150 range at a glance: www.sonyericsson.com/timemasters3/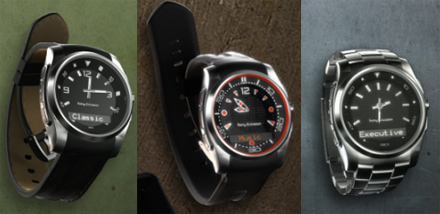 Key Features

Analogue Bluetooth™ Watch

Technically innovative with classic watch design

Stainless steel

Mineral crystal scratch resistant face with antiglare coating

Discreet yet clear OLED display

Quartz movements for exact time keeping

Strong wireless link to phone using Bluetooth™ 2.0

Time indicator

Analogue

Digital from mobile phone

Discreet call handling

Caller ID in display

Reject/mute call through watch

Adjust volume

Music player control

Play, stop, next/previous track

Adjust volume

SMS/MMS message alert

Vibrates upon receiving an SMS/MMS

Out of range warning

Vibration alert at 10 meters from phone

Auto pairing™

Water resistant

Compatibility

For complete list please see www.sonyericsson.com/accessories

Availability and versions

Standby time:

Battery indicator

Bluetooth™ functionality up to 7 days

Analogue time keeping up to 7 additional days

Weight:

Music: 85g

Classic: 77g

Exec: 182g

Kit content:

Bluetooth™ Watch MBW-150

Charging Clip

Standard Charger CST-70

User Guide

Exclusive Box

The Bluetooth™ Watch MBW-150 will be available in selected markets from Q4 2007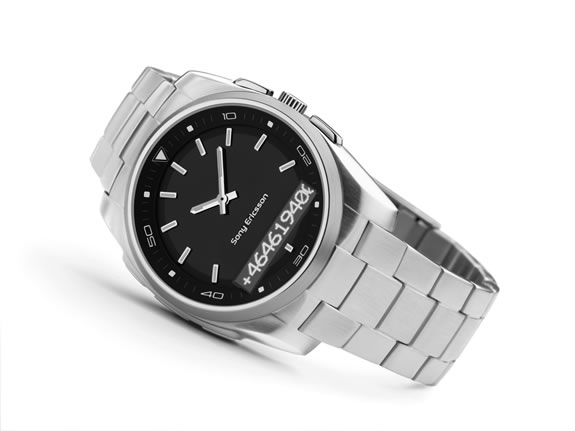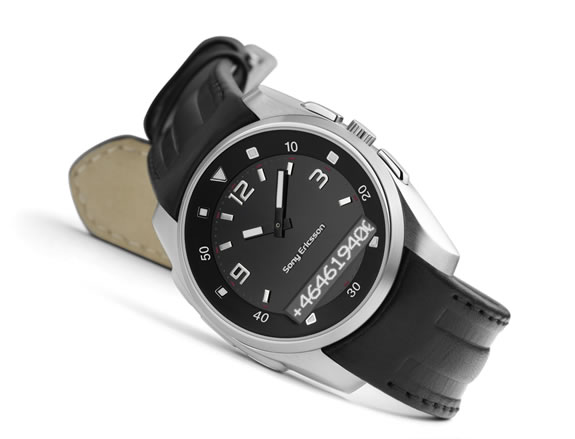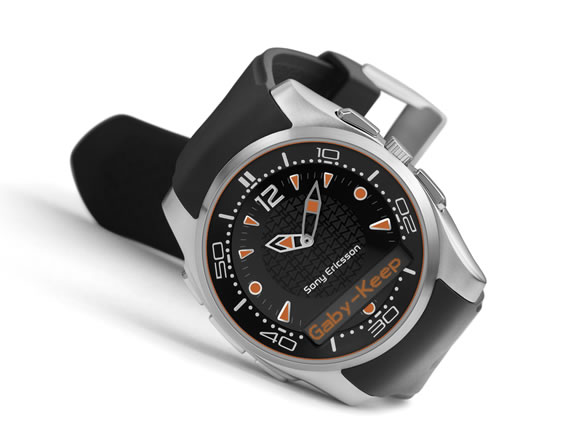 ---