Sony Ericsson announces the W715 exclusive to Vodafone
8 January 2009 by Olav Hellesø-Knutsen
The GPS enabled W715 Walkman phone owners will be able to find their nearest restaurants, hotels or shopping centres all within a few click. Shake Control, SensMe and TrackID are some of the music features included
The Sony Ericsson W715 is the twin brother of W705 but W715 has the usual Vodaphone sticker in front instead of the Walkman logo. It also has a dedicated key to Vodaphone's navigation services.
Sony Ericsson announces that soon Vodafone customers will be able to use the GPS enabled W715 Walkman phone to make the most of location-based services. Aside from turn-by-turn pedestrian or driving navigation available using Vodafone Find&Go, customers will be able to find their nearest restaurants, hotels or shopping centres all within a few clicks on their new mobile phone.
The W715 Walkman phone features the same superior sound quality as the W980 Walkman phone, which was rated best audio experience in independent a tests by TESTfactory. On the top of premium music experience with crystal clear sound, the W715 includes popular Walkman features such as the music recognition application TrackID, SensMe for matching your mood to the music, and Shake Control to change tracks with the flick of a wrist. All this provides for a premium Music experience, fully integrated with Vodafone Music, allowing easy access to single and album downloads.
"The W715 is another exciting exclusive for Vodafone customers. The seamless integration with Vodafone's Music services, such as single or full album download, provides for a great overall experience on our fast and reliable network. With fully integrated GPS and Vodafone Find&Go, this phone is offering a very attractive feature set in a combination we know customers are asking for more and more", said Patrick Chomet, Global Director of Terminals at Vodafone.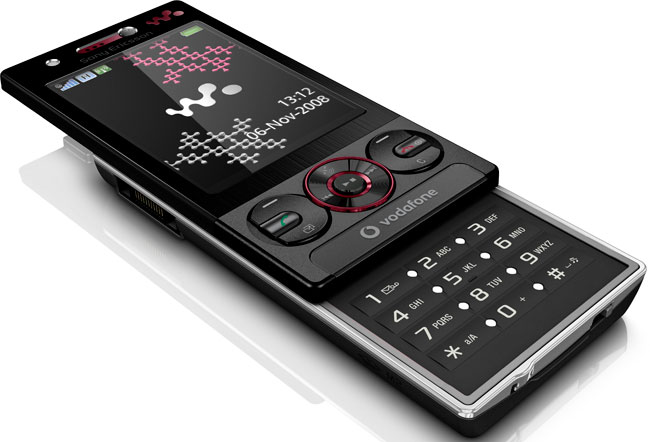 'We are continuing to progress the music capability on our phones', added Peter Marsden, Head of GCU Vodafone at Sony Ericsson, 'and the W715 Walkman phone is a great way to support Vodafone Music, plus its dedicated key to location-based services simply highlights its ease of use – all making for a great user experience.'
The W715 Walkman phone is much more than a music phone. Its metal finish combines with a large screen in an elegant and compact slider for a professional feel. The inclusion of a 3.2 Megapixel camera and Wi-Fi connectivity allows users to snap photos of friends, and quickly upload them to social networking sites for all to see.
The Vodafone exclusive Sony Ericsson W715 Walkman phone will be available in Galactic Black, and Luxury Silver. Country availability will be announced in due course.
The new W715 Walkman phone
Award-winning clear audio experience – listen to music as it was meant to be heard
aGPS increases the precision of location-based services (LBS)
Vodafone Find&Go navigation service – a complete mobile navigation experience
Desktop direct search to online music – go online for the best songs and most popular videos on YouTube
Wi-Fi and DLNA certified – connect the way you want
Shake Control – switch tracks and control the volume with the flick of a wrist
SensMe – create playlists based on mood, rather than artists or genres
Large 2.4-inch screen – view websites and emails with high clarity
Auto rotate – switch from portrait to landscape with just a tilt of the phone
Google Maps for Mobile
3.2 Megapixel camera – snap and share your favourite images via Bluetooth
FM radio with TrackID – listen to the radio while on the move
Option for 4GB memory card – store up to 3,900 songs**
The W715 supports GSM/GPRS/EDGE 850/900/1800/1900 and UMTS/HSPA 900/2100. The W715 will be available in selected markets, in the colours Galactic Black, and Luxury Silver - countries and details of specific music and navigation applications, to be announced locally during Q1 (January-March) 2009.
Sony Ericsson W715 Walkman Specifications
Camera
3.2 Megapixel camera
Up to 3.2x digital zoom
Photo fix
Photo light
Video light
Video recording
Picture blogging
PictBridge printing
Video blogging
Location-based service
Vodafone Find&Go
Geotagging of photos
Google Maps

Music
Walkman player
Vodafone Music
Clear Stereo
Clear Bass
Album art
TrackID
Stereo Bluetooth (A2DP)
Music tones (MP3/AAC)
Shake Control
SensMe
Web
Access NetFront web browser
Web feeds
Photo feeds
Communication
Speakerphone
Polyphonic ring tones
Vibrating alert
Video calling
Messaging
Email
Picture messaging (MMS)
Predictive text input
Sound recorder
Text messaging (SMS)
Instant messaging
Microsoft® Exchange
ActiveSync
Chat view
Design
Navigation key
Auto rotate
Picture wallpaper
Wallpaper animation
Entertainment
Media
YouTube
3D games
Motion gaming
Java
FM radio with RDS
Video streaming
Video viewing
Connectivity
Bluetooth technology
Modem
Synchronisation
USB mass storage
USB support
Wi-Fi
DLNA certified
Organiser
Alarm clock
Calculator
Calendar
Flight mode
Notes
Phone book
Stopwatch
Tasks
Timer
Accessories
In-box:
W715
Battery
Battery charger
Memory Stick Micro (M2)
USB cable
Stereo PHF
Sony Ericsson PC Suite
Media Manager
User guide
Facts and Figures
Size: 95 x 47.5 x 14.3mm
Weight: 98 grams
Colours: Garnet Black and Luxury Silver
Screen: 262,144 colour TFT
Resolution: 240 x 320 pixels
Size: 2.4 inches
Phone memory: up to 120MB
Talk time GSM/GPRS: up to 10 hrs
Standby time GSM/GPRS: up to 400 hrs
Talk time UMTS: up to 4 hours
Standby time UMTS: up to 350 hours
Video talk time: up to 3 hours
Music listening time: up to 20 hours
Availability and versions
Networks:
W715
GSM/GPRS/EDGE 850/900/1800/1900
UMTS/HSPA 900/2100
Available in selected markets from Q1 2009
---