Sony announces Xperia acro HD and Xperia NX Android smartphones
13 January 2012 by Olav Hellesø-Knutsen
Sony has announced two new 4.3 inch Xperia smartphones for the Japanese market. Both model are Android handsets with HD Reality displays and a 12 megapixel camera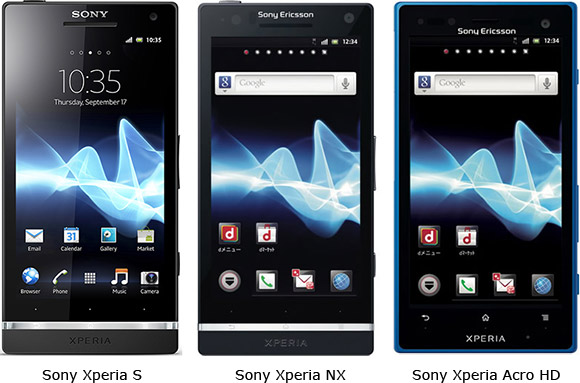 Sony has bought Ericsson's half in the 50/50 joint-venture company Sony Ericsson. EU and other authorities will have to approve the transaction before things are finalized. This has caused some confusion about the names used on the devices announced at CES this week. The future full name of the company will be Sony Mobile Communication. The new devices was announced by Sony and all of them got the Sony name printed on them. The Japanese press releases still uses the Sony Ericsson name on the new smartphones. As you can see on the images in this article, some models are still named Sony Ericsson. We will refer to the Japanese company as Sony in this article and also drop the Ericsson part from the model names.
Sony announced four Android smartphones during CES. The Sony Xperia S with a 4.3 inch display and the Xperia Ion for the U.S operator AT&T with a 4.6 inch display. We have introduced these smartphones before here and here. The two devices covered in this article are probably designed by the same design team as it is close to impossible to distinguish them from each other.
Japan has always got its own range of Sony Ericsson models. These are mainly for the two larger operators NTT Docomo and AU. Have you ever heard of Urbano Mond clamshell model or the S005 maybe? Most likely not. Two more will soon be available to Japanese customers only.
Both Xperia Acro HD and Xperia NX are water-resistant. The Xperia Acro HD also has a IPX57 rating. The IPX-5 rating means that the Xperia Acro HD will resist water intrusion from a water jet stream for 3 minutes. The number 7 stands for protection against water when immersed down 1 meter in water for 30 minutes. It is the first Xperia model with IPX-rating.
From looking at the specifications alone, it seems like the Xperia Acro HD is the most powerful of the two smartphones. The Xperia NX for Japan and Xperia S for the rest of the world seems to have close to identical specifications
Shared specifications between the Xperia acro HD and the Xperia NX are:
4.3 inch Reality display, 16.7 million colours
720 x 1280 HD resolution
Android 2.3 Gingerbread
1.5 GHz dual core Qualcomm Snapdragon S3 processor. MSM8260 chipse
Adreno 220 GPU
Bluetooth 2.1
HSPA 14/5.7Mbps
1 GB RAM. Expandable with microSDHC card
12 megapixel camera, Exmor R CMOS sensor. Camera start-up time is 1.5 second from standby mode
1080p HD video capture
1.3 megapixel front camera
HDMI out for Full HD
ANT+
aGPS - GLONASS capable for better position accuracy
Sony Xperia NX
Weight: 144 gram
Size: 128 x 64 x 10.6 mm
Colours: Black and white
Available in February 2012
Talk time: 390 minutes
Standby time: 400 hours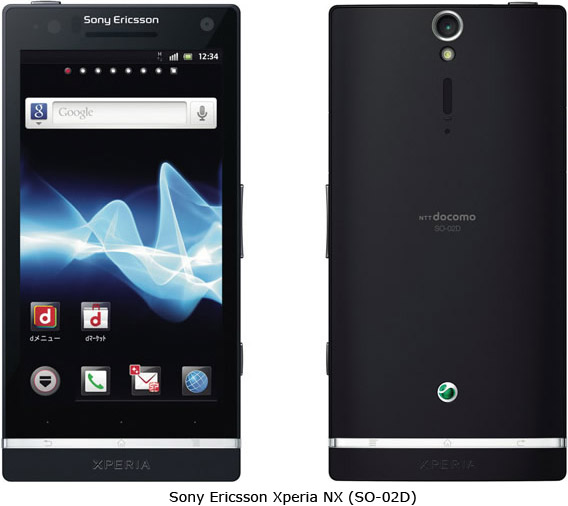 Sony Xperia Acro HD
Weight: 149 gram
Size: 126 x 66 x 11.9 mm
Colours: Aqua, black, sakura and ceramic
Available in the end of March 2012
IPX5 and IPX7 rated
Infrared
1-seg Mobile TV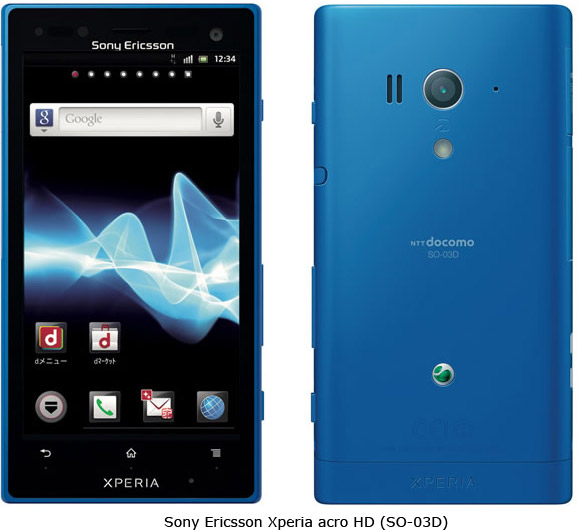 Sony Xperia Acro HD colour variants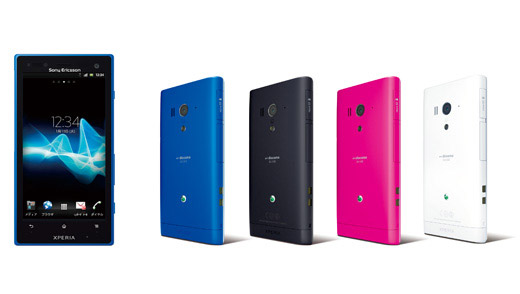 ---
Alternatively post this in the Esato forum
Please sign in to your Esato account to leave a comment regarding this article
Liking the new colours but not much difference in the specifications - 1Seg TV? Not sure whey the didn't include LTE - isn't Japan one of the few countries with active 4G networks?
1seg is a mobile terrestrial digital audio/video and data broadcasting service in Japan, Argentina, Brazil, Chile and Peru
http://en.wikipedia.org/wiki/1seg
[ This Message was edited by: laffen on 2012-01-13 03:20 ]
Like the blue colour reminds me of the Cyan Lumia
I choose Sony Ericsson font rather than an old-school SONY font

[ This Message was edited by: mrjulius on 2012-01-14 01:20 ]
OOOOOOO.... I so want one of these!

Lucky for me I have AT&T
Yeah, lucky for you

I want the Acro HD in black

[ This Message was edited by: rikken on 2012-01-15 15:27 ]
---