P!NK pre-loaded Sony Memory Stick Micro (M2)
31 October 2006 by axxxr
Sony has today announced a P!NK limited edition of the 512MB Memory Stick Micro, preloaded for the first time with exclusive content from the world famous artist P!NK.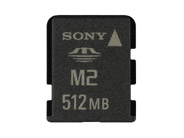 As part of Sony RME's exciting collaboration with Sony BMG and Sony Ericsson.Compatible with a variety of Sony Ericsson mobile phones (equipped with an M2 card slot*), the Memory Stick Micro contains an extract of the chart stomping "Stupid Girls" single (MobiTube: MP3 Audio), from the popular album "I'm Not Dead" plus an exclusive interview of P!NK (BlogSong: MPEG-4 video file).
Sony plan to strengthen its position in the mobile phone channel and raise awareness of how Memory Stick can boost AV applications available on the latest Sony Ericsson mobiles.

This special edition Memory Stick Micro also includes a M2 Standard size adaptor, allowing the user to transfer and view the audio/video content on their PC through a Memory Stick PRO slot. Completely copyright free, this content can be easily shared with friends between mobile phones or another Memory Stick PRO compatible device.
P!nk Memory Stick Micro is compatible with the K790i / K800i, M600i, K610i, Z530i, Z550i and W300i Sony Ericsson mobile phones.This limited pack is easily identifiable, with a vibrant pink theme and images of the pop artist. The P!NK Memory Stick Micro (M2) is available from the beginning of November. www.sony-europe.com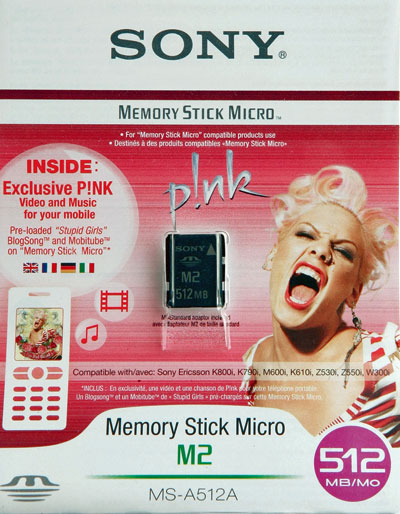 ---