Motorola announces a 2 GHz Intel powered RAZR i Android smartphone
19 September 2012 by Olav Hellesø-Knutsen
Motorola has announced the RAZR i smartphone powered by a 2 GHz Intel Atom processor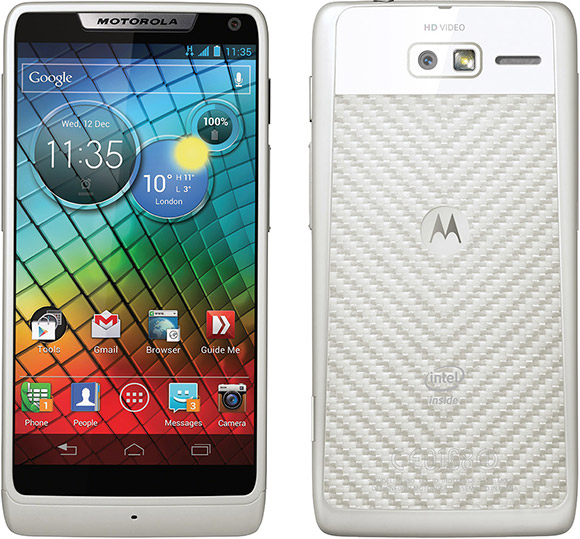 Google owned Motorola Mobility has announced its first Intel powered Android smartphone. The Motorola RARZ i is a 4.3 inch smartphone with a 2GHz Intel Atom processor inside. We are not sure why Motorola has chosen Intel instead of a processor from one of the old-timers such as Qualcomm, TI or ST-Ericsson, but price could be a deciding factor of course. The Intel CPU is clocked at up 2GHz which makes it the highest clocked processor available in a smartphone. The processor will normally run at 1.3 GHz, but when it needs more power, it will increase the clock rate up to 2 GHz. According to Intel, the benefits of having a Intel CPU is the 8 MP camera with 1080p video capture and still photography with instant on and up to 10 pictures per second. Intel is far from alone the only chipset maker to offer these features.
Intel is has previously shipped Atom processors to a handful of device manufactures such as Orange, MegaFon, Lenovo and Lave. Earlier this year, we heard that Motorola would release an Intel smartphone in the second half of 2012.
Motorola has chosen not to reveal battery standby time and talk time using the normal GSMA standards, but the company claims that the RAZR i will have a 20-hour battery life on an average user profile including both standby and talk time. This claimed number is impossible to compare to other handsets but our guess is that the RAZR i will last one day on battery just like all other modern smartphones. For what its worth, the press release claims that the battery is 40% more powerful than Iphone 4S.
The RAZR i has what Motorola calls edge-to-edge display. Meaning that the 4.3 inch HD display will cover most of the width of the phone. With only 60.9 mm in width, we found that the Motorola RAZR i has the smallest width of all 4.3 inch smartphones. For the comparison sake, Motorola RAZR has a width of 68.9 mm.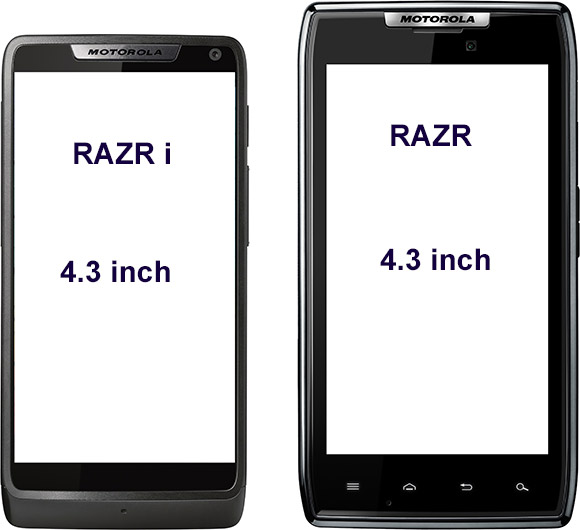 The RAZR i should be well protected against scratches as the phone has KEVLAR back side, a diamond cut aluminium frame and Corning Gorilla Glass. There is no information about any IP Code so the phone has probably passed any of the tests, but the RAZR i has a splash-guard coating which will protect it against some humidity.
Even though Google now owns Motorola Mobility it does not seems like the company has got any advantages with Android. The RAZR i will not be shipped with the latest version of Android which is 4.1 Jelly Bean. RAZR i will be sold with Android 4.0 Ice Cream Sandwich.
Motorola RAZR i highlights
Size: 122.5 x 60.9 x 8.3 mm
Weight: 126 gram
Networks: GSM/EDGE 850/900/1800/1900 900/2100 B1, B8 Rx, WCDMA 850/900/1900/2100
4.3 inch Super AMOLED Advanced touch screen with a 540 x 960 pixels resolution
8 megapixel camera, auto focus, LED light
1080p video capture
VGA front camera
Wi-Fi a/b/g/n
Bluetooth 2.1
aGPS
2.0 GHz Intel Atom processor
1 GB RAM
8 GB internal storage. Expandable up to 32 GB with microSD card
2000 mAh battery
20 hours mixed usage time
Android 4.0.4 Ice Cream Sandwich, upgradeable to Jelly Bean
---
Alternatively post this in the Esato forum
Please sign in to your Esato account to leave a comment regarding this article
2ghz? how about the number of cores?
1 core, but clocked higher
The CPU core could've been fine, but the GPU falls too short. if only this smartphone used a AMD Z01 APU, it could even outperform Adreno 320 and SGX543MP

Yeah, the GPU truly lets it down, same GPU used in the Galaxy S i9000 2years ago.
Maybe this will be Intel's low to mid end chip intended for devices of that category?

On 2012-09-20 12:22:42, razec wrote:
The CPU core could've been fine, but the GPU falls too short. if only this smartphone used a AMD Z01 APU, it could even outperform Adreno 320 and SGX543MP

is this gpu even available for smartphones in their size and power constraints? Anyone buying this will be making more of a statement than actual choice for daily use unless they just don't know or care about specs at all in ANY device. I almost feel like Motorola is screwing Intel over for the development, advertisement and costs of manufacturing this particular unit since all OTHER Razr Droid's are based on ARM architecture. Intel shouldve used some minerals and told Moto that all new RAZR's this year and next will use their chip.
Well the first Intel phone was the Orange San Diego made by Gigabyte which has received good reviews. But it has horrible Orange branding
---