LG has confirmed and Sony Ericsson might offer 50 GB free cloud storage to their smartphone customers
30 November 2011 by Olav Hellesø-Knutsen
LG today confirmed and Sony Ericsson almost confirmed that they will offer their customers 50 GB free cloud storage

Sony Ericsson this Monday published a notice that Xperia owners will - exclusively get 50 GB free cloud storage for life. The offer was communicated via Sony Ericsson web site for smartphones:
Until December 31st 2012, Xperia owners can get an exclusive offer of 50GB (yes 50, not 5) free storage in Box.net's cloud. Store, retrieve and edit files from any device, with only one copy in the cloud. Box.net specializes in synchronizing their services across different devices. Brilliant, we think.

Simply log in to your Box.net account from any Sony Ericsson Xperia Android handset before December 31st 2012. That's it. Once you have done that you have 50GB free cloud storage on your account for life.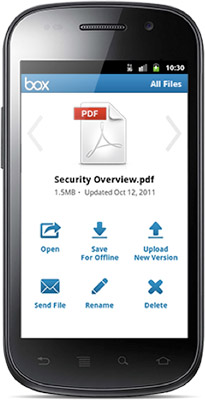 The Sony Ericsson offer was published to the UK version of the site, so we are not sure if it will be available in all countries. The offer was later withdrawn and Sony Ericsson came out with a clarification statement saying that the promo was mistakenly posted and that the offer not is active today. Further, Sony Ericsson said they are in the midst of finalising the details of this promotion and are working to provide this offer very soon to all Xperia customers.
Box.net today confirmed that they have come to a agreement with LG about the offer of 50 GB free cloud storage to LG smartphone- or tablet owners with devices running Android 2.1 or later. LG owners will have to claim the offer before March 31 next year.
One month ago HTC announced that Dropbox, another cloud service provider, will come pre-installed on all Android smartphones with 5 GB free storage space. Apple has a similar offer with iCloud where the first 5 GB are for free and 50 GB storage will set you back $100 per year. Seems like Sony Ericsson though the cloud thing was a good idea as the company now are having talks with Box.net
Another service Sony Ericsson want to hand over to other companies is the Sony Ericsson Sync service. Last week, sent out an email to their existing customers using the Sony Ericsson Sync Service that the service will close down on December 29th. The Sony Ericsson Sync Service has been online for severaly years. Even years before Google bought Android and started to develop services for mobile phone users. The Sync Service was aimed at not-so-smart phones such as the T68i, K700 and T610. Hosting a in-house sync service competing with the included Google sync service shipped with all Android devices is not where Sony Ericsson should put the development resources and this is probably one of the reasons why they have choosen to shut it down.
---
Alternatively post this in the Esato forum
Please sign in to your Esato account to leave a comment regarding this article
Fingers crossed. Hope they'll make it avaialble world wide.
---