LG announced the Optimus Vu 5 inch Android smartphone
19 February 2012 by Olav Hellesø-Knutsen
LG today unveiled the Optimus Vu ahead of MWC. The Optimus Vu is a 5 inch Android smartphone with a 4:3 aspect ratio and LTE network support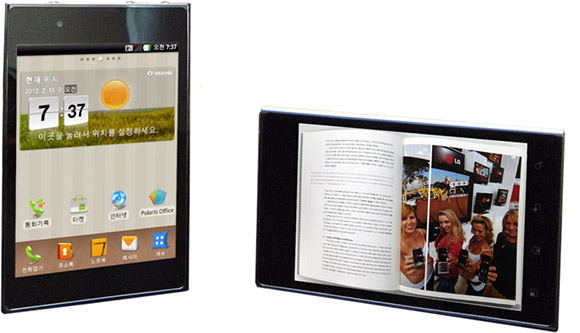 One week ahead of the Mobile World Congress, LG announced the Optimus Vu smartphone. This came as no surprise to us even though the timing was a little ahead of what we expected.
LG is saying this about the Optimus Vu.: The biggest feature of this product is the 5 inch IPS display with a 4:3 aspect ratio. LG want to emphasise the advantages of the 4:3 aspect ratio, but 4:3 is more common that you might think. 240x320, 480x640 and 360x480 pixels all have the 4:3 aspect ratio. The IPS display has 650 nits of luminance which is quite good but not best in class. For a comparison, the brightest smartphone available is the Nokia 701 with claimed 1000 nits, iPhone 4S has 569 nits and Motorola Droid X2 is reported to have 697 nits.
One sign that give away that this device with the current specs is headed for the South Korean market only is the terrestrial digital multimedia broadcasting (T-DMB) feature. This TV-on-the-phone feature is only available in a handful of countries in addition to South Korea.
LG Optimus Vu highlights
Size: 139.6 x 90.4 x 8.5 mm
Weight: 168 gram
5 inch ISP display with a 768 x 1024 resolution
8 megapixel camera, auto focus, LED light
1.3 megapixel front camera
32 GB internal storage
1.5 GHz dual core processor. Qualcomm
Android 2.3 Gingerbread OS
2080 mAh battery
HDMI
Wi-Fi, Wi-Fi direct
DLNA
T-DMB
---
Alternatively post this in the Esato forum
Please sign in to your Esato account to leave a comment regarding this article
Possibly the ugliest Android phone ever made

Oh no this is going too far now it looks like a tablet more so than the Galaxy Note. Way too wide

Interesting design, will be interesting to see how it does.
After the Galaxy Note's success my mind has opened up.
I remember back in 2009 when Toshiba announced this mean puppy, the TG01:
http://www.gsmarena.com/toshiba_tg01-2662.php
Many said it was too big with its 4.1" display, fast forward to 2012 and 4.3" is the standard for most flagships

Yes the Note looks more like a phone though. LG have made this thing too slab like and it just looks silly as a phone. No doubt with its specs it's great to use at home as a tablet

How come they're launching it on Gingerbread!? What are they thinking!?
They must be customizing its own ICS version.
---