HTC announces three new 4G smartphones
10 January 2011 by Olav Hellesø-Knutsen
During CES, HTC announced three new 4G mobile phones. The HTC Thunderbolt, HTC Inspire 4G and HTC EVO Shift 4G
With these three 4G devices, HTC doubled the number of 4G enabled devices available to U.S network operators.
The Thunderbolt for Verizon is one of the worlds first LTE capable smartphones. HTC Thunderbolt has a 4.3 inch touchdisplay, running on Android 2.2 (Froyo) operating system and has a 1GHz Snapdragon processor. Thunderbolt is powered by Qualcomm LTE chipset solution providing seamlessly switch between 3G and LTE networks. More specifications are: 8 megapixel camera with autofocus and a 480 x 800 pixel display resolution.
HTC EVO Shift 4G was announced with Sprint last week. It has a full slide-out QWERTY keyboard, 5 megapixel camera, 720p HD video recording and a 3.6 inch display. The Android 2.2 devices has FM-radio, Bluetooth 2.1, Wi-Fi and GPS. To get promissed 4G speed, EVO Shift 4G is connected via Sprint's WiMAX network. WiMAX has peak download speeds of 10 Mbps and 1Mbps up. According to Sprint, average download speed is 3-6 Mbps.
HTC Inspire 4G available on AT&T is using yet another technology to gain 4G speed. HSPA+ is the terminology here where expected speed is 4 times regular HSPA. The HTC Inspire 4G specifications are: 4.3 inch display, 1 GHz Snapdragon CPU, Android 2.2 (Froyo), 8 megapixel camera and 720p HD video recording.
All three smartphones are having HTC Sense user interface running on top of Android.
None of the phones will win any beauty contest and only a trained eye will spot the difference between the new HTC lineup.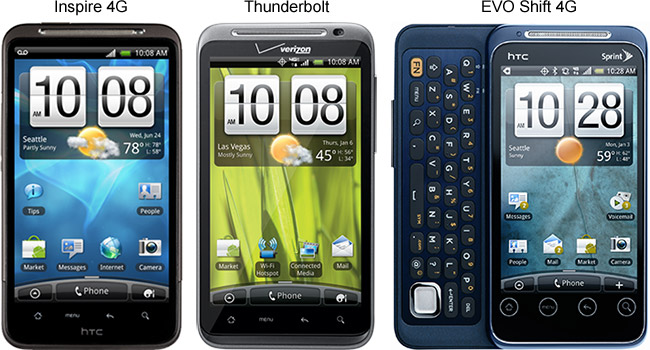 ---
Alternatively post this in the Esato forum
Please sign in to your Esato account to leave a comment regarding this article
According to Spring the average download speed is 3-6 Mbps? Isn't that a bit low?
I thought the same at the time I read it. Will Wi-Max success?
I will bet for the Inspire 4G and EVO Shift 4G this time.
Wow, mobile phones are coming out daily. Lol
Nice update.............
---