Samsung expects to sell 60 million smartphones in 2011
12 January 2011 by Olav Hellesø-Knutsen
Samsung aims to tripple the sale of smartphones up from 20 million in 2010 to 60 million in 2011
This is not a copy of the report from December last year where HTC told its suppliers that it would need parts and components for production up to 60 million devices for 2011. It is a big difference here where HTC are only making smartphones while Samsung have a large portfolio of dumbphones in addition to smartphones. Samsung has earlier said it will overtake Nokia as the leader of mobile phone manufacture within three years and to reach that goal Samsung simply needs to produce and sell more mobile phones. Samsung is the second largest mobile phones manufacture in the world with a production of over 270 million mobile phones in 2010.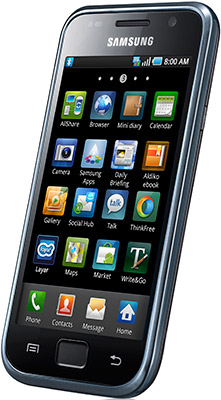 Shin Joug-kyun, head of Samsung Electronics mobile business division last week told KoreaTimes the goal for 2011 was to tripple the sale of smartphones. The Galaxy S was the best selling Samsung phone last year with reported 10 million sales where it particulary sold well in North America and Europe. "For 2010 the plan is to sell 60 million smartphones and to reach this goal Samsung needs to establish a stronger position in regions such as Southeast Asia, China and Central and South America instead of just relying on advanced markets" Joug-kyun tol Korean journalists at the CES. Historically these markets are not demanding high-end devices which tells us that Samsung will be forced to expand the portfolio of entry-level smartphones.
At CES earlier this month, Samsung announced the Samsung Infuse 4G mobile and the Google Nexus S was announced a little earlier. The Infuse 4G is a 4G phone and Nexus S is the first phone running on version 2.3 of the Android operating system. Samsung are making smartphones with Windows Phone 7, Android and Bada operating systems. Only a handfull are running Samsung's own Bada and the U.S version of the Samsung web site does not even have Bada as an option when specifying phone OS. At the Mobile World Congress last year, Samsung said Bada won't impact the U.S. market as much as it will in others. Seems like that prediction became true. We are guessing that Android will be the OS installed on mosts Samsung smartphones in the near. Today we are counting 2 Windows 7 powered phones and over 40 running Android available from the manufacture.
---
Alternatively post this in the Esato forum
Please sign in to your Esato account to leave a comment regarding this article
Samsung is a strong candidate for this 2011. I'm not saying they will reach the 1st spot but they're gonna reach a high one.
what time and which date??

@masada1971: you doubt it?
i am not doubting u tranced but the article...allow me to have my objection to that...

[ This Message was edited by: masada1971 on 2011-01-13 19:16 ]
I dont doubt it at all. Wspecially given the choices out there. Restrictive hitler like apple. Weak nokia. Or lost the plot sony ericsson. Gee...let me think
..
Me too no doubt. Samsung is doing great in its smart phone category.
---