Samsung announced Galaxy S5
24 February 2014 by Olav Hellesø-Knutsen
During the first day of Mobile World Congress 2014, Samsung announced the Galaxy S5. A quad-core Android smartphone with a 5.1-inch Full HD AMOLED display, LTE network speed and a built-in heart rate monitor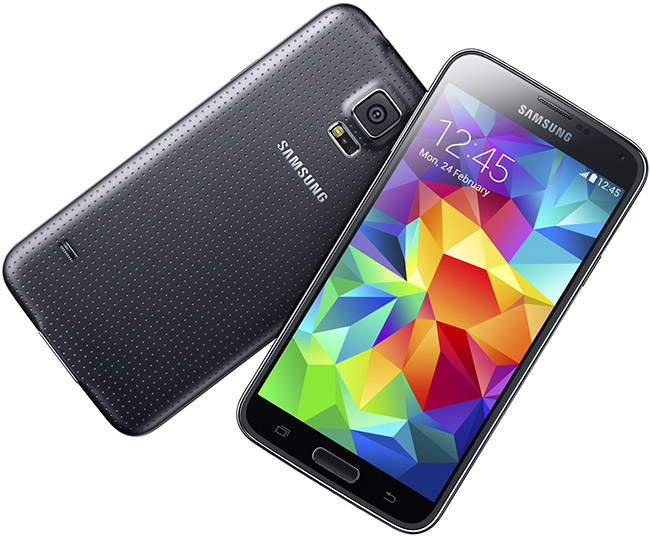 The Galaxy S5 is the fifth edition of the Samsung flagship series. We are assuming that most of you are familiar with the Galaxy S4 launched one year ago and Galaxy S5 replaces this model. The Galaxy S5 is of course a little faster and with a slightly larger display. The camera resolution has increased from 13 to 16 megapixels and we assume the quality is better on this years model. Samsung Galaxy S5 is following the trend of having a water and dust resistant exterior. Galaxy S5 has an IP code of IP67 which means it is dust tight and it will resist water intrusion on depth down to 1 meter.
One of the new features found in the Galaxy S5 is the built-in heart rate monitor. This is a sensor located close to the camera which can measure heart beats by analysing a finger touching the sensor. We doubt that this will be the deciding factor when consumers are looking for a new phone and this is not a new feature either. We remember installing the Instant Heart Rate app on a Sony Ericsson Neo a couple of years ago. It did the same thing quite well.
The improved camera will most likely capture images with higher resolution than the Galaxy S4. But this is hopefully only one of several improvements. Samsung claims that the Galaxy S5 offer the world's fastest autofocus speed of just 0.3 seconds in addition to HDR capabilities. The sensor size in Galaxy S5 has increased compared to Galaxy S4 so the pixel size is still 1.12 micron.
A Full HD display is what we would expect from a flagship device from any handset maker. Samsung has increased the display size to 5.1 inch and kept the 1920 x 1080 pixel resolution similar to the predecessor S4.
Samsung Galaxy S5 has 2 GB of RAM in addition to 16 or 32 GB internal storage. Storage is expandable with additional 64 GB by inserting a microSD card protected by those water protective plastic hinges.
We should also mention that the Galaxy S5 has one of the fastest smarthone chipsets available today. The quad-core Qualcomm Snapdragon 801 CPU is clocked to 2.5 GHz.
The battery capacity has increased with 200 mAh to 2800 mAh compared to the Galaxy S4. Samsung promises a standby time of 390 hours and 21 hours of talk time. All the new features come with a cost. Weight and size has increased slightly compare to Galaxy S4.
Samsung Galaxy S5 specifications
Size: 142 x 2.5 x 8.1 mm

Weight: 145 gram

5.1-inch Super AMOLED display. 1920 x 1080 pixel resolution

16 megapixel camera, HDR

1080p video capture, 4k (UHD) @30fps

2 megapixel front camera with 1080p video capture

2.5 GHz quad-core processor

2 GB RAM .16 or 32 GB internal storage. Expandable with additional 64 GB using microSD card.

Wifi a/b/g/n/ac HT80

Bluetooth 4.0

USB 3.0

IR Remote

Ant+

IP67 Water and dust resistant

Heart rate monitor
2800 mAh battery

Android 4.4.2 Kitkat
---
Alternatively post this in the Esato forum
Please sign in to your Esato account to leave a comment regarding this article
Great device

No it isn't
Specs remind me of the Galaxy Note 3 but the looks are like a Galaxy S4
They stole the back of my Nexus 7 cheeky Gits lol
The front looks like the Galaxy S1
Why are there 2 threads for Samsung Galaxy S5? Could they not be merged ?
Seen a few hands-on on youtube and it looks really nice

What is it with Samsung and their Plastic and Leatherette Phones...?

On 2014-02-25 21:42:02, nicv27 wrote:
What is it with Samsung and their Plastic and Leatherette Phones...?

I don't know but I can't stand the look of the leatherette.
I have never been so underwhelmed by a new device



http://www.mobilenewscwp.co.u[....]y-s5-interest-130-per-cent-up/
These sheep

Bribed by Samsung!
---