More than 10 million LG LTE smartphones sold
6 March 2013 by Olav Hellesø-Knutsen
LG reports that the company has sold over 10 million smartphones with support for 4G LTE networks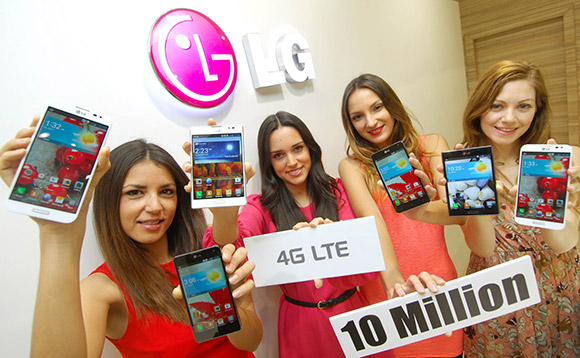 LG is one of the few smartphone makers that has been pushing devices with 4G LTE for a relatively long time. The Korean manufacture owns many LTE patents and it is therefore not strange that it want to push forward this new technology. There are still blank spots on the LTE world coverage map which of course has limited LG's sales in these countries. As LTE coverage increases, customers will want to use the improved speed a look for a LTE device next time they are looking for a new mobile phone.
Nevertheless, LG this week announced that it has sold ten million smartphones with LTE. The company is aiming to double the sales of LTE devices in 2013. LG has a strong presence in its home country Korea, but also in the US, Japan and Germany where LTE coverage is good.
---
Alternatively post this in the Esato forum
Please sign in to your Esato account to leave a comment regarding this article
Can't say I'm surprised cos that phone
Does look rather stunning in picture
Not seen one for real but I'm sure it will
Turn heads

Edit the first but white one

[ This Message was edited by: Miss UK on 2013-03-06 15:18 ]
LG usually have nice hardware (good specs at a reasonable price), but then they spoil the user experience of their buyers with their software: no updates available, or months later than other manufacturers.
I like LG latest handsets like the Optimus G Pro. My first ever Android was an LG Optimus on Android 1.6 Donut. Their PC software for updating your mobile made me bang my head against the wall(not literally)

On 2013-03-07 01:38:04, Marly wrote:
no updates available, or months later than other manufacturers.

I have heard that before. But then we were taking about Sony, HTC and Samsung. You will have to choose a Nexus device if running the
latest Android
version is of importance for you.
Sometimes updates can make the phone
A lot worse then what it was I know this
From Apple lol

Btw it's really nice as I'm due to get a new
Phone later this year I will be trying out a few
To suit before I opt to get another

LG are pretty good brand I love my 3D
Tv which is made by them

---