LG introduces two 4G LTE smartphones at the Mobile World Congress
22 February 2013 by Olav Hellesø-Knutsen
LG announces the Optimus F series with the two Android smartphones Optimus F5 and Optimus F7. Two 4G LTE models with dual-core processor and 4.3 and 4.7-inch displays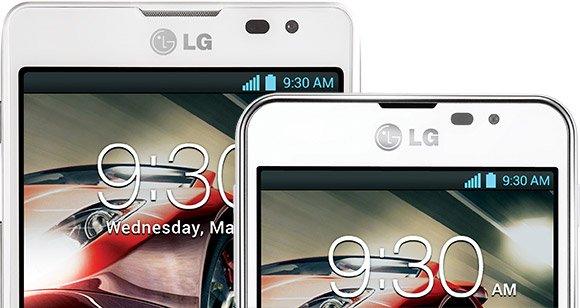 The 4.3-inch LG Optimus F5 and 4.7-inch Optimus F7 will be introduced at the Mobile World Congress taking place in Barcelona next week.
According to LG, Optimus F5 and Optimus F7 are aimed at a wider audience. Looking at the specifications, it is reasonable to guess that price will be low and hardware specification will be sufficient for most consumers. It is crowded in the mid-range price segment so it will be exciting to see how the two phones will perform and what the final retail price will be.
Both the Optimus F5 and Optimus has quite powerful batteries. The Optimus F5 with a 2150 mAh battery and the Optimus F7 with a 2540 mAh battery. According to the data we have in our phone specification database, this is among the best in class. A large 4.7-inch display will of course draw power but the IPS display is quite power efficient.
Both smartphones has the typical look of a LG phone. Either you like it, or you don't.
LG Optimus F5 will be released first and LG expect the smartphone to be available in Europe during the second quarter. Optimus F7 will be released later this year.
LG Optimus F5 highlights
Size: 126 x 64.5 x 9.3 mm

4.3-inch IPS touch display, 540 x 960 pixels resolution

1 GB RAM

8 GB internal storage. Expandable with up to additional 32GB using microSD card

LTE
5 megapixel camera, autofocus. 1.3 megapixel front camera
1.2 GHz dual-core processor
Android 4.1.2 Jelly Bean
2150 mAh battery
LG Optimus F7 highlights
Size: 131.7 x 68.2 x 9.6 mm

4.7-inch IPS touch display, 720 x 1280 pixels resolution

2 GB RAM

8 GB internal storage. Expandable with up to additional 32GB using microSD card

LTE

8 megapixel camera, autofocus. 1.3 megapixel front camera

1.5 GHz dual-core processor

Android 4.1.2 Jelly Bean

2540 mAh battery
We will attend the event in Barcelona and report back out first impression of the two new smartphones from LG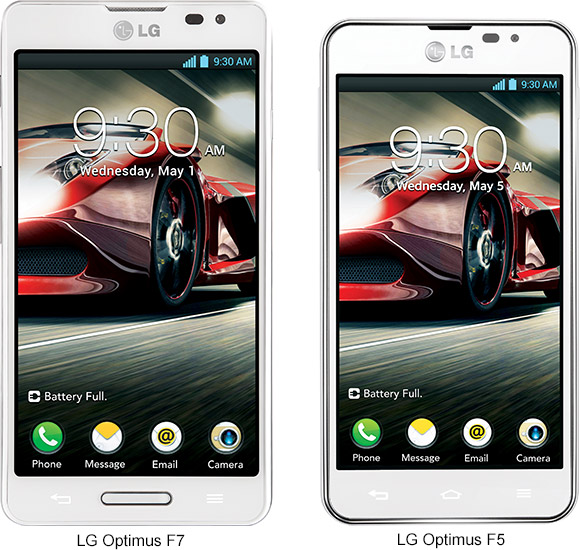 ---
Alternatively post this in the Esato forum
Please sign in to your Esato account to leave a comment regarding this article
Really nice design the F7 prob tick my box
More for specs though its just the screen that
I think is abit big

Am loving the LG Optimus G Pro gorgeous device with lovely screen and some nice tricks up it's sleeve like dual video recording
Yeah it does look rather lush
I can't wait to try some phones
Later this year to see what I'm up
against or missing away from Apple

---