Qualcomm unveils improved battery charging technology
21 February 2013 by Olav Hellesø-Knutsen
Qualcomm introduces Quick Charge 2.0 technology for shorter smartphone and tablet battery charging time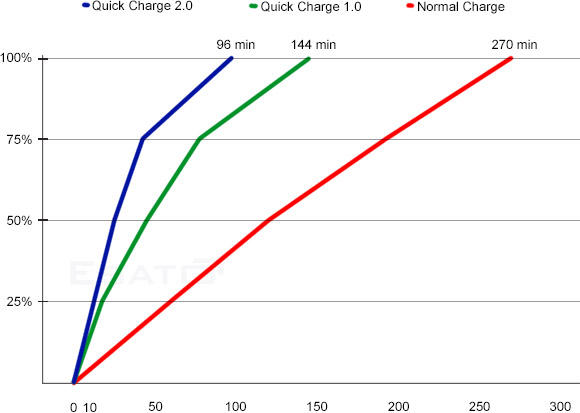 Over 70 devices implemented version 1.0 of Qualcomm Quick Charge technology last year. This is a technology that is available for smartphones and other devices that are powered by a Qualcomm chipset. Version 1.0 the in-device solution would charge smartphones and tablets up to 40% faster than conventional charging technology.
Quick Charge 2.0 which was announced by Qualcomm this week will charge devices even quicker. Qualcomm claims up to 75% faster than without Quick Charge technology. Quick Charge 1.0 could be used with any type of USB power source. Including a dedicated USB charger or connected to a PC USB port. For Quick Charge 2.0, the requirement is increased as you will need a special Quick Charge 2.0 charger to have the quick charging speed. Qualcomm is working with leading AC/DC power supply makers which will implement the technology into upcoming chargers.
Quick Charge 2.0 is an integrated part of the new Snapdragon 800 chipset but the technology is also available as a standalone solution for those smartphone makers not using any Qualcomm processors.
It is certainly interesting to improve battery charging time as well as the battery usage time. Qualcomm says that it reduces charging time by shortening taper charging phase. Our experience with quick charging solution for regular AA batteries, RC batteries and PC batteries with a quick charging solution is that battery life seems to be reduced considerably compared to normal slow chargers.
Some of the devices which has the Quick Charge solution on-board are HTC 8X, 8S, One S/VX/SV, Nexus 4, Optimus G, Motorola, Atrix HD, Droid Razr HD, Nokia Lumia 820/920/822, Samsung Galaxy S III, Ativ S, Galaxy Tab 7.7, Sony Xperia T/TL/VL, ZTE Grand X LTE, Asus Padfone
Smartphones and chargers with Quick Charge 2.0 is expected to be available in 2014
---
Alternatively post this in the Esato forum
Please sign in to your Esato account to leave a comment regarding this article
---