What is best of single-core, dual-core or quad-core smartphone processors?
13 April 2012 by Olav Hellesø-Knutsen
According to Nokia's CEO, Stephen Elop, smartphone processors with multiple cores only reduce battery time and multiple cores are not useful for consumers all the time

Is multiple processor cores better than single cores? According to Nokia's CEO Stephen Elop, multicore system on chips are just wasting precious battery life. That is of course not the truth. Multiple cores might and might not causing the batter to drain quicker as it depends on how many cores are active. However, the companies making money by selling multi-core processors thinks otherwise. Qualcomm, Nvidia, Texas Instruments and St-Ericsson are some of these. Mr Elop can not embrace multi-cores processors because Nokia's current operating system of choice for Nokia, Windows Phone 7.5, does not run on multi-core processors.
We dare to claim that the average user not will look at the processor clock speed at all, but base their buying decision on recommendations, review ratings and of course price. Those doing reviews tend to include a couple of processor benchmarks just to show the reader how the processor rank. The user do not necessarily need all the power in quad-core processors, but it is a measurable number which is easy to print on a paper. We saw the same thing with camera resolution. Higher pixel count did not necessarily mean better photo quality, but potential buyers use the pixel count as a factor when taking a decision. Except for the Nokia 808 Pureview with its 44 megapixels sensor, the megapixels race seems to have slowed down. It is one of those things that's easy to list in a table for a comparison.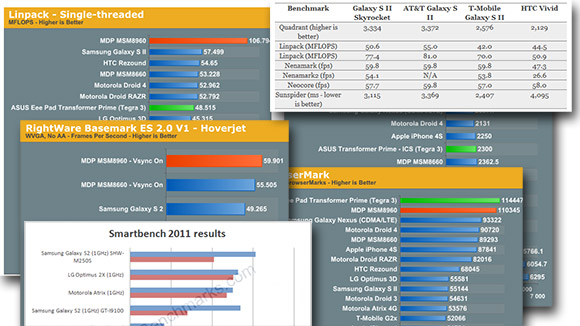 When adding more cores to processors, each core tend to use less power than previous generation processors due to architectural changes and the semiconductor manufacturing processes. The Nvidia Tegra 3 is system on a chip (SoC) with 4 CPU-cores plus one fifth lower clocked battery saving core. The idle-core is running at 500 MHz at maximum, while the other four cores can run up to 1.4 GHz.
Nvidia has made a demo video showing which cores are active during some common Android task
Another thing to take into consideration is that processors with multiple cores can perform tasks quicker than single core processors. Even if it requires more power at a given moment in time the task will be finished quicker with a multi-core processor. But Anantech has also shown us that a dual-core Qualcomm processor can perform better than a quad-core Tegra 3 system from Nvidia.
How useful multiple cores will be for you, depends on the smartphone usage. Nvidia has a good point making a processor with a fifth core running at a slower speed. Most of the time, the smartphone is running idle so it is important that battery usage is at minimum when the phone not is used. A low clocked core will in increase battery life.
What Stephen Elop has forgotten to mention, is that with normal usage, the CPU display is not one of the things on a smartphone that drain most battery life. The 4.7 inch 720 x 1280 pixel display is to blame. A larger display with more pixels will use more power than a small display. The current Windows Phone 7.5 smartphones has the same pixel resolution which is 480 x 800 pixels and most Nokia Lumia models has a "small" 3.7 inch display which requires less power than those 4+ inches models all quad-core and most dual-core models has. We have also heard rumours that the new iPad which has double pixel count compared to the iPad 2 and a much larger battery has decreased the battery performance with 2 hours.
Further reading: St-Ericsson blog - should you be saving up for a quad-core smartphone? Nvidia - The Benefits of Multiple CPU Cores in Mobile Devices
What do you think? Is multicore better, and will your next smartphone be one with multiple cores?
---
Alternatively post this in the Esato forum
Please sign in to your Esato account to leave a comment regarding this article
---