Nokia unveils the Lumia 610 NFC
11 April 2012 by Olav Hellesø-Knutsen
Nokia adds NFC functionality to the Lumia 610. The new Lumia 610 NFC will initially only be available with operator Orange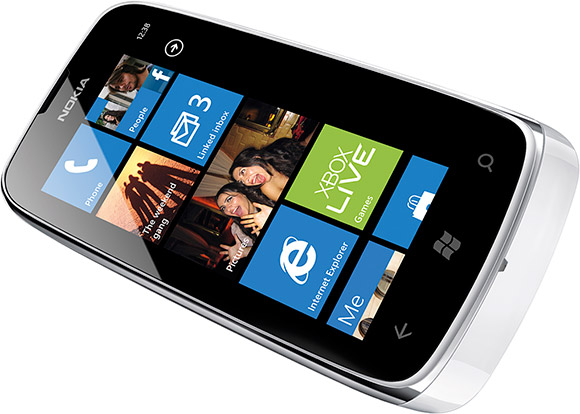 As the Nokia Lumia 610 NFC first only will be available on Orange, many European countries will have to wait for this device to enter the market. Large European countries such as Germany, Italy, Ukraine and Netherlands will not see the Lumia 610 NFC in third quarter when the phone hit the stores.
We were not able to notice many changes in specifications compared to the Lumia 610 model. A NFC chip weighs 3.5 gram as the Lumia 610 NFC has a reported weight of 135 gram compared to 131.5 gram for the older Lumia. Lumia 610 NFC has a NFC chip which enables the device to scan NFC tags or stickers. It is also certified for contactless payments with technology from both Visa payWave and MasterCard PayPass. Being certified by MasterCard means that the Lumia 610 NFC had to pass rigorous tests by a MasterCard accredited laboratory.
Nokia Lumia 610 NFC highlights
Size: 119 x 62 x 12 mm
Weight 135 gram
Display: 3.7 inches tuchscreen LCD, 480 x 800 pixels resolution, 65.000 colours
Networks: GSM 860/900/1800/1900, UMTS 850/900/1800/2100, HSPA 7.2Mbps
5 megapixel camera, auto focus, image stabiliser, LED light
VGA video capture
256 MB RAM. 8 GB storage. Not expandable
Wi-Fi b/g/n
Bluetooth 2.1
AGPS
NFC
FM radio
Standby time: 670 hours
Talk time: 10.5 hours
Windows Phone 7.5 Mango operating system
3.5 mm audio jack
micro USB
---
Alternatively post this in the Esato forum
Please sign in to your Esato account to leave a comment regarding this article
Along with the NFC functionality Nokia Lumia 610 Windows 7.5 phone comes with more than 1,00,000 apps. Nokia Music, Nokia maps , Nokia Drive and much more at an affordable price.
Will this be up-gradable to WP8? If it isn't, its gonna be a flop.
According to TechRadar:
That's the reason that you won't be able to upgrade any existing Windows Phone handsets to 8, because they don't have the hardware to support the new features or deliver the multitasking performance that the Windows kernel and the improved VOIP support needs.
And they released another NEW windows phone that cant be upgraded to WP8.
---