All the new LG smartphones announced during Mobile World Congress 2012
29 February 2012 by Olav Hellesø-Knutsen
These are all the LG smartphones announced during the Mobile World Congress in 2012. The Optimus LTE Tag, Optimus 4X HD, Optimus 3D Max, Optimus Vu and the three L3, L5 and L7 in the new L design series

Seven new devices were announced by LG during this years conference. Some will initially only be available in the Korean market but they will later appear in Europe, US and later the rest of the world. This year, LG focuses on a couple of fields where the company want to be among the leading handsets providers. These are:
LTE and faster connectivity - The company has the handsets ready, but will have difficulties in using LTE in their marketing until the operators has set up their LTE networks.
Design - This has always been one of LG Mobile's strength. You might recall the Chocolate, Black and Prada series. The three new L3, L5 and L7 are part of the entry- and mid-range models in the new design series called L-series.
Display technology - Being one of the worlds largest display manufacture should give the company an advantage in this field. LG manufactures display for their own mobile phones as well as for other well know smartphone manufactures. This year LG wanted to use IPS displays which particularly are known for its good viewing angle.
Processor speed - LG was the first company to use a dual-core processor when it announced Optimus 2X last year. It is one of the four/five companies announcing quad-core models at MWC this year
Glass-less 3D viewing and dual camera - Maybe not with the same eager as last year, but the LG Optimus 3D Max is an updated from Optimus 3D
LG Optimus 4X HD is a really powerful smartphone with the quad-core Tegra 3 processor from Nvidia. It has a 4.7 inch IPS touch display with a 720p HD resolution (720 x 1280 pixels). As the name indicates, the Nvidia Tegra 3 processor has four main cores clocked at 1.5 GHz. But a fifth, much slower core is running when there is no need for pure speed. One of the prototype units available for us to look at was showing the percentage each core was using. We played a couple of the installed games which is typically the app category that demands most out of the processor. None of the installed games gave the Optimus 4X HD any problems. Mostly 10-20 percentage used by two-three cores even when paying a wave runner game. The only time we noticed that the 4X HD made use of the full processor power was when a new application was started. But the high peak was only there for a fraction of a second.
The LG LTE Tag is the successor to the Optimus LTE announced at the MWC last year. Compared to the Optimus LTE, the Optimus LTE Tag+ adds NFC capabilities which can communicate with special NFC stickers or "tags" that can be programmed to change the phone settings.
1.2 GHz dual-core processor
4.3 inch touch display 480 x 800 pixels resolution, IPS
5 megapixel camera
1700 mAh battery
Android 2.3 Gingerbread
16 GB internal storage
Read our LTE Tag+ introduction
LG Optimus Vu - A giant among smartphones. Where does the line between tablet or smartphone go? Probably at the size of the Vu and its 5-inch display. 5 inch is the largest we have seen on a smartphone, and 7 inch display is the smallest among tablets. Unlike the normal smartphones and tablets, the Optimus Vu has a display with a 4:3 aspect ration. The Optimus Vu has an extractable antenna for T-DMB broadcasting and a large stylus is among the included accessories. Optiums Vu has a dedicated hardware key which activates a special program where the stylus can be used. It is a simple photo editing app which let the user take notes, and select part of the screen dump to be shared or saved.
1.5 GHz dual-core processor
5 inch display, 768 x 1024 pixels resolution, IPS
8 megapixel camera, 1.3 MP front camera
2080 mAh battery
Android 2.3 Gingerbread
1 GB RAM, 32 GB internal storage
139.6 x 90.4 x 8.5 mm
Read our Optimus Vu introduction
LG Optimus 3D Max - this years 3D model has a reduced size and it is now 9.6 mm thick down from 11.9 mm. The Optimus 3D Max has a glass-less 3D display and two 5 megapixel cameras. Optimus 3D Max has also got a faster 1.2 GHz processor and HSPA+ network support. Android 2.3 is installed but version 4.0 Ice Cream Sandwich will be available in Q2. Optimus 3D Max has got NFC capabilities with can be used to change phone profile settings when used with the new LG Tag+ NFC tags.
1.2 GHz dual-core processor
4.3 inch display, 480 x 800 pixel resolution
Dual 5 megapixel camera
1520 mAh battery
HSPA+
DNLA
HDMI out via MHL
NFC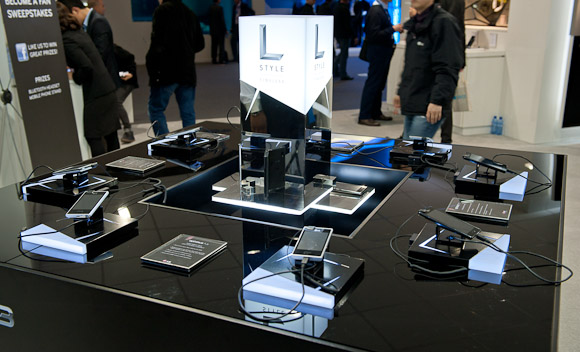 The last three models from LG are the Optimus L3, Optimus L5 and the Optimus L7. The three models are the first in the new L-series of design models. Optimus L3 is the smallest of the three and the price will be very competitive. It must be, because the specifications are very basic: 3.2 inch display, 3 megapixel camera, 800 MHz processor. L5 is a step up the ladder with a 4 inch display and the L7 has 4.3 inch display. We took a quick look at the three, and can confirm that the L3 display technology is from around 2010. It is not impressive now in 2012. But that is what you can expect to get for 150 Euro. All the L models will be available in white or black. L3 starts shipping in March followed by L5 in April, and L7 in May.
LG Optimus L3 photos
LG Optimus L5 photos
LG Optimus L7 photos
---
Alternatively post this in the Esato forum
Please sign in to your Esato account to leave a comment regarding this article
Not bad. Looks like LG is making a comeback

Indeed they are. They gotta let them all worlwide. The dual core thingy will help them a lot. Plus their batteries are a big plus.
@Tranced - Yup, and they pioneered the fone with a 3D design on it

---